Tim Stobierski
May 11, 2022
What Is Cash Value Life Insurance?
When you're considering life insurance, it's natural to think about the death benefit first. After all, the primary purpose of a life insurance policy is to provide security for your family after your death and it's the death benefit that ultimately makes this possible.
But that doesn't mean that the death benefit is the only benefit that life insurance provides — or that it's the only factor you should consider. Certain types of life insurance policies also build cash value (sometimes called cash surrender value), which has unique qualities that can make it an important part of your financial plan.
What is cash value life insurance?
All life insurance policies include a death benefit, which is the sum of money paid out to your beneficiaries upon your death. Many people get temporary policies that will pay a death benefit only if you die in a specified time frame, usually 10, 20 or 30 years. These policies — known as term life insurance — only offer a death benefit.
But permanent life insurance pays a death benefit no matter when you die. This category of life insurance is also sometimes referred to as cash value life insurance because it's the type of insurance that accumulates cash value.
The difference between the two types of insurance is kind of like the difference between renting or buying a home. The benefit of either is that you get a place to live. But when you rent, as soon as you stop paying, you no longer have the benefit of the place to live. When you buy, over time, you build equity in your home and eventually you will own it. Permanent life insurance is similar.  
What kind of life insurance policies have cash value?
While permanent life insurance is the category of insurance that typically builds cash value, there are several different types of permanent insurance that work in different ways. They are:
How does life insurance with cash value work?
With permanent life insurance, your family is immediately protected by the full death benefit. The policy will build cash value over time. And with whole life insurance, cash value is guaranteed to grow in a tax deferred way and is unaffected by market volatility. Other policies — like universal life insurance — offer more flexibility over how cash value accumulates. Variable universal life offers the ability to get exposure to financial markets, but it also comes with investment risk. Depending on the performance of the underlying investment options, the cash value could decline.
If your life insurance policy pays dividends, you can choose to use them to buy additional insurance — known as paid-up additions — which can increase your policy's death benefit and cash value more quickly than what's guaranteed.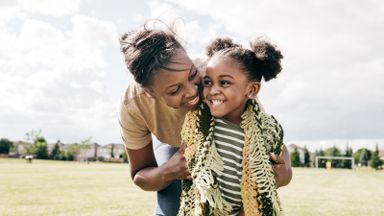 How much life insurance do you need?
Get an estimate of how much coverage makes sense for you.
Accessing your cash value
Generally speaking, you can access the cash value of your life insurance policy in one of three ways:
Take out a loan:

This option allows you to borrow money from your life insurance company, with the policy's cash value acting as collateral. Think of this as kind of like a home equity line of credit: The insurance company extends you credit with your policy as collateral. If you take out a life insurance loan, you'll ultimately need to pay it back — with interest. It's important to manage any loan because if it accrues too much interest, the insurance company may surrender your policy, which can result in a negative tax consequence. If you die while there is a loan, the death benefit will be reduced by the loan amount plus any interest that has accumulated.

Partial surrender

: Partial surrender allows you to give up a portion of your life insurance policy (reducing its death benefit) and take that portion of your cash surrender value. Though you won't have to pay back a loan, you're giving up a portion of your death benefit for good. Doing this can have tax implications.

Total surrender:

A total surrender allows you to access all of your cash surrender value, but requires you to forfeit your entire policy, meaning you will give up the entire death benefit.

This can also have tax implications.
Each of these options has its own pros and cons, and it's important to understand them before making a decision. If you're unsure which option is best for you, a financial advisor can help.
Quiz: How Much Do You Know About Life Insurance?
The only benefit that life insurance offers is a payout to loved ones if the person who is insured dies.
What can you use cash value for?
Once you accumulate cash value, you can access it for virtually any reason that you want. There are no rules that state you can only access it in certain situations or use it for certain purposes.
Some common reasons people access their cash value include:
Covering an emergency

Funding a down payment on a mortgage

Remodeling a home

Paying for a wedding

Helping your child pay for college

Taking advantage of a business opportunity
However, most frequently cash value can be used to supplement your income during retirement. This can be especially beneficial as it can give you flexibility during market downturns. By relying on your cash value during down markets instead of your investments, you give those investments more time to rebound in the market, which can give them the opportunity to recoup any value lost.
One piece of your financial plan
At the end of the day, when combined with a range of other financial options, the cash value that accumulates in your permanent life insurance policy offers you significant financial flexibility during your life. A financial advisor can help you see how life insurance fits into your broader financial plan.
See how life insurance fits into your financial plan.
Our advisors look at your whole financial situation and will show you how life insurance can help protect what you've worked hard for and help you reach your goals.
Connect with an advisor
Dividends are not guaranteed. Utilizing the cash value through policy loans, surrenders, or cash withdrawals will reduce the death benefit; and may necessitate greater outlay than anticipated and/or result in an unexpected taxable event. Assumes a non-Modified Endowment Contract (MEC). Loans taken against a life insurance policy can have adverse effects if not managed properly. Policy loans and automatic premium loans, including any accrued interest, must be repaid in cash or from policy values upon surrender, lapse or the death of the insured. Repayment of loans from policy values upon surrender or lapse can trigger a potentially significant tax liability and there may be little or no cash value remaining in the policy to pay the tax. The policy will lapse if loans become equal to the cash value while the policy is in force and additional cash payments are not made.
The Northwestern Mutual Life Insurance Company, Milwaukee, WI. Principal Underwriter: Northwestern Mutual Investment Services, LLC (NMIS) (securities), subsidiary of NM, registered investment adviser, broker-dealer, member FINRA and SIPC. Not all Northwestern Mutual representatives are advisors. Only those representatives with "Advisor" in their title or who otherwise disclose their status as an advisor of Northwestern Mutual Wealth Management Company (NMWMC) are credentialed as NMWMC representatives to provide advisory services.