Alaina Tweddale
Jul 01, 2016
Not Ready to Retire? Try a New Career Instead
After 40 years as a funeral home owner, Brian Leonard of Elkader, Iowa, was ready for a change. He had strong roots in his small, rural community and found he was increasingly planning funerals for friends and loved ones.
"Funeral service is a stressful type of work," he said. "You're working with people in a sad time in their life."
While Leonard enjoyed the personal bonds he made within his community, he was ready to switch gears and do something more uplifting. Leonard and his wife discussed their retirement strategy and realized they wanted to open a business their entire family could help run — and they could ultimately pass on as a family legacy. "Everyone wants to be able to leave things for their children," Leonard said.
They came up with the idea of purchasing a resort community in northwest Minnesota, where their family had been vacationing since their children were toddlers. They love the area, and their sons even attended college in the region.
The Leonards discovered East Silent Lake Resort, in Dent, Minnesota, was up for sale. "It was sooner than I had anticipated, but the right opportunity doesn't come along every day," he said.
It's no surprise Leonard enjoys his second act. East Silent Lake Resort is a collection of cabins, vacation homes and guest suites situated along a quiet stretch of Minnesota's Otter Tail County's lakes area. It's a place where families come to unplug from daily life and get back to nature with activities like tubing, fishing, snorkeling, birding and biking.
His two sons — who also have careers outside the family business — and his wife, Margaret, help manage the resort. "We all have our own area that we oversee," Leonard said. "It's a family effort."
The number of 65- to 74-year-olds working will reach nearly one in three by 2022.
REINVENTING RETIREMENT 
Leonard, 63, is one of many Baby Boomers who plan to work well into what were once considered retirement years. According to the Bureau of Labor Statistics, the number of 65- to 74-year-olds working will reach nearly one in three by 2022. Meanwhile, a Gallup poll reported almost half of all Baby Boomers don't plan to retire until age 66 or older. One in 10 don't expect to retire at all.
While many work past retirement age because they need the money, even more — like Leonard — do so because they want to. In fact, according to the Kauffman Index of Startup Activity, one in four new entrepreneurs is between the ages of 55 and 64.
Leonard owned six funeral homes before he gradually sold them off, and he had a wealth of business experience to work from when he started his new career. But like many retirees today, Leonard used his so-called retirement as an opportunity to step back from a stressful first career and instead launch a passion project.
For those looking to retirement as a chance to begin Act II, here are three tips that helped make Leonard's transition successful.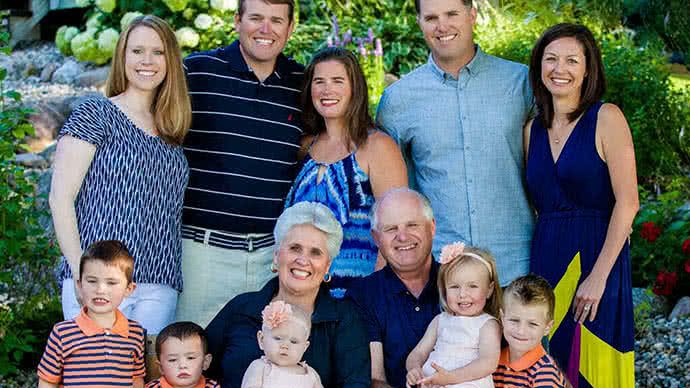 Leonard, his wife and his two sons help manage East Silent Lake Resort, a collection of vacation homes and guest suites along Minnesota's Otter Tail County's lakes. Courtesy of Brian Leonard
DO SOMETHING YOU LOVE

Leonard doesn't consider himself retired. He puts in 15-hour days during peak tourist season, which is why he recommends doing work you love for a second career.

"Some people think we're crazy, but it's a fun kind of work," he said. "I think people live longer if they're doing something they love."

TRANSITION GRADUALLY

Leonard found it was hard to cut ties with a business he'd run for 40 years, particularly a business set in a close-knit community. So although he sold off his business to new owners, he returns to Elkader each winter to work as a consultant for the current owners.

"I receive a supplemental income from that work, but I do it more to maintain connections. I feel it's important to be there for the families that I know," he said. "Plus, it gives us a chance to see the Iowa grandkids in the winter."

PREPARE FINANCIALLY

For those looking to make a career change, Leonard recommends preparing financially before making the switch. He doesn't personally expect to see a big initial return from operations at East Silent Lake Resort; any proceeds are invested back into the business.

"The value of what we have is in the land, and we're going to continue to build upon that," he said.

"I had a successful funeral business, and I was fortunate to have people to sell it to," he added. "Today we partly live off the proceeds from the sale of the funeral homes but we also did some good investing when we were in business."

While building his asset base, Leonard worked with a Northwestern Mutual financial advisor who helped the family prepare for where they are today.

"Now I'm much more conservative than I was," he said, noting that as he's aged and slowed his savings strategy, his advisor has helped him hold on to what he's worked so hard to earn.

His financial strategy isn't the only way Leonard has been on target. The funeral and resort businesses have a striking similarity, and it's one he enjoys: the personal connections he and his family make with the people they serve.

"We have a 90 to 95 percent retention rate, and we book a year out," he said. "You get to know the families, and you watch their kids grow up."
Does Leonard ever plan to retire? "I'm going to do this as long as my health permits," he said. "It's fun to meet new people and make new friends. I don't consider it hard work."
Alaina Tweddale is a freelance business writer whose work has appeared on MSN Money, Time.com, Business Insider, and Motley Fool, among others. This article originally published on Northwestern MutualVoice on Forbes.com.
Brian Leonard works with Northwestern Mutual Financial Advisor Matthew Schulte.
Take the next step
Our advisors will help to answer your questions — and share knowledge you never knew you needed — to get you to your next goal, and the next.
Get started