Experts to
at every stage.
help you
Partnering with you is
how we work.

When there are countless ways to get to your financial goals, how can you know which is the right one for you? That's where our financial advisors and representatives can help.

They're expert listeners—they hear your goals and guide you to them, so you feel confident you're making the best financial choices, now and years from now. They'll take the time to understand what's important to you and design a personalized financial plan to help get you there. And as your life and goals change, your plan will, too.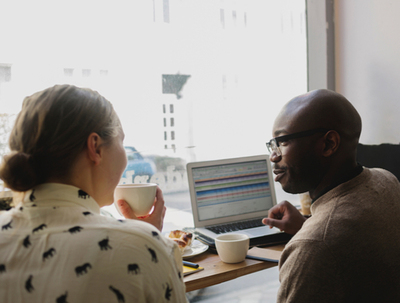 What you can
look forward to:
---
Talking personal finances can be a bit overwhelming, so our advisors are here to put you at ease. Here's what you can expect from us:
A judgment‐free, pressure‐free environment
Jargon‐free financial advice
Help seeing your financial blind spots and ways to account for them
Answers to the questions you have, and ones you never knew you had
Online tools and goal trackers
What our clients have to say.
I've known Paul for more than 40 years. I was lucky enough to meet him early in my career. He made a point to meet with me once a year to review my medical practice goals, as well as my personal ones, to determine if my needs had changed. He always came well prepared. He made it his business to know and understand my situation so that he could offer suggestions on how to move forward. You could tell he really cared about the outcome. He is incredibly competent and knowledgeable about insurance, but also extremely bright, funny, charming, and the eternal optimist. George Weinberger, Client MD, FACOG Advisor Paul Krasnow The day I met Karen Dry changed my life. That is a profound statement! I was approaching retirement when we met. The financial plan she helped me develop has since allowed me to enjoy retirement with a peace of mind I wouldn't have had before. Prior to that I had no plan for my future except my pension, now whatever happens, my sister and I can rest assured we are OK. We know Karen, Joel and the rest of the team will be there to navigate the rough times with us. Leticia Avila , Client California Advisor Karen Dry
The testimonials presented may not be representative of the experience of other clients and are not a guarantee of future performance or success.