Experts to
at every stage.
help you
Partnering with you is
how we work.

When there are countless ways to get to your financial goals, how can you know which is the right one for you? That's where our financial advisors and representatives can help.

They're expert listeners—they hear your goals and guide you to them, so you feel confident you're making the best financial choices, now and years from now. They'll take the time to understand what's important to you and design a personalized financial plan to help get you there. And as your life and goals change, your plan will, too.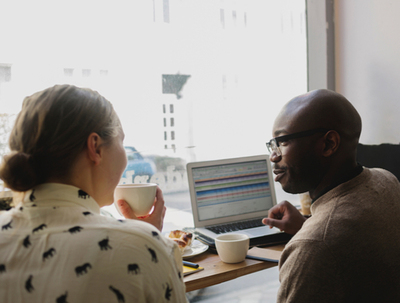 What you can
look forward to:
---
Talking personal finances can be a bit overwhelming, so our advisors are here to put you at ease. Here's what you can expect from us:
A judgment‐free, pressure‐free environment
Jargon‐free financial advice
Help seeing your financial blind spots and ways to account for them
Answers to the questions you have, and ones you never knew you had
Online tools and goal trackers
What our clients have to say.
CG Sloan has been my personal advisor for the past 3 years. I work for a payroll firm in Sarasota FL and CG and his team have been our go-to advisors for personal and business planning. He has the knowledge and charisma that I look for when referring my clients to him. He's not pushy and doesn't sell you products just for commissions, he sells on principle which is why he is still my go-to advisor and will be for years to come. CG has the values that I look for in a personal friend (family, faith and trust) and that translates over into the way he manages my personal assets and my clients alike. Mike Braun, Client Payroll Executive Sarasota Florida Advisor CG Sloan Nikki has been instrumental in helping me develop a financial plan that not only insures my future but has allowed me to give back in a substantial way to my beloved alma mater—University of South Florida. I would have not known I could purchase a life insurance policy on myself but allow USF to be the owner/beneficiary of the policy. Someday, when my time here on Earth is through, I will be creating a much larger impact than I ever dreamed possible. April Monteith, Client Multi-National Corporations Executive Director Tampa Florida Advisor Nicole Stokes
The testimonials presented may not be representative of the experience of other clients and are not a guarantee of future performance or success.