10 Ways to Save on Back-to-School Shopping
---
Marianne Hayes
Aug 14, 2023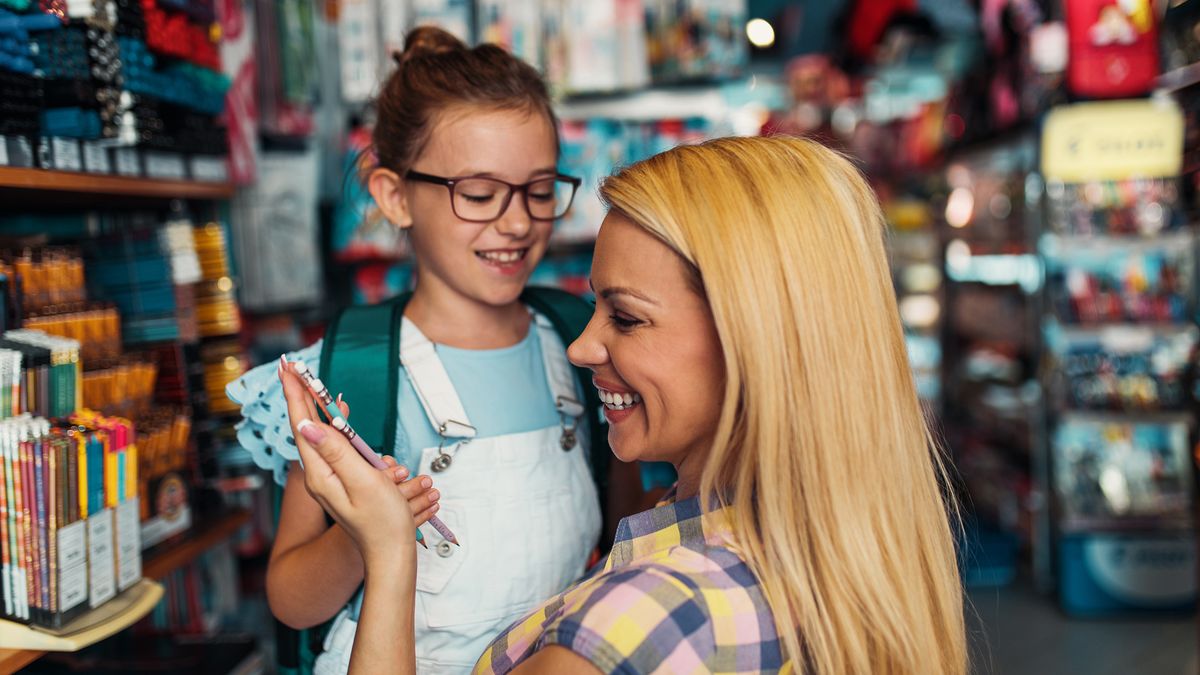 Key takeaways
Take stock of what you have before you start shopping.

Seek out supply swaps and community exchange groups.

Use online shopping tools and loyalty programs.
Families are expected to spend $597 per each K-12 student this year on back-to-school shopping, according to a recent Deloitte survey. That can add up fast if you've got multiple kids.
As the summer winds down, schools are beginning to send out their supply lists. Try these 10 pro tips to save on back-to-school shopping so you can get the best value for your money.
1. Take stock of what you already have
Go through your inventory at home before you start shopping. Money-saving expert Andrea Woroch says to look out for barely used notebooks, crayons, pencils and the like. You can even wash and reuse a previously used backpack.
"If you are in need of a new backpack, go with a good quality and a solid color," she said. "This way you can reuse it for a couple of years."
2. Think beyond regular retail
Woroch said some schools host supply swaps and uniform exchanges. If yours doesn't, contact the school to see if you can set one up.
"That can be a great way to pick up items for next to nothing and bring stuff that your child doesn't want to use," said Woroch. "You can also set up a clothing swap with other families in your neighborhood and join "buy nothing" groups on Facebook."
These groups allow local parents to post things they're giving away for free. You can also contribute back to the community with things your children no longer need. Woroch also recommends clothing swap sites like the Swoondle Society.
3. Check out resale sites
Sites like Facebook Marketplace and OfferUp can be great places to find backpacks, lunch totes, sneakers and clothing. It may be hit or miss, but it's definitely worth exploring. Just be sure to shop around and compare prices. Woroch said that some gently used store-brand clothing may be more expensive than buying them new. She recently came across Target-brand clothing at a thrift store that cost more than the sale price at Target.
4. Consider certified refurbished electronics
If you've got electronics on your list, consider opting for certified refurbished options. Woroch said you can generally save anywhere from 30 percent to 60 percent. Newer, higher-end models are often 20 percent cheaper. Retailers such as Amazon, eBay and Walmart all offer certified refurbished electronics.
"If you go with an older generation, you'll get an even bigger discount," said Woroch. "I definitely recommend this as a top saving hack."
5. Don't rule out store brands
When it comes to school supplies and clothing basics, Woroch said store brands can offer huge savings. Store-brand notebooks, for example, may be a couple of dollars cheaper than their name-brand counterparts.
"Calculate that across 30 items you're buying, and you can see how much you can save," she said. "A lot of stores will host more sales on their own brands because they have the power to push them, and they know people are shopping for school supplies."
In some cases, a store-brand item's regular price is cheaper than a name-brand item's sale price.
Take the next step.
Our advisors will help to answer your questions — and share knowledge you never knew you needed — to get you to your next goal, and the next.
Get started
6. Compare circulars
Woroch recommends the Flipp app, which aggregates store circulars in one place. This makes it easy to compare prices and sales from different stores. She added that stores tend to promote sale items with the hope that you'll come in and spend more on other things. "But you can beat them at their own game by just buying those things that are on sale."
7. Use online shopping tools
Woroch is a big fan of the CouponCabin Sidekick browser add-on. It provides valid coupon codes along with other perks.
"It will test each code and then apply the deal with the biggest discount for you," Woroch says. "They'll find a deal if there is one. There's also cash back you can earn. You're missing out on free money if you're not shopping through a cash back portal."
She also recommends Karma, which allows you to set sale alerts. If your child has their eye on a specific pair of sneakers, you can set an alert and get notified when the price drops. PriceBlink, which compares prices for you, is another tool Woroch likes. "They might tell you to shop on a site you would never have thought to check."
8. Team up for bulk savings
Certain back-to-school items may be cheaper to buy in bulk. Costco or Sam's Club, for example, might have great deals on things like printer paper, office supplies and construction paper. Going in on these purchases with other families can be an easy way to save.
"Clearly you don't need all of that and don't want to spend hundreds of dollars on it, but you can team up with other families to split those purchases," Woroch says.
9. Take advantage of loyalty programs

 
With store loyalty programs, you can earn rewards toward future purchases and get exclusive savings you can use for school shopping.
Woroch says that if you have a late summer birthday, you can also cash in on customer loyalty deals. DSW, Famous Footwear and CVS all offer birthday discounts that you can use when buying back-to-school items.
10. Tap your credit card rewards
Some credit cards give bonus cash back if you use your card at certain stores, but you typically have to opt in to qualify. If you're planning on shopping at a specific store anyway, why not get rewarded for it? Opening a new rewards card might also get you a sign-up bonus.
"Some of these things stack really nicely, like using a cash back portal plus a cash back credit card," Woroch says. "Take advantage of all the ways to earn cash back right now because prices are high, and maybe you're not going to find the best coupon or the best sale."
Want more? Get financial tips, tools, and more with our monthly newsletter.