4 Tips to Help You Stay Motivated to Work Out While Social Distancing
---
Marianne Hayes
Jul 21, 2020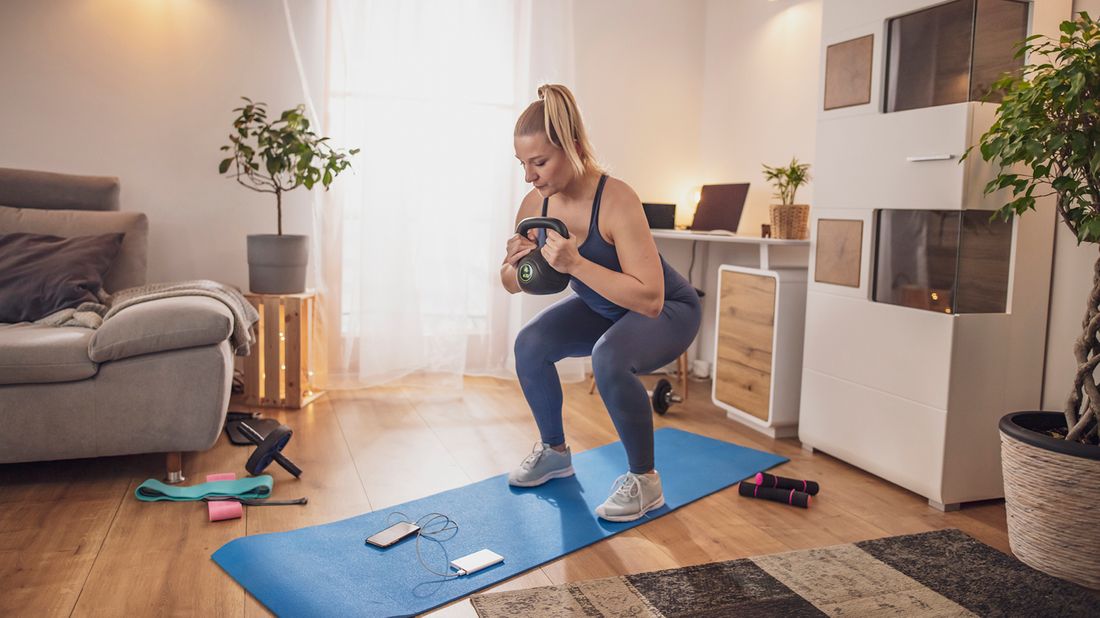 Staying motivated to work out can be a challenge during the best of times, let alone while you're social distancing. You might be saving money by not having to pay for a gym membership or boutique classes, but the trade-off is that it feels harder to stick to your fitness regimen.  
So how do you stay motivated to work out while the coronavirus is still a concern? We tapped New York City-based personal and group fitness trainer Jen Tallman for some answers.
SET REALISTIC EXPECTATIONS 
Before the COVID-19 pandemic, you may have been hitting your yoga class three times a week. Now, working from home with kids means you're lucky to get in three online classes a month — but Tallman says that's OK. 
"My main piece of advice through all this is just to be gentle with yourself," she says. "There shouldn't be any pressure to keep up the same routine you had before. Nothing has remained the same, including our routines." 
So don't put too much pressure on yourself. If you're looking for some sort of benchmark or guideline to work toward, keep in mind that the CDC recommends at least two-and-a-half hours of moderate-intensity aerobic activity per week. 
And if you do nothing else, taking up walking can be an effective substitute during this time. In fact, it's how Tallman lost more than 100 pounds a little over a decade ago. "I did no other physical activity until I'd lost the weight," she says. "Walking is by far the cheapest, easiest, most effective way to exercise. Anybody who's able-bodied can do it." 
Researchers say that novelty and surprise are two characteristics that stroke intrinsic motivation.
TRY SOMETHING NEW 
Now probably isn't the best time to take up an intense new workout regimen, but that doesn't mean you can't try something new. After all, researchers say that novelty and surprise are two characteristics that stoke intrinsic motivation. 
"For example, you might be able to take a midday virtual class, which you normally wouldn't be able to do," Tallman says. "Or if you're used to working out at 6:00 a.m., now is the time where you can finally sleep in and see how your body might feel doing a later workout." 
Setting realistic expectations may require modifying what your old workout routine used to look like anyway, so keep an open mind about the kinds of fitness activities you might enjoy. 
LOOK TO VIRTUAL CLASSES AND TRAINERS 
One of the hardest things about solo home workouts is that you don't have someone physically by your side to guide and push you, something many people need to stay motivated. 
Gyms like Crunch Fitness and Gold's Gym are offering free trial periods on their digital platforms, which feature hundreds of different at-home workouts. Many personal trainers have also jumped on the bandwagon, offering virtual opportunities for structured fitness sessions. If you like sticking to a schedule, attend a class you know will only be streamed at a certain time, versus a video you know you can watch at your leisure. 
If you're willing to add a virtual gym membership fee to your budget, Tallman says it could boost your motivation to break a sweat. No one wants to see their hard-earned money go to waste. 
PLUG INTO YOUR FITNESS COMMUNITY 
If group workouts were part of your pre-pandemic life, you might be missing your fitness community right about now. Tallman says the good news is that social media has come to the rescue, providing a real sense of belonging online. Following trainers and gyms on their social accounts is a great way to stay connected to your community and keep informed of upcoming virtual events.  
You can even reach out to trainers directly to set up group workout sessions for you and your friends. Those who are looking for additional accountability and support can take it a step further by creating a private Facebook group. Think of it as a place where you can come together, share your progress, and ask for support when you need it. 
"I think online fitness is something that's here to stay for a while, and we're at the very beginning of cultivating what that community looks and feels like," Tallman says.  
The pandemic has thrown a wrench in our regular workout routines, but the silver lining is that there are plenty of ways to keep fit from home. All you need is a little motivation. 
Take the next step
Our advisors will help to answer your questions — and share knowledge you never knew you needed — to get you to your next goal, and the next.
Get started