5 Fun Things Your Family Can Do Together While You're Social Distancing
---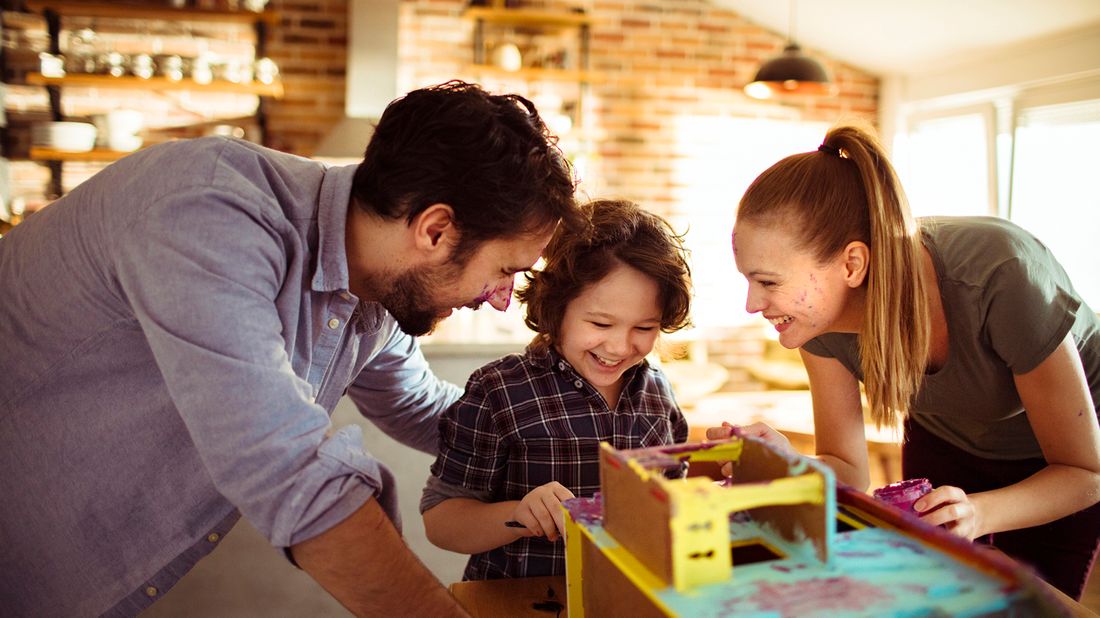 No one could have predicted how quickly school closures and social distancing turned extended quality family time into too-close-for-comfort exhaustion.  
And by the seventh viewing of "Frozen 2," you're probably wondering, "Now what?!" 
Well, now's the time to get creative and summon energy you didn't know you had. Here are a few ideas to help keep your family entertained and occupied during this time. They just may help you create new memories and keep your sanity intact. 
CREATE A ROUTINE THAT INCLUDES FUN AND DOWN TIME 

You may be one of those parents who whipped out the color-coded daily schedule as soon as you saw the news that schools would be closed. Or you may be the type who hands out the iPads and hopes for the best. Whichever camp you fall in, building routines into your schedule will help give your kids some predictability that can help during uncertain times. 

Research has shown that family routines are one of the best ways to maintain kids' social-emotional health. In addition to any home schooling or virtual learning guidelines given by your kids' schools, your schedule should leave room for things like movement, quiet time and fun. 

"Family dance parties tend to improve everyone's mood," says clinical psychologist Rebecca Schrag Hershberg, founder of Little House Calls and author of "The Tantrum Survival Guide." "Even the crankiest child — and parent — in the house will perk up." 

If you have older kids, they may want to self-direct more, but insist on including family time in their schedule — that could mean a movie, a video game or even just reading together in the same room.  

Hershberg also suggests keeping a journal of the time you're together so you can document these rare moments of extended family quality time. 

SET UP VIRTUAL PLAYDATES AND STAY CONNECTED 

In high-risk areas playdates are discouraged, even on outdoor playgrounds. For parents of super-social kids, this can be a tough adjustment.  

Many families are banding together and scheduling daily virtual playdates. Whether through Google hangouts, FaceTime, Zoom, Skype, Facebook Messenger or other video apps, call in to friends and family for much-needed social connections. You can also try one of these kid-safe chat programs, with options by age group.  

In addition, "There are some amazing offerings online right now" for kids to enjoy, Hershberg says. She points to "Lunch Doodles with Mo Willems" as a great example. Every day at 1 p.m. EST, kids can virtually visit the renowned children's author's studio and watch him draw or do crafts. 

Tweens and teens who already know full well (and probably better than you) how to connect virtually can try something revolutionary: Writing a letter or postcard every day and mailing it to someone they care about. Receiving a piece of snail mail brings a joy that can't be replicated by a text or direct message. Grandparents will love it — and they could become a keepsake for the future. 
 

PICK A NEW SKILL TO LEARN AS A FAMILY 

What's the one thing we're always craving more of? Time. Well, now we've got it. After your virtual workday, consider taking up a family-friendly extracurricular. Always wanted to learn another language? Learn with other family members through language apps like Duolingo, or make flashcards and practice speaking together. 

There's also no limit to what you can learn on YouTube, whether you've always wanted to take up sewing, practice more yoga or learn DIY hairstyles. Watch on the big screen so you can all learn together. One of the keys to staying positive is to treat this time like it's an opportunity, not a punishment.  
 

REPLICATE FIELD TRIPS 

Field trips are one of the things kids will be missing this time of year. "It's a good time to take virtual tours of a ton of museums, zoos and cultural sites," Hershberg says.  

The San Diego Zoo, which is closed to visitors, is offering a "home safari" on Facebook Live. The Metropolitan Opera in New York City will stream performances on its website. And you can even take a virtual tour of the Louvre! Check out the websites of your local museums to see if they are offering any virtual tours or talks.  
 

GET OUTSIDE (SAFELY) 

While experts recommend avoiding common play areas like playgrounds, taking advantage of the nicer weather will help keep everyone's spirits up. Take that as your cue to head outdoors. 

"If you live somewhere that you can get outside and still stay six feet away from others, then do that," Hershberg says. "Kids of all ages will benefit from getting into nature and moving their bodies. Put together a scavenger hunt, or find one online, of things you can look for in nature or in the city. Play frisbee, throw a ball, or go old-school and play 'Mother May I' or 'Red Light, Green Light.'" You can even take your analog scavenger hunt digital with an app like PicCollage — collect photos of what you found, then discuss the collage over dinner.  

Other ideas: Play "Will it sink or float?" with things found in the yard. Set up sidewalk chalk or a hammock. Visit the blog at Tinkergarten, a company that normally holds outdoor classes for small children, for DIY project ideas and live-streamed activities. Or simply go for a stroll around the block with the dog.  

And try to eat at least one meal as a family outside, even if it's just a sandwich on your front porch. These kinds of simple steps can help you appreciate what you can do during this time together.  
Take the next step
Our advisors will help to answer your questions — and share knowledge you never knew you needed — to get you to your next goal, and the next.
Get started
Want more? Get financial tips, tools, and more with our monthly newsletter.