Rachel Morgan Cautero
Apr 26, 2021
5 Tips That Helped Us Save on Family Travel During the Pandemic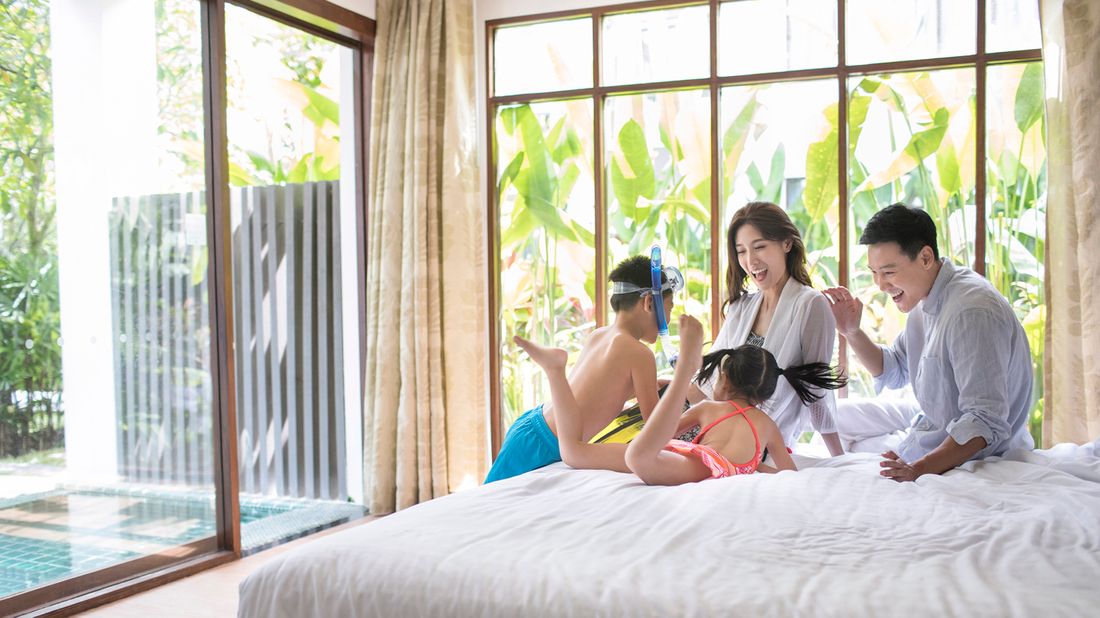 After nearly a year of staying close to home and working remotely without childcare, our family of four decided we needed a vacation in the worst way. 
Of course, planning a safe trip during the pandemic was unknown territory, but we discovered there were ways to make the process easier. Ultimately our mini-trip was wonderful for our mental health — and we saved money, to boot. Here are the top tips that helped us.   
TRAVEL WITHIN DRIVING DISTANCE
My family lives in Florida, where there are several destinations just a few hours' drive away, from Savannah to Charleston to Orlando to the Keys. Ultimately, we decided on Orlando as our destination of choice based on its local COVID-19 stats at the time.  

Driving was the safest option for us, since we have a baby who is too young to wear a mask on a plane. We saved on the cost of airfare, car rentals, airport food and checked baggage, and because our trip was only north of two hours, we didn't need to make any stops along the way. The costs for gas and the wear-and-tear on our car were negligible. 

LOOK FOR LOCAL DISCOUNTS
Traveling locally offered another major perk. Since we're Florida residents, we get a state discount for a luxury hotel in a major tourist destination. After checking their safety protocols, we chose one and paid just $395 a night versus the full rate of $1,300 — helped, of course, by the drop in travel during the pandemic (the hotel was virtually empty while we were there).  

Florida residents also get discounted tickets to local theme parks like Disney World, Universal Studios, Legoland and SeaWorld. In many cases, these rates are about half of what you'd normally pay. To find discounted hotels in your state, check the heavily tourist areas.

Many hotels will offer discounts for state residents during off-peak travel times or when they have last-minute rooms to fill. These deals often aren't published on the hotel's booking site — you almost always have to call and ask for them. 

ASK FOR UPGRADES
Every time my husband and I travel, we ask for upgrades, and often have been able to get better airplane seats, hotel rooms and perks like free breakfast. On this trip, we received an upgraded room, free of charge, which made sense considering the hotel's low occupancy. The extra square footage made such a difference with two children and all the gear they require. 

When you're asking for an upgrade, politeness will get you everywhere. Most hotel staff want to make their guests happy, so they'll usually upgrade you if they have the space and ability to do so. And if they don't? Still, be polite — there's always next time. 

KEEP IT SHORT
We opted for a long weekend trip but timed our travel so we were only staying two nights instead of three. This cut down on both hotel and food costs, a substantial savings for a family of four. Plus, it was the perfect way to satisfy the travel bug without overdoing it with two small children. 

MAKE IT COUNT
And no, I'm not just talking about taking a full mental break during your time away (that's a given). We used our favorite rewards credit card to pay for all our costs. Our travel card awards us double points for travel-related expenses, which we can use toward our next family getaway.   
Take the next step
Our advisors will help to answer your questions — and share knowledge you never knew you needed — to get you to your next goal, and the next.
Get started