7 Back-to-School Traditions Parents Are Sticking With During Distance Learning
---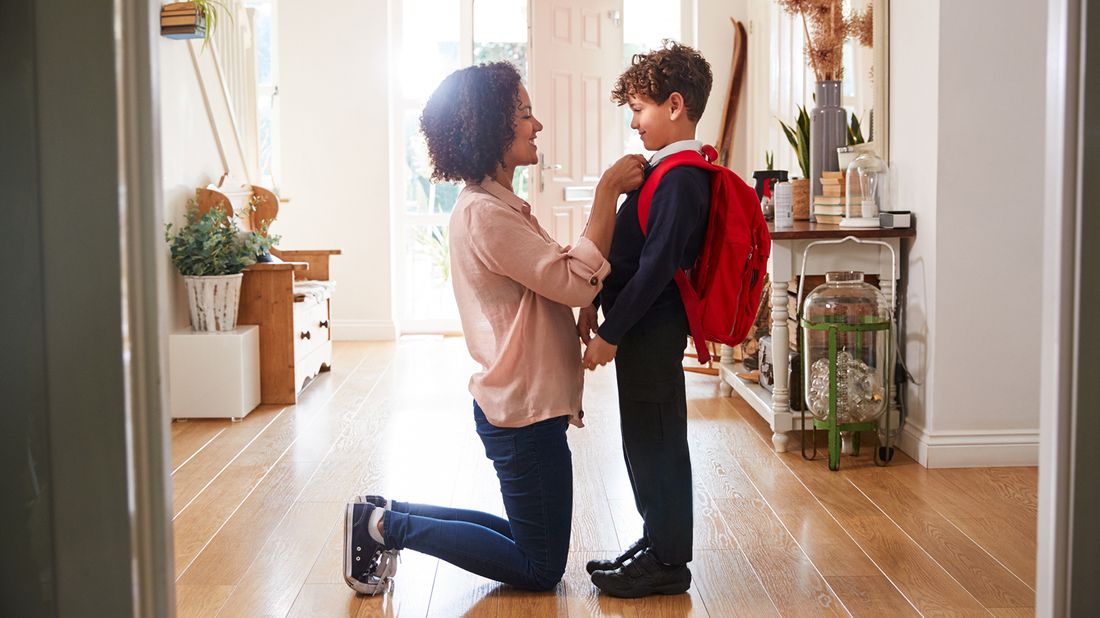 As the 2020 to 2021 school year quickly approaches, back-to-school season is looking decidedly different. But for parents and students, keeping up with back-to-school traditions and routines can be a good way to bring back some normalcy even as everyone is adjusting to new norms. Here's what six parents across the country are doing to help make a school year that will be anything but ordinary feel familiar again. 
BACK-TO-SCHOOL SHOPPING AND BAG LUNCHES 
Wendee Lipnick, of Walnut Creek, California, traditionally kicks off the academic year by buying school supplies and new outfits with her daughters, ages 10 and 14. Even though both will be attending school remotely this year, Wendee is sticking to the routine — with a twist.  
"This year, the girls and I went clothing shopping online," she says. "Since they will be fully remote, we had a good laugh about only needing to buy new tops. Even though they have plenty of clothing and will be going to school from their bedrooms, it felt important to follow through with past traditions."  
Planned meals quickly fell by the wayside when Lipnick and her family found themselves learning and working from home last spring, and the girls began gravitating to snacks or pre-packaged meals. This year, the Lipnicks plan to resume making bagged lunches just as they did prior to the pandemic.
"Having lunches accessible to the girls means we can make sure they eat a well-balanced meal and also makes a routine easier to follow," Lipnick says.
FIRST-DAY-OF-SCHOOL PHOTO SHOOTS 
Even though his son won't be leaving the house to attend school, Jared Morris, of Portland, Oregon, still plans to take the annual first-day-of-school photo.
"It is our tradition to take the photo of our son and share it with his grandparents electronically," he says. "This year won't be any different, even though he won't actually be going to school."
Of course, looking good for the photo is still a priority: Another end-of-summer ritual is a trip to the barber shop. "Keeping up with prior traditions brings normalcy to a very abnormal time in history and in our son's life," Morris says.
PERSONALIZING SCHOOL WORKSPACES 
When COVID-19 hit, Tracie King and her family were living in Brooklyn, New York. "Since remote learning last year was so spur of the moment, we had to make do in the space we had," she says.
The family has since relocated to Asheville, North Carolina, which has meant a new learning space for her kids. "This year, with more time to prepare and having a better idea of what to expect, we are letting the kids design their own work spaces," she says. "By allowing them to choose their desk, chair, light and desk accessories, it's a space they actually want to be in."
DONNING SCHOOL UNIFORMS AGAIN 
Dena Magid's two daughters attend a charter school where they are required to wear a uniform. Even though they'll be attending school from home, where Zoom class could technically be attended in your PJs, Magid is enforcing the same routine the girls would be following for in-person learning: They'll get up, brush their teeth and get dressed in their uniforms for the day.
That way, school will really feel like school. "Wearing their uniforms differentiates the school day from every other day at home," says Magid, who lives in Phoenix.
CREATING YOUR OWN EXTRACURRICULARS 
For Elana Hostetter's daughter, the hardest part about foregoing a fully in-person school experience is missing out on physical education classes. To make up for it, Hostetter and her daughter have discussed the idea of running a 10K.
"If schools aren't able to meaningfully offer programs like P.E. and art virtually, we are going to prioritize setting goals every term to incorporate them into our daughter's life," says the Ada, Michigan, mom.
She'll also give her daughter a regularly scheduled task. "I can't control what our school district selects in terms of fully returning to school, but I can help my daughter feel as though she is gaining independence," Hostetter says. "We came up with the idea of her cooking dinner every week. She will be responsible for meal planning, generating a shopping list, cooking and serving a meal of her choice once a week."
SAFE SOCIALIZING WITH FRIENDS 
The isolation of sheltering in place took a toll on Juliana Weis and her family. To help give her two daughters the socializing they've been craving, she made a safe plan to reintroduce some face-to-face time with friends.
"Essentially, since they will be on screens all school day, our way to prepare for this remote learning is to establish quality time off screens," says Weis, who lives in Bainbridge Island, Washington.
Her older daughter has been permitted to meet up with four designated friends on a weekly basis to play soccer. Because they are in high school, Weis trusts them to take proper safety precautions during their outdoor activity. Weis' younger daughter loves art, so she joined a class with just a few students that's being taught by a local artist. It's helped a lot, Weis says: "These peer connections have been essential to their emotional well-being."
Take the next step
Our advisors will help to answer your questions — and share knowledge you never knew you needed — to get you to your next goal, and the next.
Get started
Want more? Get financial tips, tools, and more with our monthly newsletter.