7 Ways to Make the Most of a Family Cruise
---
Chaunie Brusie
May 21, 2019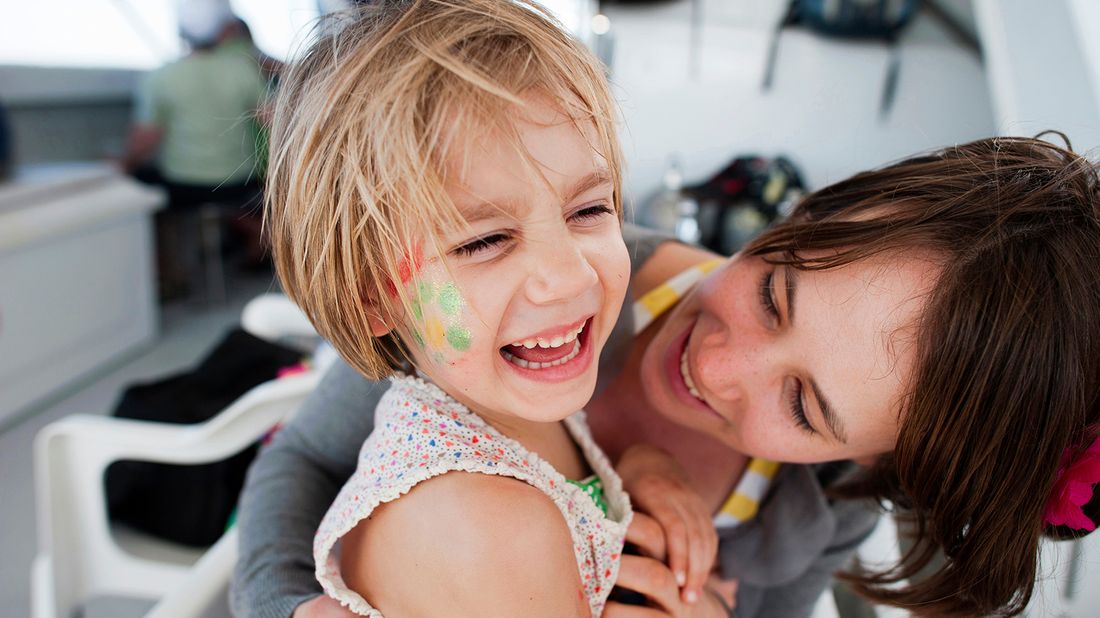 If you're considering taking a family cruise for your next vacation, you might have a question or 20 about making it a successful trip. There can be a lot of concerns about voluntarily paying to join a floating resort, from seasickness to any other kind of sickness.  
As a total cruising newbie, I turned to the experts for some of the best tips and tricks for cruising with the family. First off: Are cruises really that much better than, say, a land-and-sand trip with the fam? According to Erica Silverstein, senior editor at Cruise Critic and family cruise expert, one of the biggest benefits to a family cruise is the sheer convenience a ship trip can offer.  
"You can travel to different destinations but still have a 'home base' without having to plan any of those itineraries," she says. Plus, cruises can cater to many different ages, interests and activities within one contained area — Mom and Dad can rest on the pool deck while the kids have a blast playing laser-tag in the Kids' Club. Plus, Silverstein adds, there's usually unlimited ice cream. 
Of course, it takes more than just ice cream to make a trip. We rounded up more expert tips on how to make the most of a family cruise. 
Consider staying on the ship during excursions 
While cruises can be a fun way for families to visit new places, the ships can get crowded, especially during peak travel times like spring break. So, consider skipping some of the shore excursions. With the majority of people clearing off the ship, you and your family can have a whole day to relax on board and enjoy some of the amenities, like the waterslides or other popular attractions that might typically carry a long wait.   
Some cruise lines offer a nursery on-board that accepts babies starting at 6 months and have free child care for older kids with extended hours. 
You don't have to book excursions through your ship  
A little-known cruise fact is that you are not obligated to book any of your port excursions through the ship you are traveling on, says Jill C. Roark, affiliate of Academy Travel and authorized Disney Vacation Planner. You may be able to save a little bit of money by booking a different excursion at port. That said, consider the safety element of booking through the ship directly, as it may be easier for them to locate you if something goes wrong during your excursion. 
Investigate the kids' club policies  
Many cruise lines that cater to families offer drop-off Kids' Clubs where the younger set can check in for fun activities while parents indulge in some adults-only time. However, you'll want to research any age and time restrictions, along with additional fees if services aren't included in your initial package. Some cruise lines, like Disney, offer a nursery on-board that accepts babies starting at 6 months and have free child care for older kids with extended hours, letting kids stay to play while the adults enjoy the ports.  
Research the room service policy 
Not all cruise ships offer on-demand room service for food, Silverstein says. This can make traveling with young children with unpredictable nap schedules, or children with dietary restrictions who may need more flexibility with meals, more challenging.  
If you know that scheduled meal times without any other food service won't work for you, Silverstein recommends researching what the cruise line's policy is about bringing your own food on-board and whether room service is available. 
Consider a barge cruise 
When you think "cruise," you might automatically picture the brand-name supersized vessels. But Stephanie Sack of Barge Lady Cruises encourages families to consider a barge cruise instead. Barge cruises are slower-paced, intimate trips (think: 22 or fewer guests) with customized itineraries that sail along European canals through destinations like Ireland or France. This may be a good option if you're traveling with extended family, giving you more control over your activities and surroundings. 
Prepare for the potty-training situation 
Most cruise ships don't allow any child who is not fully potty-trained to use any of the water activities on board, which is kind of a big deal, since the pool and water features tend to be a huge draw for kids. Swim diapers are not allowed because they can clog the ship's water system, which must recycle the water back into the pools, fountains and slides. And, if there's an untimely accident from a parent who decides to risk it, the staff will be forced to shut down the entire area for cleaning, which is no fun for anyone.  
So, what does that mean for parents with young kids? "I think it's worth your while to wait until they can take full advantage of the ship," Silverstein says.   
What about safety? 
Safety is a top priority for cruising families — no one will have fun if you're worried about your kid falling overboard. Silverstein recommends educating your children ahead of time about how to stay safe, including staying out of unfamiliar areas and what to do in case of separation. 
As for horror stories about viruses running rampant through cruises, Silverstein notes: "You are not more likely to get sick on a cruise ship than you are in a pre-school." Cruise directors and staff members take measures for safety and cleanliness. "They don't want anyone getting sick either," Silverstein adds.  
Three parting tips each travel expert recommended without hesitation: Work with a travel agent to book your trip; book as early as possible, especially if you have a large party; and consider a cruise line, such as Disney or Royal Caribbean, that caters to families to make the most of your experience.  
And, when in doubt, don't forget about that ice cream.  
Take the next step
Our advisors will help to answer your questions — and share knowledge you never knew you needed — to get you to your next goal, and the next.
Get started
Want more? Get financial tips, tools, and more with our monthly newsletter.