Creative Gift Ideas for Your Favorite High School Grad
---
Cathie Ericson
May 06, 2019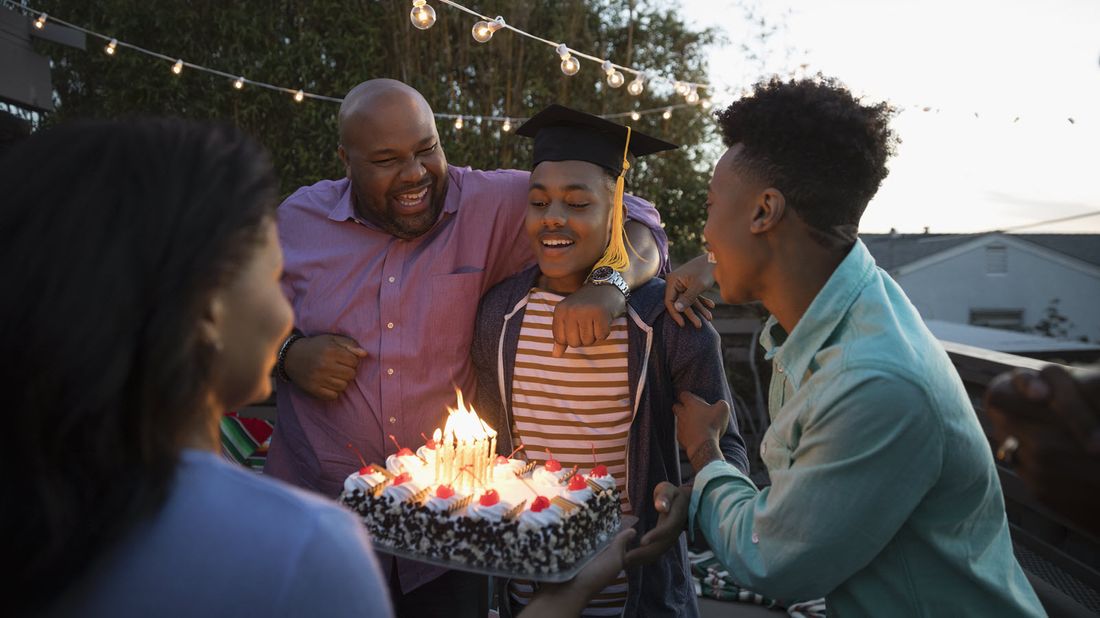 Money. Yep, that's what high school graduates say they want, whether it comes in the form of a gift card, a credit at the campus bookstore or just cold, hard cash. But that's a pretty boring present, isn't it? Don't worry: We've got you covered with a few creative high school graduation gift ideas that are just as fun as money — and will create a much more lasting impression.  
FOR A SENTIMENTAL HIGH SCHOOL GRADUATION GIFT 
I'm not crying … you're crying. Here are some heartfelt gifts to show your grad how much you care. 
Minted Heart Snapshot Photo Art: We love this fresh take on your average framed photos that lets you showcase a whole bunch of favorite shots from over the years. $29 to $214, depending on size. 
School Street College Town/Hometown Posters: These posters from traditional "college towns" make fun dorm room décor (we won't blame you if you add one from their hometown, too, if it's available). $22 to $95 
Going Places Compass Disc Necklace: This compass charm is beautiful, but we're especially taken by the note that comes with it: "Wear your necklace as a reminder that you're headed for adventure, success and incredible experiences along the way." $58 
My Life Story — So Far Journal: They're starting a new chapter. Help them remember all the great stuff they've already accomplished and all the people who love them. Get them started by recording some of your favorite memories and milestones, and then let them continue to write their own story. $30 
Goulet Pen Co. Retro 51 Tornado Rollerball Pen: Sure, they're probably taking most of their notes on their laptop, but sometimes handwriting can be a relaxing change of pace. The words will flow out of this rollerball pen that combines form with function. (Fun fact: This is the same pen they sell at the Apple corporate store in Cupertino, California, so you can pick up an Apple logo one if you happen to be nearby!). $24 
FOR A PRACTICAL HIGH SCHOOL GRADUATION GIFT 
When your grad opens one of these, they might be like, "Gee, thanks," as they silently think, "This is not money." But we promise they'll be super appreciative when they head off on their adventure, as all these items are going to be 100 percent necessary. We selected ones that are just a little nicer than you might otherwise purchase at the nearest big box store.  
Land's End Supima Bath Towels: They'll never have to wonder again whose towel is whose when they come already labeled. We love these extra-soft luxurious towels that are bound to survive wash after wash. The rainbow of potential colors means you'll have no trouble finding ones that also showcase your grad's school spirit. $24.95 
ENO DoubleNest Hammock: College life is exhausting, didn't you know? And your fave student should be ready to take a cat nap whenever the opportunity strikes. This hammock folds up into a ball the size of a grapefruit for easy transport and sets up in a flash. $69.95 
Laundry Sorter Personalized Laundry Bag: Since when is "laundry" gift-worthy? When it's a hamper that's going to make life as easy as possible — that's when. We love this one that can become a backpack to tote those dirties down to the laundry room (or, we hate to say it … possibly home). It comes with pockets to separate different types of laundry (a mom can dream) and can even be labeled with a name or monogram. $24.49 
42 Travel Hanging Toiletry Bag: If your teen winds up living in a "traditional" dorm, they're going to be toting their toiletries down to the shared bathroom. This bag looks a little more upscale than your average shower caddy and even holds full-sized products. $19.95 
LL Bean Extra Large Adventure Duffle Yes, please, do come home for the weekend — or head off to visit a new pal. Sometimes kids just want to grab and go, and this duffle is the perfect size to hold all the essentials in a snappy print — with a monogram optional of course! $79.95 
FOR A CARE PACKAGE 
Once your kid is out in the real world, there's nothing like a care package from home to let them know they're on your mind. So after you stuff it full of snacks, candy and … ahem … money, throw in something else fun to remind them that you think they're great. (Pro tip: To save on shipping, go to the post office and get the "flat rate" box. You can send as much as fits in there for the same low price!)  
Homesick Candles: You don't want to suggest your child might be — or should be — homesick, but these candles are a fun way to remind them of their home state. $15.95 to $54.95 
"I Am Crushing It" Socks: For a cheerful pick-me-up during finals season, just to remind them that indeed they're doing awesome. $12.99 a pair 
"What Do You Meme?": Every kid deserves a break from studying, and sometimes you gotta give "Cards Against Humanity" a rest. This game might be just what they need to get the rest of their floor in a better mood to return to studying. $29.99 
Inspirational Pencils: With every note they take, they'll remember to "Think good thoughts" and that "Yes you can!" $13.81 for a set of six 
Take the next step
Our advisors will help to answer your questions — and share knowledge you never knew you needed — to get you to your next goal, and the next.
Get started
Want more? Get financial tips, tools, and more with our monthly newsletter.