Sonya Stinson
Feb 15, 2016
Cruise Deals: Save on Your Next Retirement Vacation
Suzanne Fluhr, 61, has seasonal affective disorder, a type of depression triggered by changes in the seasons. It tends to flare up in February. So when winter comes to her Philadelphia home, she's usually looking to get away.
"I'm like, 'Get me out of here!' I don't care where I'm going, but it has to be somewhere warm," said Fluhr, who sometimes books a cruise to her tropical destination.
But while Fluhr doesn't always care which island she's sailing to, she never wants to pay too much to get there. So she keeps a close eye on those extra expenses that can turn a so-called bargain cruise into a bummer when you get your final bill.
"You can end up with a bill that's more than it cost to go on the cruise," said Fluhr, who has been semi-retired from her law practice since 2005. In that time she's traveled around the world with her husband, chronicling their adventures on a blog, Cruise Maven.
Savvy travelers like Fluhr who are in or near retirement can take advantage of cruise discounts through membership in AARP or a cruise line's own senior fare program. But the savings don't have to end there. From choosing the right time to cruise to knowing where to leave your car while you travel, there are many opportunities to cut costs.
Here are a few money-saving ideas from Fluhr and travel writer Sherry Kennedy, who runs Cruise Maven.
You can end up with a bill that's more than it cost to go on the cruise.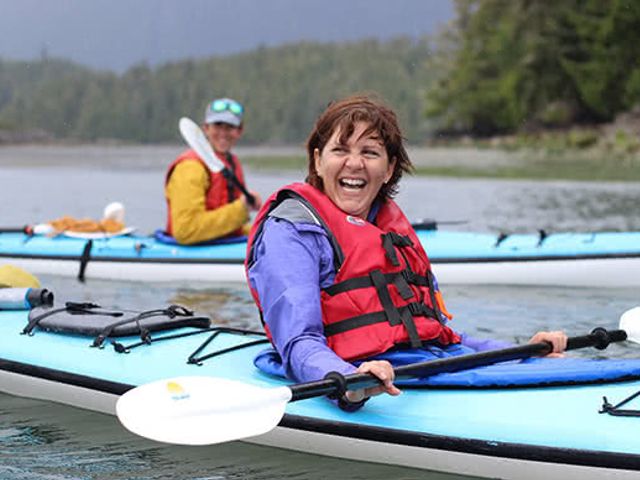 Many destinations have independent tour providers so you can plan your own mini-adventure mid-cruise. Twenty20
SAIL IN A LOW SEASON

As you might expect, you'll find some of the best deals during the least popular times of year for cruising. The Atlantic and Caribbean hurricane season, which runs from June 1 to November 30, offers good rates if you're willing to risk the disruption of running into a storm. But if you do, Kennedy said, remember to buy travel insurance if you're booking during that period.

You'll also find price breaks during the "shoulder" season, which occurs between Thanksgiving and the December holidays.

BOOK AN INSIDE CABIN

When Fluhr went on a seven-night Western Caribbean cruise with Celebrity Cruises in February 2015, she chose a stateroom without a view and saved big. Prices started at $649 per person for an inside cabin on that cruise, compared to $949 for a stateroom with a window and $1,049 for one with a balcony. Since Fluhr had already taken a 14-day cruise to Southeast Asia a year earlier without a room window, she knew she and her husband wouldn't miss it.

"We didn't hang out in our cabin when we were awake," Fluhr said.

PARK AWAY FROM THE PORT

Parking your car in the lot owned by the ship's port can be costly. Kennedy said she recently paid $20 per night to park at the Miami port. To reduce that bill, you can book what Kennedy calls a "snooze and cruise" package at a local hotel. If you stay at least one night, some hotels will allow you to park your car on site for up to three weeks for free, plus they also provide shuttle transportation from the hotel to the port.

If you don't want the overnight hotel stay, you can use an off-site port parking lot that offers shuttle service right to the ship. A lot near Port Canaveral, for example, charges $6.95 per night. You can book parking space in Fort Lauderdale on Park 'N Fly at prices starting at $8.50 per night. Do an online search for "cruise port parking" to find options in your departure city.

PLAN AHEAD FOR CELL PHONE AND INTERNET SERVICE

Before you leave, contact your cell phone service provider to find out what international roaming packages are available. Not only can these plans cut the cost of making calls, they also cover downloading email to your phone when you're out of the range of Wi-Fi service, Kennedy said.

She offered an additional tip for staying within your data plan limit:

"Rather than risk the horrible fees for going over by just one megabyte — it's $20 per megabyte once you get outside your package, which is huge — find a Wi-Fi café," Kennedy said. "There's one in every port, within walking distance to the ship. If you don't know where it is, follow the crew members."

The Fluhrs scored a discount on Wi-Fi by joining Celebrity's loyalty program, a perk that many cruise lines offer. The couple paid $265 for unlimited internet access, saving $34 off the regular price.

ARRANGE YOUR OWN SHORE EXCURSIONS

A decade ago, cruise lines had little or no reliable competition when it came to booking sightseeing tours and activities on shore. And passengers had good reason to fear seeing their ship sail away because a tour bus not affiliated with the ship was late getting back to the dock. But now, Kennedy said, any given island destination is likely to have several independent tour providers, all guaranteeing they will get you back to the ship on time or pay your fare to catch up at the next port. Before you book an excursion, find out the company's cancellation policy in the event the ship can't make it into port due to weather or mechanical issues.

A good example: Kennedy found a local company offering a dolphin swim and tour of Stingray City on Grand Cayman Island at $10 less per person than a similar package from Carnival Cruise Lines. Fluhr is also a big fan of DIY shore excursions, though she acknowledges making your own arrangements requires doing a little research.
The same is probably true for all the best ways to save money when cruising. You'll find plenty of opportunities to make the allure of the seas more affordable if you do your homework.
 
Sonya Stinson is a writer for print and web publications, businesses and nonprofit organizations. She writes about higher education, careers, small business, retirement and personal finance.
Originally published on Northwestern MutualVoice on Forbes.com.
Take the next step
Our advisors will help to answer your questions — and share knowledge you never knew you needed — to get you to your next goal, and the next.
Get started