Guide to Making Your Travel Dollar Go Further
---
Our guide to making your travel dollar go further can help you get the most out of your next vacation.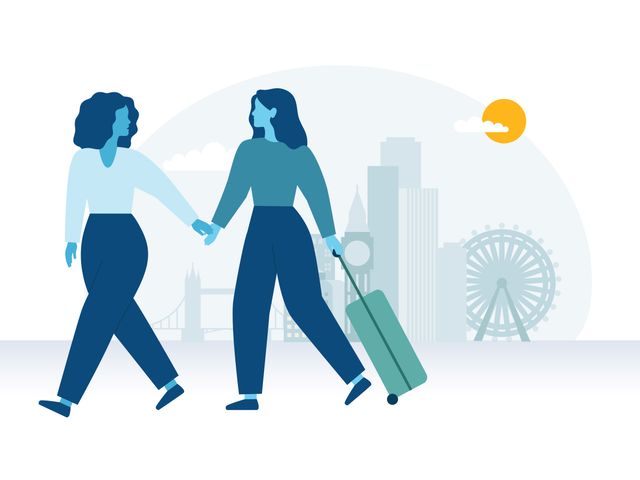 Including travel as a goal in your financial plan can help you get to your destination without having to worry about the bill at the end. That's because the plan helps you balance what you want now with future goals and shows your progress. That frees you to spend on the things you want now — like that mai tai at the cabana bar.
In addition to helping you build travel into your financial plan, we want to make sure you get the most out of your budget for wanderlust. So these seasoned travel experts are sharing the tricks they use when booking their own trips — and the secrets that save them money at their destinations.
Here are their 15 best pieces of advice for planning incredible vacations without breaking the bank.
.
What's in our guide to making your travel dollar go farther?
Section 01 Be flexible with your travel dates and locations
Be open in terms of travel dates and destinations to take advantage of off-season rates, advises travel expert Johnny Jet, who travels to more than 20 countries a year and has been writing about travel deals and tricks since 1995 through his eponymous website and newsletter.
"They don't celebrate Thanksgiving in Europe — it's offseason. You can get great deals, and flights aren't crowded."
"Go where people aren't going," he advises. "During Thanksgiving, instead of going cross-country to see family, go to Europe. They don't celebrate Thanksgiving in Europe — it's offseason. You can get great deals, and flights aren't crowded."
Section 02 What's in our guide to making your travel dollar go farther?
Don't get allured by a cheap flight, warns travel content creator Bekyy Khera, formerly the travel editor at Buzzfeed, who has traveled solo to 35 countries. Check the cost of food, lodging, activities and flights so you don't have to scrimp and save when you're on the actual trip.
"For example, there might be a super cheap flight to Iceland, which could be less expensive than a flight to Thailand. But Iceland hotels, restaurants and a car rental could put you well out of budget," Khera explains. "Thailand, however, would be more budget friendly once you're there. Weighing the flight cost versus all-in cost makes a huge difference."
Section 03 Stretch your dollar with smart locations
Speaking of Southeast Asia, Jet suggests traveling to places in that part of the world, where the dollar goes further. In Thailand, he says, you can stay at a five-star hotel for $100 to $150 a night or at a three-star hotel for $30, adding that the incidental costs are also low compared to those stateside or in Europe. A poolside pad Thai at the JW Marriott, for instance, will only set you back $7, while the same meal at a local restaurant is $1.50.
Section 04 Consider travel insurance
Jet is a firm advocate of travel insurance. (Since he and his family travel frequently, they have a yearly plan, which takes the hassle out of having to buy trip insurance piecemeal.) What makes it worth it, however, is when you get the right coverage for yourself.
"First, read the fine print to find out what's covered and what's not," he advises, explaining that often certain activities (like skydiving) are not covered. "Speak to a representative and ask, 'Is X covered?' so whatever you're worried about, you can have peace of mind."
Khera adds that she always gets travel insurance for long trips, and it has really come in handy.
"Once I got sick in Ireland and had to get a hotel for an extra five days — I was reimbursed for the hotel and my flights," she says. "Another time I went to the hospital in Bali and was reimbursed for the visit, medications and extra hotel days."
If you have a credit card, she recommends checking the policy for insurance coverage as well — many travel cards offer trip protection for travel purchased with that card. This could save you from having to purchase, say, additional flight insurance from the airline's website when booking.
Section 05 Find the best prices for flights
For the best fares, try to book flights as far in advance as possible, usually 21 or more days out from your trip, advises travel journalist and budget travel expert Benét Wilson, former senior editor for The Points Guy. Wilson suggests signing up for emails from your favorite airlines so you're alerted to fare sales. You can also use Kayak, Hopper, Google Flights, Going (formerly Scott's Cheap Flights), and Secret Flying to find deals. (These tools often do not include Southwest Airlines and low-cost carriers like Spirit Airlines.)
"I flew to Los Angeles for a couple days before heading off to Bali. This saved me hundreds of dollars as opposed to flying to Bali from the east coast."
Another hack that Khera uses is to fly from a different airport if you have a specific destination in mind but prices are steep.
"For example, take a bus to a nearby city that might have cheaper flights, or fly to another destination that has a cheap flight to your final destination," she explains. "Last time I did this, I flew to Los Angeles for a couple days before heading off to Bali. This saved me hundreds of dollars as opposed to flying to Bali from the east coast."
Section 06 Use credit cards for booking travel
There are a number of travel credit cards through which you can earn points or miles. As long as you pay a card off in full without incurring interest, having one is a smart move. Khera says she signed up for a travel credit card right before her wedding, knowing that she'd be making a lot of vendor payments, and earned enough points to book a flight to Dubai on Emirates.
"Now, points are basically free travel cash to me," she says. "My travel card helps me save money with an annual hotel credit, global entry credit, free access to airport lounges and plenty more perks."
Jet suggests Chase Sapphire or Capital One because you can transfer your points to different programs and partners without being tied to one airline or hotel chain.
Our financial advisors are here to guide you.
Our advisors can get you closer to your dreams — showing you the right financial steps to take today and down the road.
Find an advisor
Section 07 Be strategic with points and miles
You can make your points and miles go further by redeeming them thoughtfully, says travel blogger Anna Mazurek, author of Good with Money: A Guide to Prioritizing Spending, Maximizing Savings, and Traveling More.
"Just because you have enough miles for an award ticket, that doesn't mean it's a good deal," Mazurek says. "Always calculate the miles-to-cents ratio first."
She tries to only book economy flights with at least a 1.5–2 cents per mile ratio, or she uses a combination of cash and miles to cut costs. Because many airlines release their award flights roughly 11 months in advance, this is often the best time to use miles, she says.
If using points feels overwhelming, Khera suggests joining email lists like The Daily Drop and 10x Travel, which share all the tricks in a straightforward way.
"Every day I read up on deals and earn points in ways I would've never expected," she says. "I've earned points with Delta for buying Starbucks and riding with Lyft."
Section 08 Book hotels directly
Mazurek says that booking directly with a hotel can lead to cheaper rates by cutting out the middlemen and their commissions.
"Hotels will often match prices on discounted travel sites," she says. "Also, some hotel brands will not give loyalty points when reservations are made through a third party, so that alone is often worth booking directly."
Jet adds that getting status at a particular hotel chain can pay off with perks like free breakfast and discounted parking, so be loyal when you can. (He notes that Hilton in particular has the best mid-tier status because you can still get perks without having to travel too much.)
Section 09 Don't book rental cars directly
When it comes to renting a car, Wilson says she never goes directly through the companies. While you can look for deals on third-party sites, she prefers Turo, which is like Airbnb for cars.
"The prices are lower and they have a huge variety of cars," she says. "But most importantly, you can ask to pick up a rental at the airport and go directly to the car without standing in long lines."
Section 10 Opt for vacation rentals when traveling as a group
Whether you're traveling as a family or with a group of friends, it's worth weighing the per-person costs of getting hotel rooms versus getting a home rental, as the latter is usually more affordable — and can even be nicer.
"We went to Orlando last spring with family and rented a lovely — and convenient — six-bedroom, five-and-a-half-bathroom home with plenty of gathering space, a pool and a hot tub," Wilson says. "Divided up, it was far less expensive than staying in a hotel." (She also suggests going through VRBO instead of Airbnb because it tends to have fewer fees.)
Jet adds that when traveling with kids, it's worth getting a rental home or staying at an Embassy Suites or Residence Inn so that you have a microwave and refrigerator.
"Instead of spending $20 on mac and cheese in the lobby, you can pop some in the microwave for $2," he says.
Section 11 Maximize your meals
Food expenses are a big part of the travel budget. Whenever possible, Khera books accommodations with free breakfast, a kitchen or at least a mini fridge. "I'll go to the local grocery store to buy fruit, yogurt and granola for breakfasts," she says. "If I have a kitchen, I'll cook dinner and save leftovers."
When eating out, she makes lunch her biggest meal since it's usually cheaper than dinner, or she opts for street food or cafes instead of sit-down restaurants. She also suggests combining a meal with an activity, like a cooking class or a tour that includes lunch.
Also take advantage of happy hours, Mazurek says, if you're traveling in a big city. "For example, Singapore is known for being very expensive, but almost every bar or restaurant has a happy hour," she says. "It's a great way to experience a trendy place without breaking the bank."
Section 12 Avoid overpriced purchases
As a general rule, Mazurek suggests not buying anything in an airport. "If you have lounge access, take advantage of the free food," she says. "Otherwise, pick up snacks beforehand. Bring a reusable water bottle to refill after security — it's better for your wallet and the planet." She also advises always packing a full bottle of sunscreen because it can be hard to find or expensive to purchase at your destination.
Also avoid buying food at the hotel and tchotchkes at theme parks. "On our Orlando trip there was a Walmart with a grocery store nearby," Wilson says. "We made breakfast every day, and I bought souvenirs there, too."
Section 13 Buy a local SIM card
One thing you do want to buy at your destination is a SIM card, rather than paying for an international phone plan with your carrier, which often costs as much as $10 a day, Mazurek says. Buying a local SIM can be more reliable than a plan purchased through your stateside carrier, and they are easily found in a city center at a mall or shop.
"In Thailand, it was only $10 for a month of data and a SIM card," she says. "In Laos, it was $3 for 30 gigs of data, so I could do Zoom calls for work. The cellular data was stronger than my hotel's WIFI!"
Section 14 Avoid foreign bank fees
According to Mazurek, the biggest way that people waste money traveling abroad is with bank fees. She suggests finding a no-fee bank account to use while traveling.
"Find a bank that doesn't charge a fee for using another bank's ATM and also refunds the fee charged by the ATM itself," she says.
She adds that when given the option to pay in U.S. dollars or local currency, choose the latter since it's 3 to 5 percent cheaper.
Section 15 Make your splurges count
Finally, make sure that you're spending money where you truly want to — not because you're checking items off a "must-see" list. If you don't enjoy museums or theme parks, spend that money on something you do enjoy instead, Mazurek says.
"Personally, if I'm splurging on a fancy hotel, I want to spend a good amount of time in the hotel enjoying the amenities," she adds. "I love finding the best photography spots, so If I'm going to be up early and out late taking photos, I stay somewhere more modest."
Want more? Get financial tips, tools, and more with our monthly newsletter.