Pat Steider, as told to Jennifer Liu
Jul 20, 2018
How This Couple Made Their Dream of Owning a Lake Cabin a Reality
Pat Steider fondly remembers spending his childhood summers at his grandfather's cabin in Detroit Lakes, Minnesota. Little did he know at the time, his future wife, Geri Ann, was making similar memories with her family nearby.
Naturally, the two wanted to share their love of lakeside summer vacations when they started a family of their own. Four years ago, they made their dream of owning a cabin on the lake a reality. Here's what having their own "little slice of heaven" has meant to them.
A FAMILY TRADITION
My wife and I have been married for 35 years, and we have a son and two daughters, who are now in their late 20s to early 30s and starting their own families.
When they were younger, we would drive up to northern Minnesota in the summers and rent a cabin on the lake. We fell in love with the area. There's no air traffic, no cars, no people — just wildlife and beautiful, clear lake. I travel extensively for my job in sales and marketing, and the few months I don't travel as much happen to be during the summer. Having our lakeside retreats provided my family and me the opportunity to spend time together in a very quiet, beautiful piece of the world.
My wife and I always dreamed of having a second property, a log cabin on the lake somewhere. So we started to look around our vacation spot and thought maybe someday we'd build one.
PLANS IN THE MAKING
About 13 years ago, I shared our dream with Brian Kelly, our Northwestern Mutual financial advisor. We started to plan financially so that when the time came, we'd be ready to buy our cabin.
Several years later, during one of our trips, a magazine featuring a few lakeside properties for sale caught our eye. We called up the realtor and went to take a look. The property being advertised wasn't for us, but we kept looking in the area. We spent four or five years actively searching for the right property for our family cabin
About four years ago, Geri Ann and I finally found a listing online that was perfect. Thanks to the work we'd done with Brian, we were ready from a financial perspective. When we saw the property, we decided to buy it.
CREATING A HOME AWAY FROM HOME
The location is very remote. We can't actually get to the property directly by car — we have to boat into it, which makes it pleasant to stay in. That also made it a challenge when we were moving in.
During the first year, we had new windows and doors installed in the cabin, as well as new decks, steps, railings and a boat dock built out. We also had to bring in furniture bit by bit for the living room, kitchen and dining area, and three bedrooms.
At most, we've had nine people sharing the space at once. And with our family growing, we're already thinking of building out smaller guest cabins on the property so everyone can enjoy the space together in the years to come.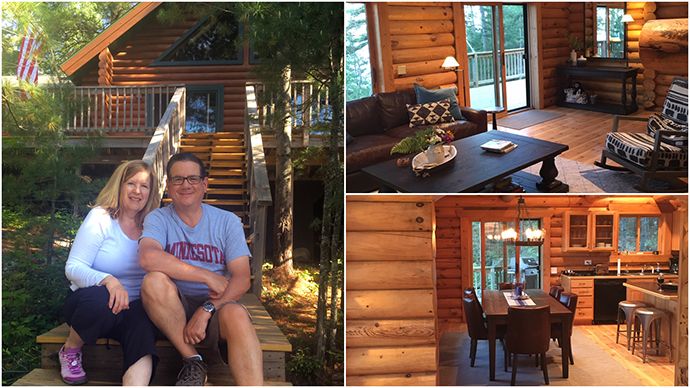 The Steider family cabin is so remote, you can only boat into it from the lake. Courtesy of Pat Steider
OUR LITTLE SLICE OF HEAVEN
These days, our kids and grandkids, who are ages 2, 3 and 4 with another little one on the way, all visit the cabin throughout the summer. We spend a lot of time canoeing, kayaking, fishing, exploring the woods — the simple things in life. When we're not enjoying the outdoors, we hang out in the family room, which has a big fireplace. We've told a lot of stories and roasted a lot of s'mores around the fire.
My plan is that when I retire, I'll have more free time to spend at the lake, and the little ones can have a summer place where they come and learn about nature and have fun with family. I'm hoping the place is filled with little ones and growing kids as they move along through their lives.
Our idea was to create a legacy property that we could share with our kids and grandkids, and eventually turn it over to them in a trust. And in the years to come, generation after generation can look back and hopefully build upon their own dreams as well. We keep a journal for family members to write about their visits, and we're hoping to have several editions of these journals to look back on as time passes.
It's not the biggest or fanciest place — it's about 1,500 square feet — but it's our little slice of heaven. And we enjoy it today because of planning and good fortune. What does it mean to us? It means everything.
Take the next step
Our advisors will help to answer your questions — and share knowledge you never knew you needed — to get you to your next goal, and the next.
Get started