How to Create a Wedding Budget for Every Important Cost
---
Natasha Burton
May 02, 2018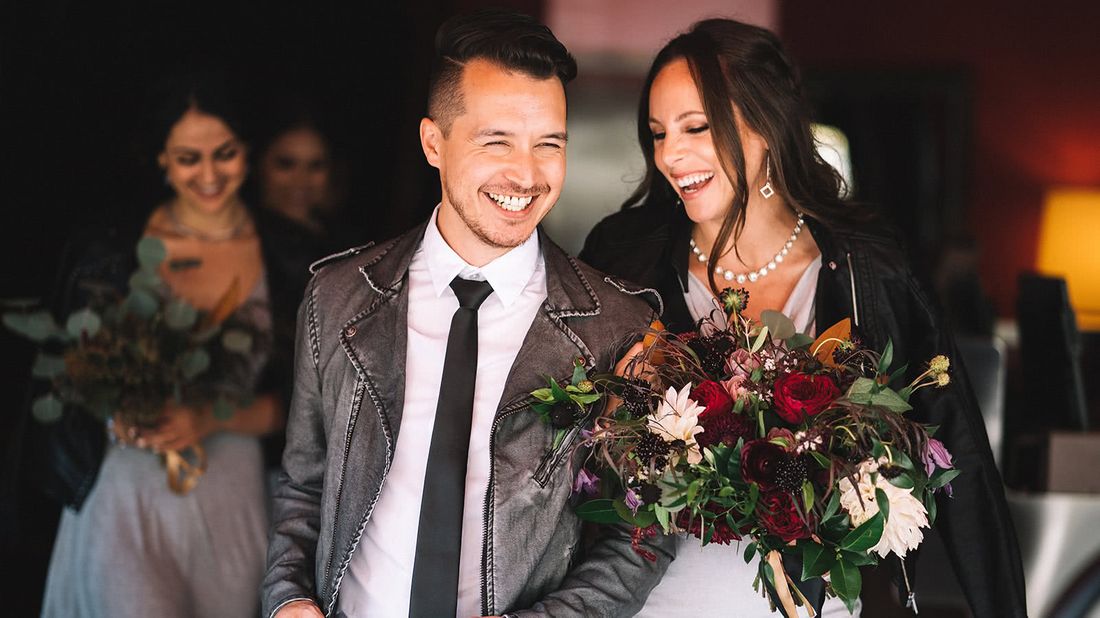 They say your wedding day is supposed to be one of the best of your life. But event planning is uncharted territory for many, and couples on average underestimate their wedding budgets by nearly 45 percent, according to the WeddingWire Newlywed Report. That's a big stressor.
To keep grounded, get your financials on-track first, advises wedding planner and designer Lindsey Sachs. "Many couples rush into the planning giddy with excitement before establishing a realistic budget," she says.
While every couple's priorities are different, some general guidelines about how much to budget for major wedding categories can get you started. Here's what you can expect to spend.
VENUE AND CATERING (50 PERCENT)
The biggest chunk of your budget will go toward location and food, so make sure it doesn't eclipse what can put toward the rest of your celebration.
This half of your budget should cover your ceremony and reception venues, your food (plus the cake or other dessert) and your bar, as well as the staff.
Note that some of these costs are fixed (venue fees, for instance), whereas the cost per plate for your caterer is more flexible based on guest list. Some couples opt to keep headcount low and serve pricier foods, whereas others may have a larger guest list and more moderate food options — did somebody say taco truck?
FLOWERS, RENTALS AND ADDITIONAL DÉCOR (10 TO 12 PERCENT)
Flowers used to be a standard wedding budget category, but many modern couples skip the cut blooms and instead prioritize pure greenery or other décor like candles and lanterns. Still, decorating can be a big expense, since it includes your guest book, centerpieces and any other personal touches you want to include, Sachs says.
"Reserve at least 10 percent of your wedding budget to cover forgotten costs — of which there are many."
She adds that rentals can be pricey if you're renting furniture or a ceremony arch. Also, if your venue doesn't include tables, linens, plates and other like items (or the ones included don't fit your vibe), you'll need to rent from elsewhere as well.
PHOTOGRAPHY AND VIDEOGRAPHY (10 PERCENT)
Hiring a skilled pro to capture your big day is worth the cost, since photos and videos are what you'll look back on for years to come. One way to save? Opt for digital copies of your photos and get albums made through a quality online service (like Artifact Uprising) instead of going through your photographer if they allow it.
ATTIRE AND BEAUTY (9 PERCENT)
Yes, even your wedding dress and suit need to fit in the budget. "While these items may be paid for separately by the bride and groom, or gifted from a family member, they are a critical component to any wedding," Sachs says. "By including the costs, couples are able to get a true picture of their budgets."
She also advises that couples account for makeup trials, haircuts and color, manicures and pedicures, men's cuts and shaves, and of course wedding day hair and makeup for the bride — and the bridal party, as needed.
ENTERTAINMENT (6 ­TO 8 PERCENT)
This category refers to your DJ, live band and any ceremony music like a quartet or musician. Note that this cost can vary greatly. "A live band alone will be closer to 10 percent or more," Sachs says. If this is important to you and your betrothed, be prepared to cut costs elsewhere to make room.
WEDDING PLANNER (5 PERCENT)
Many venues require couples hire someone to handle the event — you'll probably want to do this anyway so you're not stage-managing your own wedding. However, this percentage will vary depending on if the couple hires a full-service planner and designer, or a month-of or day-of coordinator, Sachs notes.
INVITATIONS AND PAPER GOODS (3 PERCENT)
Depending on your priorities and the formality of your wedding, this category can vary, percentage-wise. For instance, you may decide to send out evites, or you may go with elaborate calligraphy-penned invites. In any case, remember to include paper products beyond just invitations — table assignments, place cards, signs and so on.
A WEDDING SLUSH FUND (10 PERCENT)
Sachs highly recommends reserving at least 10 percent of your wedding budget to cover forgotten costs — of which there are many. This can include alterations, gratuities for your vendors, sales tax and service fees, vendor meals, favors, bathroom amenity baskets and hotel room reservations.
"This fund is also key for emergency situations, like reserving last-minute shuttle transportation for your guests or having to rent a tent due to weather," she says. "Inevitably, something will not go as planned, so rather than allowing yourself to get caught off-guard by it — and without funds — be proactive and realistic by reserving some cash."
Bonus: Any unused cash from your emergency fund can go toward your honeymoon or other newlywed goal, like saving for a down payment on your future dream home.
Take the next step
Our advisors will help to answer your questions — and share knowledge you never knew you needed — to get you to your next goal, and the next.
Get started
Want more? Get financial tips, tools, and more with our monthly newsletter.