How to Hire the Right Home Contractor
---
Cathie Ericson
Mar 06, 2019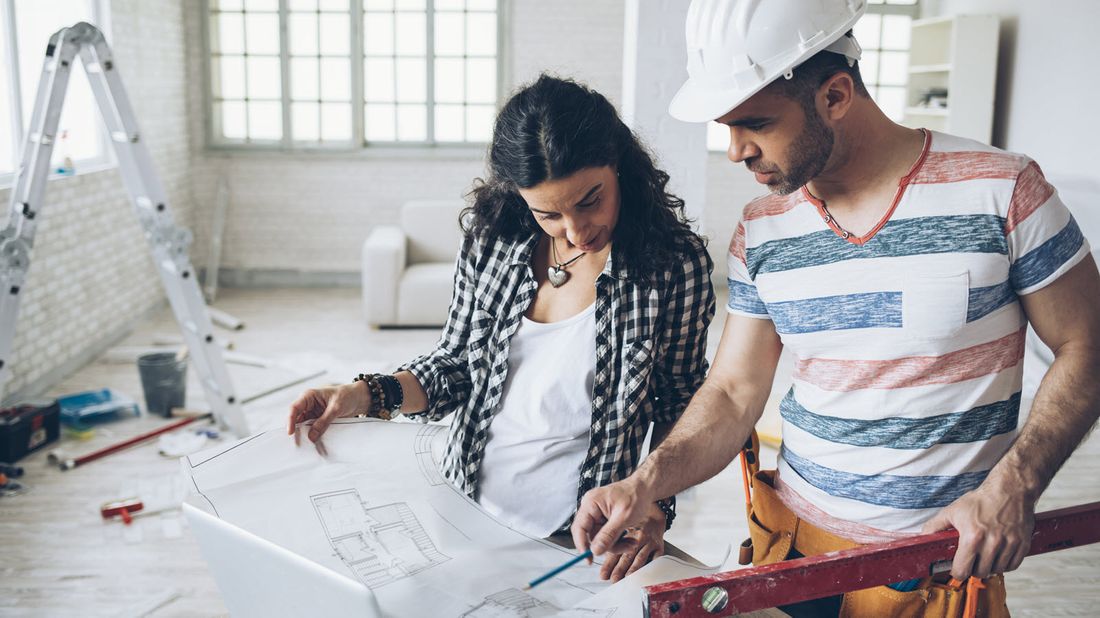 You love your neighborhood, your school and your community. And your house ... weeeellllll … it would be perfect if it had one more bathroom, or a resort-style backyard or maybe a larger kitchen. 
If you're generally happy with your home but could make it your "dream home" with just a few upgrades, you're not alone. Three-quarters of Americans say they would prefer to use funds to renovate their existing home rather than as a down payment on a new one, according to a Zillow survey.  
But unless you're Chip or Joanna Gaines, you're probably going to have to find a good contractor before jumping on the remodeling bandwagon. You're about to spend tens of thousands of dollars or more, so this is an important step to get right. 
"Finding and hiring an ethical, competent and reliable contractor is the solid foundation to a successful remodeling project," says San Diego-based contractor Jody Costello, who got into the business after her own bad experience with a contractor. 
Here, we share expert tips to help you find a good contractor — because once you start, it can be difficult (if not impossible) to go back. 
GO BEYOND REFERRALS 
You've heard from a neighbor or co-worker about a contractor who reportedly does exceptional work, and of course, that person's website bursts with glowing reviews. Your next step may be to check his or her license for any complaint history and then call it a day. 
But there are some additional steps you may want to take. Costello recommends vetting a potential contractor with a more thorough background check, starting with sites like RipOffReport, ComplaintsBoard and the Better Business Bureau. Then do what anyone does today to find out more about someone: a little online recon. "Searching the contractor's name might allow you to uncover some lesser-known, unsavory activities that you should know," Costello says. 
INTERVIEW THE CONTRACTOR 
The goal here is to find out about his or her experience, but also if your personalities will mesh. Costello recommends starting with questions about the contractor's work history and habits, such as:  
Experience with projects similar to yours   

Challenges they see with your project 

Whether they have their own employees or rely on subcontractors 

Types of insurance they carry (look for current certificates for personal liability, worker's compensation and property damage coverage) 

How they plan to clean up each evening 

How many other projects they have going and how they will juggle yours 
Then move on to interpersonal issues such as how they handle problems that crop up and how frequently and through what method they'll communicate with you during the project.  
You'll be working together closely — often in stressful situations and tight quarters — so you want to make sure the contractor is someone you feel comfortable being around. 
CREATE AN AIRTIGHT CONTRACT 
First, make sure the scope of work is highly detailed to avoid a "he said/she said" scenario that can lead to costly change orders and project delays. For example, a vague scope of work might say "cabinets, plumbing, tile, finish wood and painting," says Cindy Carey, co-owner and COO of Starburst Construction in San Jose, California. Instead, the detailed written agreement should spell out all materials, sizes and makes and models for everything that's used. It should be specific about the brand and size of cabinets and where they go, how many types of tile will be used for the shower, counter and backsplash, and how many coats of paint you expect, etc.   
Then discuss timelines, but remember that these can fluctuate. "The workers' time is finite, and it can be hard when I'm relying on other people to commit to dates and projects," Carey says. Furthermore, delays can cascade; for example, windows that are delivered late push the timing for sheetrock out and by then the team might be on another project.  
Carey recommends you pack your patience, but notes that a good contractor will include a time pad for unexpected delays. Do what you can to enforce milestones along the way, and insist on excellent communication as the job progresses. 
DISCUSS DOLLARS AND CENTS 
Now for the tough stuff … paying for it all. The first step should be to research the down payment requirements for your state, Costello suggests. "Some require no more than 10 percent, with others upwards of 30 percent." She recommends you pay the bare minimum that's required and never pay cash so that you have a paper trail.  
Then confirm the preferred payment schedule; some companies bill every two weeks, while others prefer payments of 30-30-30 at specific milestones, with the remaining 10 percent due at the end. 
Use protective clauses in your written agreements, such as "lien releases" which confirm the contractor and subs received their payments, Costello says. And, insist on written and mutually signed change orders before extra work starts to avoid any nasty billing surprises down the line. Finally, it's smart to withhold final payment until the final walkthrough. 
"Through every step of the project, homeowners must be their own best advocates and take steps to maintain control of their money and project details to ensure they ultimately end up with the result they had dreamed of," Costello says. 
Take the next step
Our advisors will help to answer your questions — and share knowledge you never knew you needed — to get you to your next goal, and the next.
Get started
Want more? Get financial tips, tools, and more with our monthly newsletter.