How to Teach Good Money Habits to Young Kids
---
Courtney Hazlett
Aug 03, 2018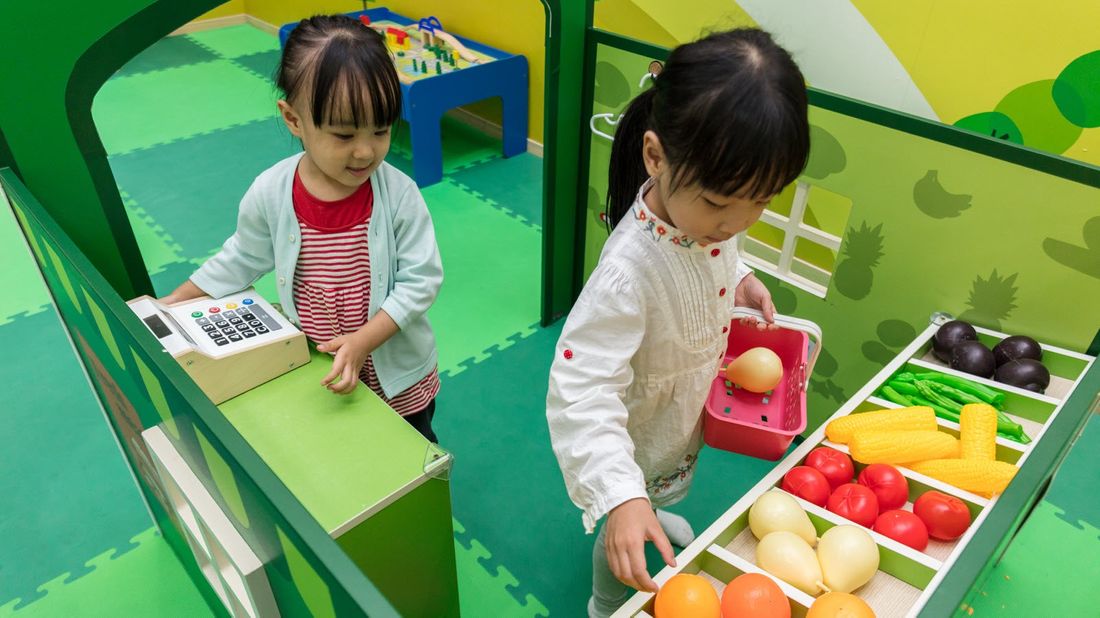 On the surface, financial lessons for kids who can barely count or do math sounds absurd, considering financial savviness can be hard to come by in adults.
However, kids who are toddlers and in elementary school are actually sponges for new information, and to them money is fun. Taking advantage of this time to teach good money habits helps set the stage for them to be responsible with their cash later in life.
TODDLERHOOD
There's a reason toy manufacturers have been churning out cash registers for decades: They're everything that toddlers love. There are buttons, trays that move, pretend cash and coins, card readers (and annoying sounds). It can keep them entertained on their own for blissful swaths of time, but if you can engage with some pretend play with your toddler, playing "store" actually does a lot to model how real-life transactions work.
In other words, they begin to learn life's tough lesson that nothing comes free; in order to take something from a store, you have to hand over some money. They won't know the difference between coins — if the toddler in your life is like my own, they probably call all coins and cash "monies" — but that's OK. Toddler learning is more about modeling than understanding the specifics of the exchange. And speaking of, when there's opportunity in real life to use cash instead of a credit card or similar at a store, do so while your toddler is watching. Cash exchanges do far more over time to reinforce good spending habits, and in a digital-first world they're rare.
KINDERGARTEN
At this age, it's possible for kids to begin learning the difference between types of currency, especially coins. Once counting to 10 becomes second nature, sorting by 10s is a great exercise. Start with pennies, then move onto nickels and dimes, and bam, not only are you teaching them about the literal meaning of different types of coins, but you're banging out some math skills that your kid's teacher will thank you for. When you're ready to make some of this learning work for you, tackle that shoebox of loose change sitting around. Sorting it, wrapping it and taking a trip to the bank together is a fantastic task to reinforce what money is worth and what banks do (beyond offering free lollipops at the teller window).
Now is also a great time to continue to model cash transactions. My daughter's school lunches are cash-free, which, to her, magically replenishes. Most dinners out or purchases in store are done with a credit card. So when there is an opportunity, use cash, and at this age also let them "pay." Handling the money gives a 6-year-old a sense of responsibility that makes her feel good about herself, and gets her ready to handle money on her own later on.
ELEMENTARY SCHOOL
When kids hit elementary school age, earning an allowance becomes part of their culture as younger ones begin to hear older ones talk about it. While not everyone agrees that an allowance for helping around the house is right for their family, setting up some chores or tasks with earning potential can be a great exercise. They'll begin to not only learn what money is, but to also have experience with it.
Once they have some earnings, whether it's from an allowance, or cash gifts from birthdays or holidays, you're ready to help them create a spend/save/donate system of "banking" at home. You can do it with three envelopes, or you can follow a Pinterest fever dream for an artful creation. Regardless, the concept is simple: As adults, we're spending, saving and often donating to causes. Once kids understand money's value, and how it can be spent, getting them into the habit of dividing it up as soon as their money comes in the door instills good habits.
The way you follow up with the spend/save/donate plan can make a big impact, too. My kids, for example, have got a wish list as long as their arms (thanks, YouTube Kids!). Let them start using some of their spending money for stuff they want. For the savings portion, make trips to the bank together and put money in an account you've opened in their name or even a college fund; it's delayed gratification for sure, but when they're college-aged and using money they set aside for their own education, it's a huge lesson in savings come full-circle.
Making room in a budget for donations can be really hard at times, so the "save" part of the exercise is especially important to instill early on. Take advantage of the fact that elementary aged kids are learning that a world exists beyond them; they're starting to care deeply about things like nature, animals or even the beautification of their schools. Tap into these passions and encourage them to donate to causes they care about.
Take the next step
Our advisors will help to answer your questions — and share knowledge you never knew you needed — to get you to your next goal, and the next.
Get started
Want more? Get financial tips, tools, and more with our monthly newsletter.