I Spent $40K Renovating My First Home — Here's What I Learned
---
Rachel Morgan Cautero
Apr 09, 2018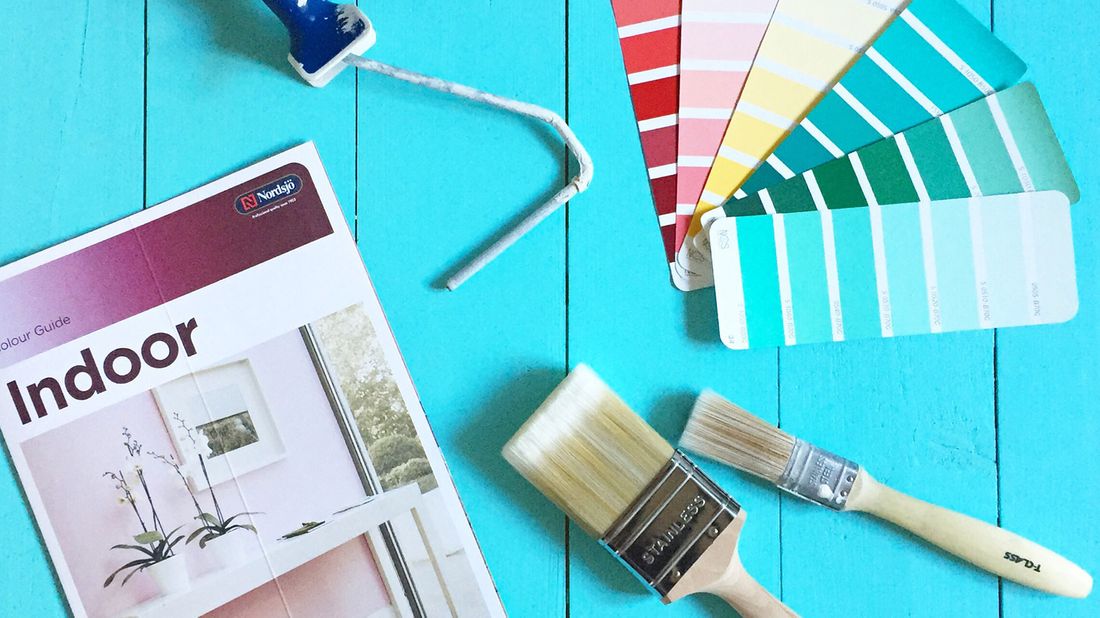 The first time I walked into the quaint white colonial house with black shutters, I knew it was going to be ours — despite the overgrown landscaping, butter-yellow hardwood floors, and retro pink-and-blue bathroom.
It was going to take a serious amount of work and several large-scale renovations to turn it into our dream home, but we were ready.
There was only one small hitch: I was 12 weeks pregnant when my husband, Mike, and I signed on the dotted line to our first house. This limited my ability to DIY, well, pretty much anything.
While our timing wasn't great, we learned a lot from buying a home and doing major renovations while expecting our first baby. Here are the highs — and lows.
PAYING IN CASH CAN PAY OFF
We tried to pay cash whenever possible and ended up getting some great discounts in the process. The savings is real, people!
We did this for the fence installation ($4,000), the floor refinishing ($6,000), paint ($6,000), contractor's fees ($2,000) and a portion of the bathroom (around $10,000.) We also got out of paying tax on many of these because of New Jersey's capital improvements tax break.
How did we have the cash to do it all? Due to our credit scores and income, Mike and I were able to secure a mortgage with no PMI and a monthly payment that was less than the rent in our one-bedroom apartment in New York City. Instead of a 20% down payment, we put down 7% and earmarked the rest of our savings for renovations.
"Another delightful discovery? The master bathroom toilet had been leaking into the first-floor ceiling for approximately 20 years."
THINGS WILL GO WRONG, SO BUDGET ACCORDINGLY
This goes for time and money.
For example, we hired a general contractor to do several smaller jobs around the house for a great rate. Then his wife went into labor early, and we had to work around a new baby-dictated schedule. (Ironic, we know.) In the end, it took an extra month to finish the work.
Another delightful discovery? The master bathroom toilet had been leaking into the first-floor ceiling for approximately 20 years. The leak had rotted three floor joists and would cost $2,300 to fix. It wasn't the end of the world, but it was still a punch in the gut, and we put the unexpected expense on credit. When you have a bathroom floor that's ripped open and a cash deficiency, you do what you have to do to get the job done ASAP.
Lesson learned: Being flexible and going with the flow is extremely necessary during a renovation.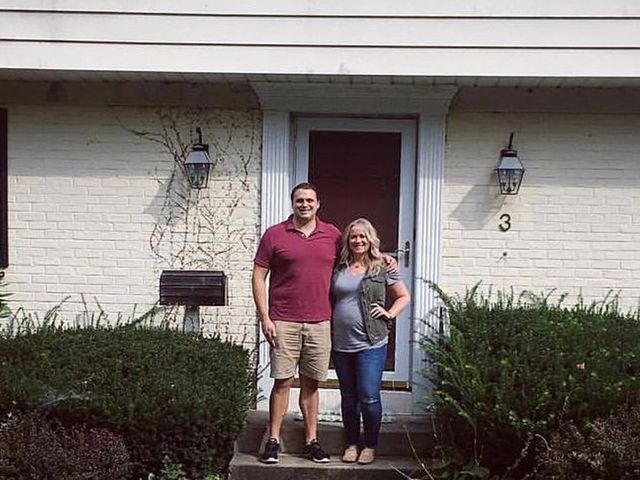 Rachel Morgan Cautero and her husband, Mike, spent $40K to turn their first house into their dream home.
Courtesy of Rachel Morgan Cautero
DON'T BE AFRAID TO BARGAIN
Despite all its troubles, our new master bathroom is easily my favorite room. It now has white and gray herringbone marble floors, a spacious double vanity and the biggest shower we could fit. At $15,000, it was also our most expensive room.
So when the bathroom contractors wanted to charge us $600 to paint the bathroom walls, I simply said "no" and that I'd find someone else to do it cheaper. I never had to, though — the original contractors came back at $300 to lock down the job.
I learned then that bargaining was never out of the question.
THINK TWICE ABOUT YOUR TIMELINE
In hindsight, I wouldn't have taken on a large-scale renovation while pregnant. Not only did it limit the amount of time I could spend at the house supervising the work, it also prevented me from doing some of the work myself.
For example, the interior of the house needed a fresh coat of paint. This was normally something I would have done myself since I actually enjoy painting.
But painting isn't recommended for pregnant women, and my husband doesn't even know how to open a paint can. We ended up shelling out $6,000 for professionals to do the job, which still makes me cringe.
If I wasn't pregnant, we would have also lived in the house during renovations. Instead, we stayed in our apartment for an extra month, which cost $2,800 for rent and parking.
KEEP TRACK OF EVERY EXPENSE, NO MATTER HOW SMALL
When you're shopping for new light fixtures for an entire house, it can be easy to simply click "buy" without blinking at the $200 price tag.
While I don't suggest going cheap on something that has to be professionally installed, I would have kept better track of all the little expenses that went toward our renovation, like curtain rods, light fixtures, rugs, small pieces of furniture and decorative items.
I estimate we spent roughly $4,000 on miscellaneous expenses, but I don't know the number for sure — and it drives me crazy.
KNOW WHEN TO STOP
I had my heart set on a small-scale renovation of the kitchen — repainting the cabinets, replacing the countertops and backsplash, and painting the walls. Our contractor quoted us $10,000 for the project — pretty cheap by kitchen-renovation standards.
In the end, we put the project on hold, and I'm so glad we did. We're contributing the $10,000 to our son's new 529 college-savings plan instead. Plus, now that we've done more research, we're just not sure we'll get enough of a ROI on the project to make it worthwhile.
That's my final piece of advice: Remember that home renovation is a marathon, not a sprint. Live with your changes for a bit and know when to take a breather.
Take the next step
Our advisors will help to answer your questions — and share knowledge you never knew you needed — to get you to your next goal, and the next.
Get started
Want more? Get financial tips, tools, and more with our monthly newsletter.