What do you get when you combine funding and research to fight childhood cancer? "Waves of Hope." Northwestern Mutual's float for the 2017 Rose Parade®, titled "Waves of Hope," will shine a spotlight on a family, their researcher and a company leader who are all taking a stand against childhood cancer.
The theme of this year's Rose Parade is "Echoes of Success," which celebrates the selfless contributions of others and how their inspirational gifts affect those around them. This couldn't be more true for the riders of our float.
Mother-daughter duo Emily and Edie, who fought cancer together, will ride the float along with their researcher, Dr. Yael Mossé, who developed the treatment that saved both their lives. Also accompanying them is Steve Guinan, a leader from Northwestern Mutual whose own fight against cancer inspired him and his team to take a stand against childhood cancer.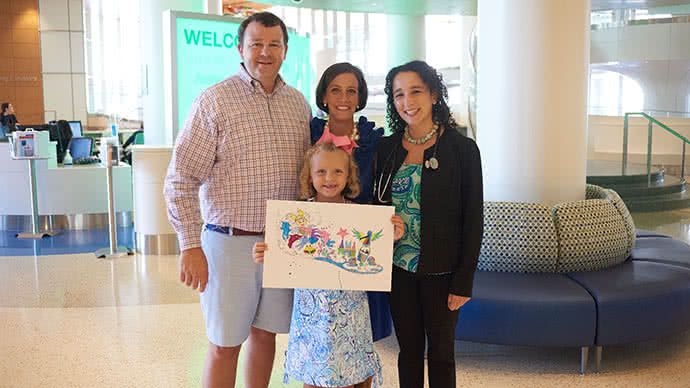 The float will feature Edie enjoying a day at the beach and riding the waves, which is one of her favorite things to do — because at Northwestern Mutual, we see a future when children and their families look beyond the fears of cancer and find happiness. For kids, that happiness is a chance to just be kids and enjoy life.
ABOUT 'WAVES OF HOPE'
The highly whimsical design, created in partnership with Fiesta Parade Floats, celebrates Edie's hope and the joy she feels at being able to be a kid again.
The float's centerpiece will be a little girl decked out in fins and goggles and cannon-balling into a cresting ocean wave. Her head will sway from side to side as she takes in the beach scene around her. More than 12,000 irises and 10,000 roses will make up the swirling water.
She'll be surrounded by three dolphins, and a happy starfish will spin atop its sand castle as the smiling oyster opens its shell to reveal a large pearl. The crab will move its eyes and wave its claw to the crowd, and the pelican will swivel its head and flap its wings as bubbles fill the air.