Victoria Arlen makes what seems impossible, possible.
The 24-year-old is a gold and silver Paralympic medalist, an ESPN reporter and former Dancing With the Stars contestant. While that list of accomplishments is impressive enough, what makes it almost unbelievable is that Arlen spent nearly four years of her life in a vegetative state.
After developing two rare autoimmune disorders at age 11, Arlen slipped into a vegetative state for four years. She was unable to walk or talk and suffered from multiple seizures a day. She was trapped inside her own body, unable to communicate even though she was completely aware.
"To say it was very challenging is a bit of an understatement," Arlen says. "It was very much a time where I had to make a decision to either give in or keep fighting."
That fighting spirit was what enabled her to make it through intensive therapy so she could speak and walk again, finish high school in three years, and medal at the 2012 Paralympics in London. Since then, her career has only been on the rise, and she's continued to accomplish one goal after another. Below, Arlen shares her tips for how she was able to overcome the odds — even when they were stacked against her.
1. 'MANIFEST' YOUR GOALS INTO REALITY
While being a gold medalist or Dancing With the Stars contestant may have come as a surprise to some, it wasn't shocking to Arlen or her family. In fact, she told herself she was going to do both from the time she was a young kid. "Even back when I was 5, I said I wanted to win a gold medal, and I did," Arlen said. "And [being on 'Dancing With the Stars'] was just kind of something I had dreamed about when I was young. Ever since I was a little girl, I've always manifested. The things I had dreamt about came true."
And Arlen never forgot about those dreams. At first, she started swimming as part of her rehab and to get herself out of her wheelchair. But "that competitive side of me kept clicking in, and I just really enjoyed training and having a goal that wasn't just necessarily rehab-related," she says. "Then it just kind of spiraled from there — I had this intense determination to make it to the Paralympics." She started training intensely with a coach and within just a few short months, at the age of 17, she had broken multiple world records and won a gold and three silver medals at the 2012 Paralympic Games.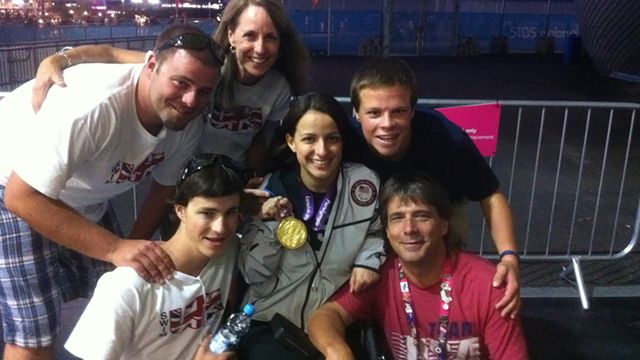 2. DON'T BE AFRAID TO SWITCH GEARS
Although Arlen could have continued her athletic career after the Paralympics, she was ready to move onto a new goal: walking again. "I'm a competitor and athlete at heart, but I was thinking of what else I could do and how I could continue to challenge myself," she says. "That was when I made the decision to try and get the function back in my legs. It was just another goal of mine."
Arlen and her family found a recovery center for people with spinal cord injuries in California called Project Walk. They liked the program so much that Arlen's parents, Jacqueline and Larry, decided to open a Project Walk center in Boston, closer to home. Arlen's therapy became her new daily regimen, and she spent up to six hours a day training. In 2016, after three years, she took one step, which led to many more — despite having no sensation in her legs.
Getting hired as one of the youngest on-air personalities at ESPN also wasn't part of Arlen's original plan. She was taking online college courses while undergoing her Project Walk training and was getting ready to transfer to a university. That's when ESPN came calling and offered her an opportunity of a lifetime. Later on, when producers at ABC found out she was a fan of the show, she was offered a spot on Dancing With the Stars, making it to the semifinals — and watching her childhood dream come full circle.
To be sure, Arlen says she talks through her career decisions with her business-savvy parents. "They are my dynamic duo of helping me make decisions," she says. But at the end of the day, she's never scared to change things up. "I go in with the idea that I have nothing to lose and everything to gain. So I just jump right in when it feels right and go for it."
3. PRACTICE GRATITUDE
It's a regular part of Arlen's routine: Every day, she spends at least five minutes practicing gratitude. "I take mornings to be more present and grateful. That's something I started doing in my vegetative state, and it's something I try to continue doing today."
Her reason is simple: When her circumstances seemed the bleakest, she had to focus on what was going right and build on that for motivation. "I really had to find what I was grateful for, and what I did have," she says. "And having my brain working the way it did — what you would think would be a burden was actually a blessing. It made me realize I did still have my mind and my sanity. I spent a lot of time dreaming about when I'd be able to break free, but I did have to take it day by day and moment by moment."
Her experiences made her realize that life is too short not to take advantage of every opportunity. In addition to releasing her recent autobiography, she's also venturing into acting and producing, and has started the Victoria's Victory Foundation to help others with mobility challenges. "I feel like I'm just getting started," Arlen says. "Sometimes we forget to live. We get so caught up in the world. I didn't know if I had a tomorrow guaranteed for a very long time, so I intend on making every day count."