Real Life Golden Girls: Why I Took on A Roommate at 71
---
Rika Mead, as told to Julianne Pepitone
Oct 26, 2018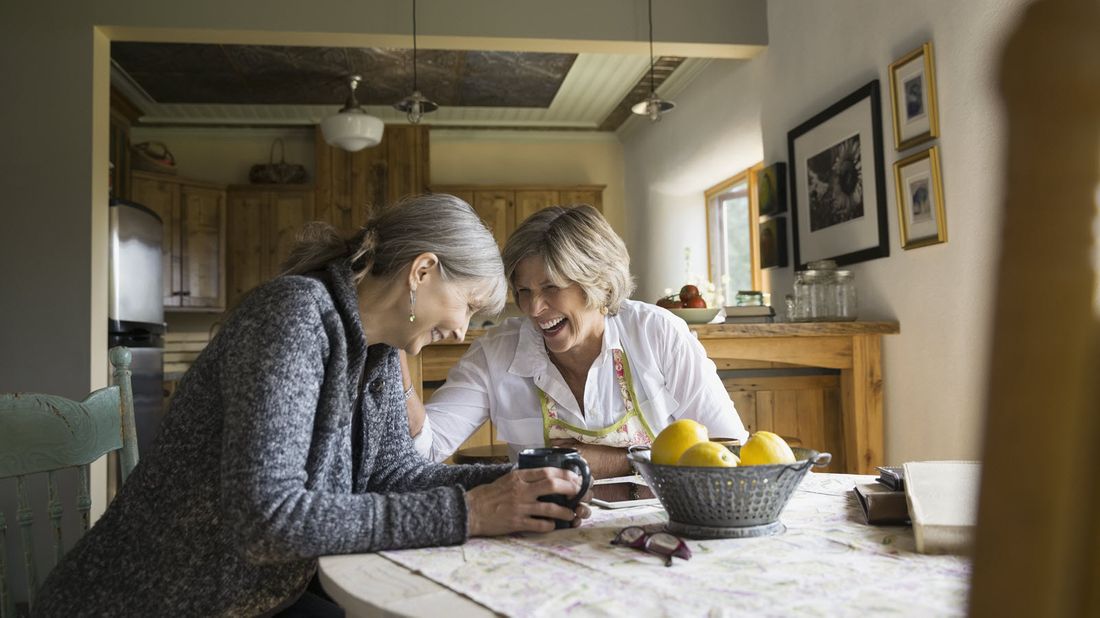 I live near Denver, and like many people living in cities, I often share my home with roommates. The difference is that I'm 71 years old. 
Sometimes people are surprised, but really, they shouldn't be: More and more folks my age are renting out space in their homes or becoming renters themselves. In fact, the number of renters in their early sixties increased by a whopping 84 percent between 2006 and 2016 — and the trend is only picking up. 
Over the next two decades the number of renters 65 and older is expected to grow by 80 percent to 11.5 million, according to Harvard's Joint Center for Housing Studies. Perhaps some of that is economic, but there's something else going on as well. 
I have a big house, and I decided rather than rattle around in it alone I might as well see if I could get a housemate and enjoy some company. 
No matter your age, sharing your home can be an absolutely beautiful experience. I'm a lucky old broad. And I've learned a lot about the process: 
FIGURE OUT WHY YOU WANT TO HOMESHARE. (HINT: THE ANSWER SHOULDN'T BE "TO AFFORD A BIGGER HOUSE.") 
It's a big decision, and you need to understand why you're doing it. The companionship and the new experiences were the draws for me, so I spent a lot of time refining my process to find the perfect housemates.  
The money to offset some of my mortgage is a fantastic bonus, of course. But I wouldn't depend on homesharing to justify buying more house than you can afford. You never know what will happen. If I have breaks in between roommates, I don't need to panic; I can afford it on my own, and I know I'll find the right person in the future. 
BEFORE YOU DO ANYTHING, CHECK TO MAKE SURE YOU'RE IN COMPLIANCE WITH HOA RULES AND LOCAL LAWS 
I reviewed my homeowners' association rules to confirm I'm allowed to have one non-relative live with me. If you're part of a HOA, or subject to co-op rules or other building restrictions, be sure homesharing is permitted. State and local laws can also vary, so be sure to check those too. 
DETERMINE WHAT YOU WANT — AND DON'T WANT — IN A HOUSEMATE 
I find my housemates on the website Roommates4boomers.com, but there are a whole bunch of these sites now as more people of my generation — and younger — are deciding to share their homes. 
It's kind of like a dating site: Represent yourself well, and look closely at the potential candidates. I took about 15 photos of my home from different angles and spent a lot of time on my own profile describing myself and what I was looking for. I rent an entire top floor of my home, which is compelling because the people who rent from me really do get their own separate space. 
For myself, I knew I only wanted to rent to women. I'm not looking for retirees — I myself work with companies as an organizational effectiveness consultant, and I want roommates who are working rather than hanging around the house all day. I'm very politically active, so someone who isn't aligned with me on those views probably isn't going to enjoy it here. I also can't allow pets, since I already have two dogs and that's plenty.  
Whatever your desires and your deal breakers are, figure those out first and stick to them. 
DEVELOP A PROCESS TO GET TO KNOW YOUR CANDIDATES 
When I read a profile I'm looking for someone who feels compatible. It essentially boils down to: Would I want this person to be my friend? It's not that a housemate actually needs to become your friend (though that's great if you're both interested!) — but since one of my goals is companionship, I'm looking for someone who is compatible with me. 
Once I see a profile I like, I start my process. First, we have an email conversation. If the email exchange goes well, we meet for tea. Finally, if that goes well, I invite her in to look at the space. If she likes it, we have what I consider to be the important conversations: politics, religion and dating. 
If all of that goes well, I ask the applicant to share the cost of a background check so we all have skin in the game, and I thoroughly review her references. Your own process might be different, but the point is to get to know someone well before they move in a single piece of clothing. And if you see any red flags or something just generally doesn't feel right, don't override that feeling. It will always come back to bite you. 
CONSIDER A FLAT-FEE MONTHLY RATE THAT INCLUDES UTILITIES AND HOUSECLEANING 
I know some homesharers split utility bills and divide up chores, but I find this is where the drama happens. Who wants to be hassling someone for the extra $6 on the electricity bill last month? Make it as clean and simple as you can with an all-in fee. My rate also includes a twice-monthly housecleaning, so really all they have to think about is buying their own food. 
My housemate gives me a check on the first of the month, and since I've been clear about my expectations, I've never had issues there. In that vein, I do invite my housemate out to dinner once a month to talk about how things are going and whether there are any issues. My approach is to tell the truth and tell it as fast as you can. It's going to become a burr under the saddle if you don't! 
BE OPEN TO NEW EXPERIENCES, AND YOU'LL REAP THE REWARDS 
My goodness, homesharing has enriched my life so much. New friends, new experiences, new conversations I'd never have had. Sometimes it's something comparatively small: For example, my current roommate is a tennis freak and now I know so much more about the sport. And sometimes the scenario brings me a lifelong friendship that enriches the fabric of my life. 
Take the next step
Our advisors will help to answer your questions — and share knowledge you never knew you needed — to get you to your next goal, and the next.
Get started
Want more? Get financial tips, tools, and more with our monthly newsletter.