Planning With Northwestern Mutual
What Financial Paperwork Should You Keep?
---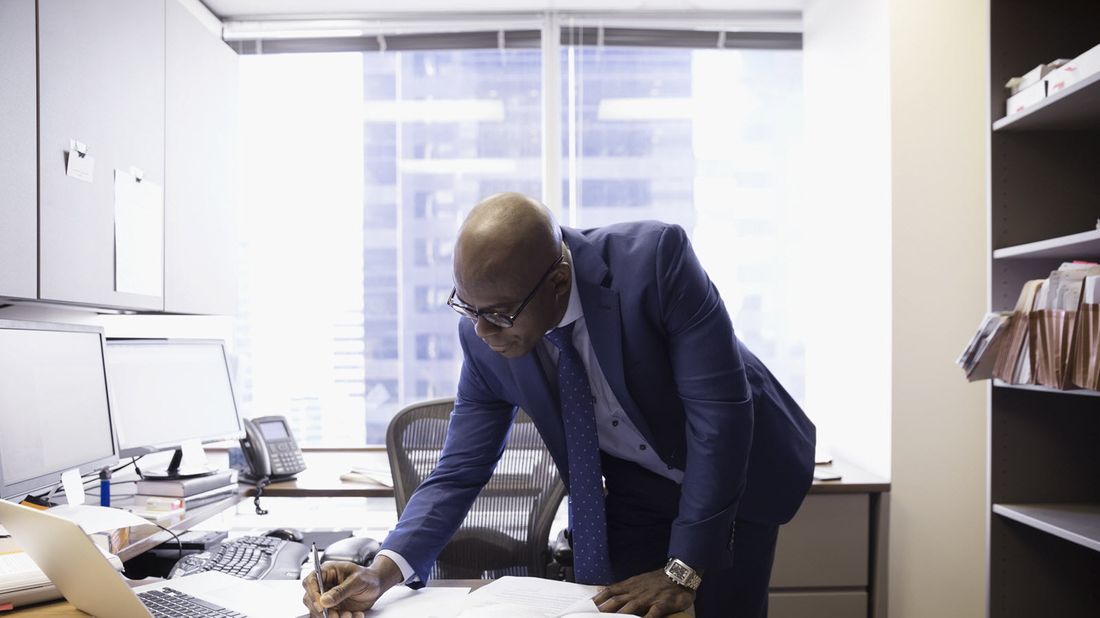 Bank statements, tax returns, account notices; financial paperwork can pile up quickly (even digitally). You feel like you should probably be keeping a lot of this stuff. But what should you keep? And where should you keep it so that it's safe and available when you need it?
Here's a quick guide to help you sift through all that paperwork and secure your most important documents.
WHAT SHOULD YOU HANG ON TO?
As an attorney with experience in estate management, Ken Elbert, director of advanced planning at Northwestern Mutual, is no stranger to dealing with financial paperwork. Whether your records are in ink or digital, Elbert says protecting them is vital. Here are a few documents that you should always save and protect:
Estate documents: copies of your current will, trust documents, financial and healthcare powers of attorney, advanced directives, information for guardians of your children and lawyer contact information
Personal documentation: birth certificate, Social Security card, photocopy of your license, passports, marriage certificates and divorce decrees and death certificates
Account information: details on where you maintain accounts (banking, checking, investment, retirement, credit, etc.) and account numbers
Insurance paperwork: names of your insurance companies (medical, disability, life, home, flood, earthquake, auto, etc.), policy numbers, policy declaration documents and details on how to file a claim
Property documentation: deed to your current home, receipts for improvements to your current residence and title to cars you currently own, etc.
Tax returns: Hang on to these — and the documentation that supports them — for seven full years.
"I would definitely encourage people to have some digital storage, either in addition to or in lieu of paper."
HOW TO KEEP PAPER DOCUMENTS SAFE
If you want to keep financial paperwork, step one is to make a concerted effort to funnel all your essential documents into a centralized, secure place. Doing so will make it that much easier for you to grab what you need in an emergency. It also makes managing your affairs far less confusing for loved ones (if that's something they ever must do).
Here are some of the best places to secure paper documents:
Safe deposit box: Depending on the size you need, you'll pay anywhere from $30 to a few hundred dollars a year to enjoy the security of a bank vault. Keep in mind that access to your box's contents is limited to regular business hours.
Fireproof box: To secure documents at home, a fireproof box with keycode access will do the trick. Consider protecting your essentials from moisture damage by sealing your documents in waterproof bags and tossing packs of desiccant into the box.
A trusted professional or friend: If you have your documents stored in a single place, you risk putting all your eggs into one basket. By giving copies of your documents to an attorney or trusted relative, you ensure that you have backups in a second location.
HOW TO SECURE DIGITAL DOCUMENTS
More and more of your important records are stored digitally, and that's OK. "I would definitely encourage people to have some digital storage, either in addition to or in lieu of paper," says Elbert.
Of course, keeping those records safe requires a different toolset:
Password protection: You can easily password protect your own documents, image files and folders on your device — if you can click it, you can secure it.
Encryption: As you store sensitive files, consider encrypting them. Someone seeking access will need to have a decryption key to access your file contents. With a quick web search, you can find several guides to the best encryption software offerings currently on the market.
A flash drive: Simply plug the drive into your computer, transfer or back-up your important files and store the drive in a fireproof box or safe deposit box.
External hard drive: If you want to store a ton of data (backing up every file and program on your computer), try a compact external drive. They typically come equipped with software that automatically backs up your documents on a set schedule.
Cloud storage: Want to store your data on someone else's server? Consider options like Microsoft OneDrive, Google Drive, or Dropbox. You'll usually find a free plan, but paid subscriptions have added features and storage space. The big advantage here is that your files are accessible anywhere, and there's no physical device that can be destroyed.
YOUR CIRCLE OF TRUST
You did all this work. Now, make sure that if something happens to you, someone else knows where everything is. You may want to distribute keys along with a list of physical locations if you want the paper route. If you opted for digital, make sure people know where they can go to find passwords.
Above all, if your documentation isn't yet in order, now is the perfect time to start the process. Elbert encourages people to start sharing essential details with your loved ones right now. "My hope would be that we can encourage people to have more open discussions with their family members or loved ones," says Elbert.
Take the next step
Our advisors will help to answer your questions — and share knowledge you never knew you needed — to get you to your next goal, and the next.
Get started
Want more? Get financial tips, tools, and more with our monthly newsletter.