What Is a Learning Pod?
---
Cathie Ericson
Sep 23, 2020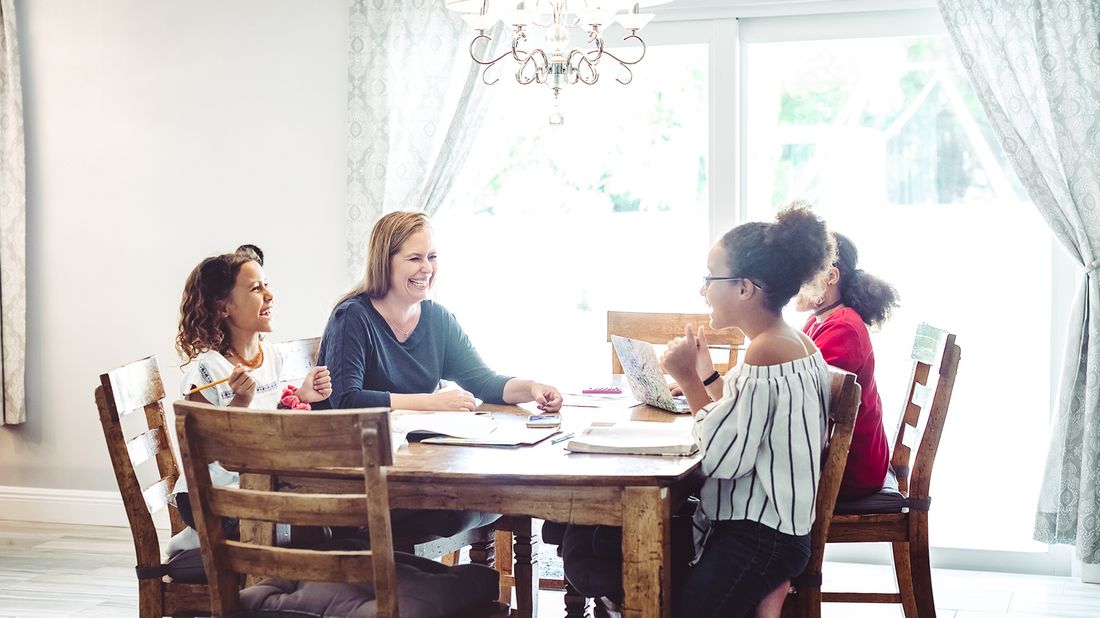 Depending on where you live, this school year is a mixed bag of in-person, fully remote and hybrid models of learning. And as the school year progresses, many parents expect these plans to change. 
The prospect of supervising online school again can feel daunting, whether it's because you're juggling your own work or simply don't have the educational expertise to be a helpful resource. In fact, just 17 percent of parents felt equipped for virtual learning or homeschooling, according to a recent Care.com survey.  
To bridge the at-home education gap, many families are turning to learning pods, especially as concerns mount regarding a potential second wave of COVID-19 that could impact classroom learning again. Here's what to know to help you decide if a learning pod might be a viable solution for your family during what's already shaping up to be an unpredictable school year.
WHAT IS A LEARNING POD? 
A learning pod is "a small group of students who learn together outside the classroom, but still in person," says Michael Staton, a former public-school teacher and founder of CoLearn. "These pods allow students to independently engage in remote learning in a safe and productive environment during standard school hours or can provide supplemental learning experiences or extracurricular activities."
According to Jared Friedland, lead instructor and founder of Learn the Playbook, a national tutoring service that also facilitates learning pods, groups typically consist of three or four children who are friends from school and are academically compatible, meaning they are in the same grade and/or are of similar academic abilities.
WHO CAN BENEFIT?  
At their core, learning pods are an option for families who are trying to make the best of school closures in a more coordinated way. "They foster an engaging, social learning environment that mirrors traditional school study groups," Staton says. They can also help offset feelings of isolation or detachment that students may experience as a result of distance learning. "It really takes the burden off already time-starved parents who have to help their struggling child and get through their own work," says Yi-Hsian Godfrey, CEO and co-founder of Apiari, which offers child care and learning pod services.
Learning pods can be particularly helpful for parents whose jobs make it challenging for them to oversee a robust remote learning experience. "Many parents have realized they would prefer not to spend their days balancing work with lessons on the Monroe Doctrine and the quadratic formula," Friedland says. They can also be a saving grace for parents who feel they are not qualified to play the role of teacher. "They provide immediate freedom for parents, liberating them from ever having to Google instructions for figuring out the area of a trapezoid again."
HOW MUCH DOES IT COST? 
Learning pod costs will vary depending on your location, the instructor's level of experience and how many students are in each pod. In Philadelphia, The Pupil Pod charges $100 an hour for a four- to six-person pod, or $17 to $25 an hour per student for a six-hour day. Friedland estimates that families who hire an experienced educator should expect to split about $7,500 a month.
To keep costs down, consider hiring a tutor for fewer hours a day to help students one-on-one with specific subjects, while supplementing with a college student who can help supervise and keep kids on task while following an online curriculum for a lower fee.
HOW TO FIND A LEARNING POD 
There are few places where word travels faster than a school, which is how many families are finding their "podmates" organically. If you're not able to create a pod on your own, ask a local tutoring center if it matches like-minded families, or check out a site like Selected for Families, which offers similar services. And while additional privacy and safety measures should be taken, don't forget about social media — Facebook page Pandemic Pods has more than 41,000 members, with subgroups for local chapters.
HOW TO ESTABLISH GROUP RULES 
Any group activity that's held today requires trust from all parties, and learning pods are no exception. "If parents don't feel confident the other families are going to act safely, then all the money and hand sanitizer in the world won't make a pod work," Friedland says. So before any group learning begins, "parents should get together, either virtually or at a safe distance outdoors, and discuss their expectations, including safety rules, location and schedule."
Take the next step
Our advisors will help to answer your questions — and share knowledge you never knew you needed — to get you to your next goal, and the next.
Get started
Want more? Get financial tips, tools, and more with our monthly newsletter.