Get to know the people behind the financial advice in our Planner Profiles series, where you'll get the inside scoop on their best money tips.
Brooke McKernan thought she'd be a lawyer. She'd even applied to law school. But on the advice of her stepdad — a financial advisor with Northwestern Mutual — she took an internship with the company in South Florida. She fell in love with the career, helping people reach their financial goals, and even met her husband there. They have three sons and still live in south Florida.
Here, she shares her top money lessons, including what she's teaching her own children about money.
Who is your role model?
I have three: my mom and my two dads. My parents got divorced when I was really young. But what's amazing is that they're still great friends. My mom taught me to give back. She always said that no matter how much you have, always give back to people who may not have as much as you. My dad taught me to have a great work ethic, to always give 110 percent, and to be kind and genuine and never to treat anyone better than someone else because of something like their social status. Finally, my stepdad is actually a financial planner as well. He really helped me see what I could become when I was first starting out.
Do you and your stepdad share any clients?
We do actually share several, including my dad. He was a Northwestern Mutual client before I joined. It's neat to see the strong relationship between all of us being that my step dad, myself and my dad all work closely together on his financial plan.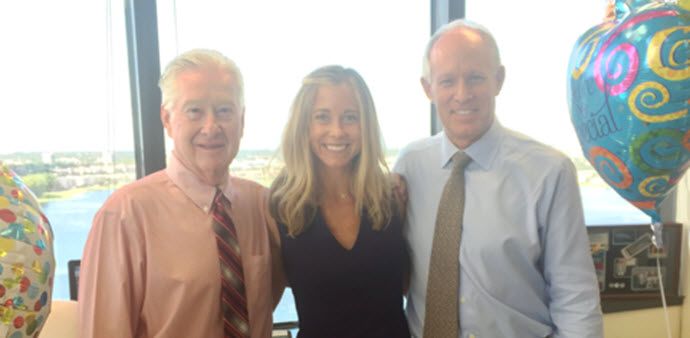 Your husband, Bill, is a financial planner at Northwestern Mutual, too?
He is. This is where we met. He is this very laid-back surfer kind of guy. We really hit it off. We got married in 2007 and had our first son in 2009. We had a second little boy 21 months later and a third three years after that. I definitely have to be good with time management as I try to balance three little ones, work and my volunteer work.
What volunteer work do you do?
Pretty much anything that involves women's and children's issues. I'm very active with the Junior League, the Leukemia & Lymphoma Society, The Honda Classic — which is a golf tournament that donates profits the Nicklaus Children's Foundation. We also do something called adopt a family where you help another family around the holidays like Thanksgiving, Christmas and other big times. But it's one family.
You can start with something that's simple, not stressful and then build from there.
What's the biggest mistake you see Americans making with money?
Spending too much. And it's usually not the millennials. I see folks from older generations who didn't start saving as early or save enough. Millennials I'm working with are doing a better job. Some aren't saving a ton yet, but they've started the habit. That's the most important thing. I also think that's something that's misunderstood by a lot of people. You don't need a ton of money before you start financial planning. You can start with something simple, not stressful and then build from there.
What do you want your kids to know about money?
We're trying to help them understand the value of it, and the value of things. We let them know that we work really hard for the things we have. They get money for little chores they do around the house and they save up in their piggy banks to go buy what they want — usually something big, so they have to save for a while.
What's one skill you wish you were better at?
I wish I was a better surfer and snowboarder. There are a lot of places where my husband would be afraid to take me surfing or snowboarding. I'd love to get to a point where I could hold my own.