4 Pro Tips If You're Looking to Book Holiday Travel Right Now
---
Rachel Morgan Cautero
Oct 05, 2021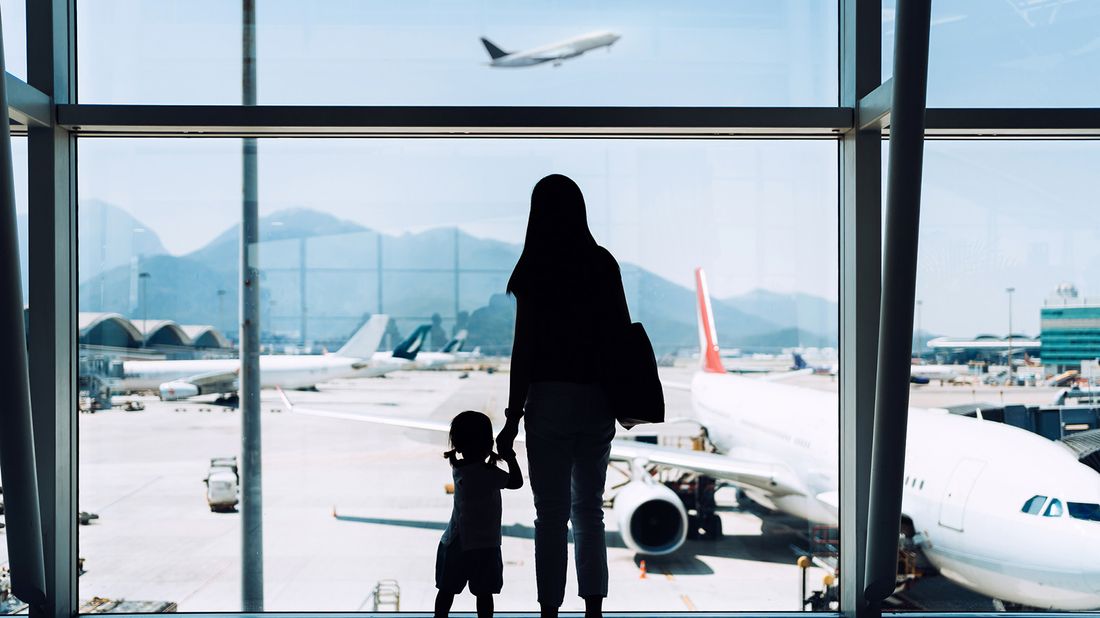 Planning to get out of town this holiday season? You're not alone. While numbers haven't quite rebounded from pre-pandemic levels, TSA experts estimate there will be about 2 million people traveling for Thanksgiving and Christmas.  
But even though travel restrictions have mostly lifted, you're still right to feel cautious when it comes to booking a trip. Cancellation and change policies can still be confusing, and rules can change quickly. Below, travel pros offer tips for those looking to book holiday travel right now.  
Check local pandemic policies frequently leading up to your trip  
"In addition to researching flights and accommodations, travelers also should consider COVID-19 restrictions and guidelines when they're searching for destinations," says Alex Simon, CEO and co-founder of Elude, a travel-planning app.  
In the current market, travel planning is not one-size-fits-all. "Today, even within a country or state, local counties may have different policies," Simon says. "Although it adds an extra step to the planning process, by understanding these guidelines, travelers can better understand the next steps once they arrive, so they can follow protocols before they enjoy their trips."  
For those leaving the country this holiday season, rules and regulations can change at the drop of a hat. 
"While we are seeing an increase in border re-openings for international travel, it is crucial to pay attention to entry requirements and understand that these requirements are fluid and can change with very little advance notice," says luxury travel advisor Leah Molinari, founder of Molinari Travel. "We are also seeing many countries have different entry requirements for vaccinated versus unvaccinated travelers." These can include different testing and quarantining protocol, so make sure to check your destination's policies in the days leading up to your trip. 
Also, consider the type of trip you have in mind and whether it matches up with local restrictions such as curfews, dining and attraction closures, or reduced hours and limited staffing, Molinari says. 
Read the fine print on your cancellation policy 
"With the uncertainty of trip cancellations, airlines are becoming more flexible with booking so travelers don't lose out," says Frankie Scerbo, co-founder of Elude.  
Delta Airlines has no change fee when booking main cabin fares or above. American Airlines is also waiving change fees for main cabin and higher fares. There are no change or cancellation fees on Jet Blue on Blue, Blue Plus, Blue Extra, or Mint fares. Major airlines are also introducing change fee waivers for economy tickets, which has historically not been the case, Simon says.  
But some of the more generous cancellation policies started during the pandemic are starting to fade, Molinari says, which is why she recommends travel insurance.  
"Many suppliers are still being flexible and supportive for those who need to move their travel dates within a reasonable amount of time, but cancellation policies are being enforced again for most destinations and suppliers as travel demand has increased," she says.  
Several hotel chains are still offering free cancellation between 24 to 72 hours of arrival when booking a regular rate. Cruise travel, too, offers flexible options. 
Cancellation policies will vary widely. For example, many often do not extend to budget fares or deals. And many hotel cancellation policies only apply to regular-rate rooms. 
Before you confirm, be sure you know the cancellation policy in case of illness, COVID-19 exposure, or your run-of-the-mill trip derailers, such as sickness or unexpected home repair.  
Consider trip-stacking  
If you're not planning to visit family but still want to travel during the holidays and are flexible with your destination, then a trend called "trip-stacking" might be right for you.  
Trip-stacking involves having a backup trip planned in case the original one is canceled. "By planning multiple trips to different locations, travelers can also pick the trip that suits their travel priorities and their comfort level closer to the time of departure," Scerbo says. 
Trip-stacking is smart for the types of vacations most likely to be canceled, like a cruise or flight abroad, Scerbo says. Just make sure you know the details of your cancellation policies so you don't accidentally get stuck with extra costs.  
Be flexible for the best deals  
Planning ahead is always the best tip whenever you're looking to score travel deals, but you'll have access to even better deals if your travel dates are flexible.  
"Beyond the usual tips of booking during off-season, ensuring you're looking for flights at least a month in advance — and even more for international trips — etc., the best advice I can give is that the best deals are when you are the most spontaneous and flexible with your travel plans," Simon says.   
Just don't expect 2020 prices when booking trips this year, Scerbo says. "Many travelers who booked vacations over the past year are used to discounted prices on flights. As demand for travel increases, you can expect fluctuations in these prices."  
Take the next step
Our advisors will help to answer your questions — and share knowledge you never knew you needed — to get you to your next goal, and the next.
Get started
Want more? Get financial tips, tools, and more with our monthly newsletter.