4 Winter Getaways the Whole Family Can Enjoy
---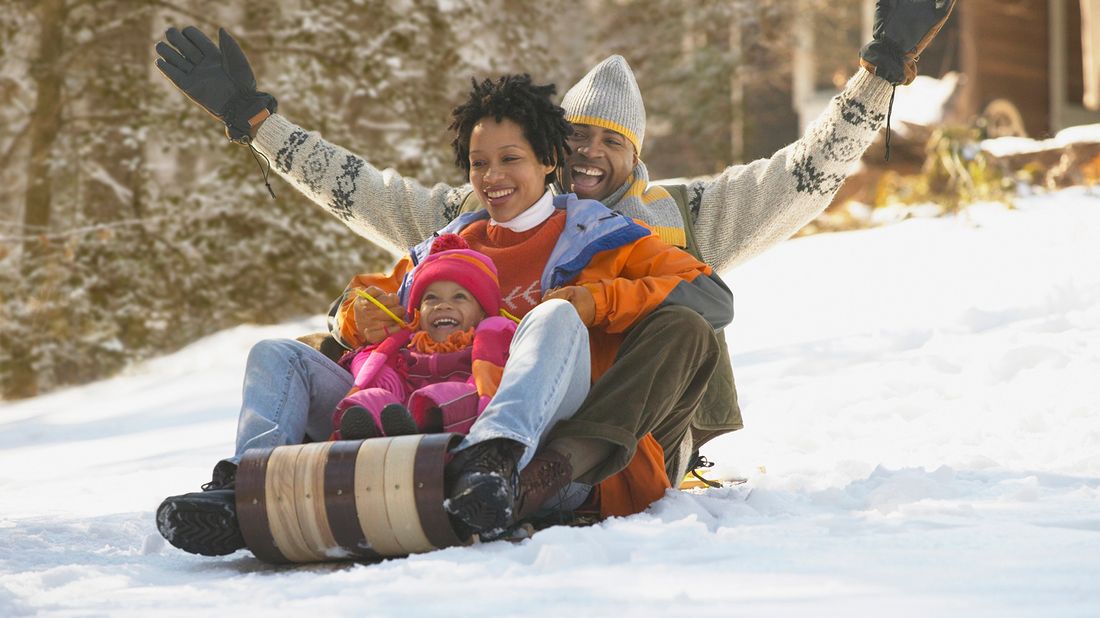 When the temperatures drop and the daylight hours dwindle, there's probably little more your family wants to do than stay inside the house and snuggle by the fire.  
But winter can be a great time to take a family trip. Not only can a winter getaway help break up the cold-weather doldrums, it can also be a cost-effective trip to tide you over until spring break. Whether you're looking for sun or snow, here are some family-friendly (and wallet-friendly!) winter getaways that can help revive your family's spirits. 
MONTREAL
What many don't realize is that Montreal is just a bit farther north than a handful of popular New England destinations. This romantic city is as cosmopolitan as any in Europe, has a vast list of fun things to do and is less expensive than you might think. 
Montreal loves winter, and visitors come for cross-country skiing, tubing and sledding. A favorite winter wonderland is Parc du Mont Royal, where skates, sleds and skis can be rented for the day. At family adventure park Voiles En Voiles, everyone can go slide-tubing, snow scootering and try their hand at archery for less than $30 USD per day for a family of four. The ferris wheel is equally inexpensive and offers beautiful views of the city. For downhill skiing, Mont Blanc is a more affordable option than Mont-Tremblant, but you'll need to rent a car. 
As one might expect from a major city, Montreal has loads of awesome museums. The Ecomuseum Zoo is just 20 minutes from the city center and accessible by the 419 bus if you decide to skip a rental car. The planetarium is impressive and will captivate even older kids, while the Exporail is a delightful option for little kids who still love trains. Plus, any performance at the Circus Arts City TOHU is worth seeing — and no trip to Montreal is complete without a hot chocolate. 
Most people think of Colorado, Wyoming or Idaho when contemplating snow-centric escapes in the West, but Bend, Oregon, boasts terrific skiing.
BEND, OREGON 
A scenic three-hour drive from Portland, Bend is oozing with small-town charm and as much spectacular natural beauty as any city along the Rocky Mountains. Hotel and inn options abound in winter at any budget level (case in point: the family-friendly Sunny Acres B&B).  
Most people think of Colorado, Wyoming or Idaho when contemplating snow-centric escapes in the West. But Bend boasts terrific skiing at Mount Bachelor, offering discounted lift tickets for beginners (kids under 5 ski for free). HooDoo Ski Area is a less expensive option, complete with tubing and night skiing. For experienced backcountry skiers and snowboarders, Tumalo Mountain offers dynamite conditions and views of the Cascades. For families with older children, the moonlight snowshoeing tour through a local pine forest is unforgettable. 
While Bend is geared to outdoorsy types, there are plenty of fun ways to enjoy the city. Spend an afternoon at the Trampoline Park (check availability online before going) and at the High Desert Museum (join a raptor talk and check out the fascinating Miller Ranch presentation on weekends, where you can learn how homesteaders lived a century ago). Don't miss the artisanal gelato. Inquire about snow chains for your rental car when you book. 
NEW ORLEANS  
If you're looking for someplace a little warmer, consider New Orleans. Before planning your winter getaway here, check when Mardi Gras falls in February and avoid the city as early as a few weeks before the celebration — you'll experience a fraction of the crowds and more affordable flight and hotel options.  
One of the best ways to experience New Orleans is through its food. Enjoy a beignet at the famed Cafe du Monde in the heart of Jackson Square, where you'll also find street performers and lots of bustle along the Mississippi. From here, unless you have very young kids, join a pay-as-you-wish walking tour. If you're looking for a casual atmosphere where you can sample from a vast menu of authentic local cuisine, try Daisy Dukes.
Right around the corner in the French Quarter, you'll find the Audubon Aquarium, a beautiful space with a focus on interactive exhibits. If you have an ocean-loving child, the Maya Snorkel Adventure will be a special treat. The NOLA Music Tour was designed for teenagers and does a very cool exploration of the city and its music history. Don't miss the low-key, inexpensive amusement park, the Louisiana Children's Museum (best suited to little kiddos) and a Mississippi steamboat cruise (check online for coupons!).  
SEDONA, ARIZONA 
Between the incredibly big sky and unique red rock formations, Sedona is as otherworldly as it gets. There are so many ways families can delve into the scenic beauty, with options for every type of child, and you'll find temperatures mild — around 60 during the day — but they can hover around freezing at night.  
Start your first full day with a hearty breakfast at the family-owned Coffee Pot Restaurant & Gift Shop (with an affordable and comprehensive kids' menu). The best way to work off those pancakes is with a long walk (no shortage of those in Sedona). The Bell Rock Loop trail in Oak Creek Canyon is a wonderful hike for the entire family with spectacular views of both Bell Rock and Courthouse Butte. (Scrambling to the top of Bell Rock is not considered part of the relatively easy hike, though, and should only be done with parental supervision.) At Red Rock State Park, learn more about the area's topography and take one of the kid-friendly, ranger-led nature walks daily at 10 a.m.  
If your budget permits, experience the area on a jeep tour. The Canyons and Cowboys two-hour excursion is a favorite and is a bit less expensive than some of the others. An equally unique and thrilling experience is Sedona Stargazing — worth extending bedtime by an hour or two. 
Take the next step
Our advisors will help to answer your questions — and share knowledge you never knew you needed — to get you to your next goal, and the next.
Get started
Want more? Get financial tips, tools, and more with our monthly newsletter.