5 Reasons to Consider a Virtual Wedding
---
Natasha Burton
Jun 17, 2020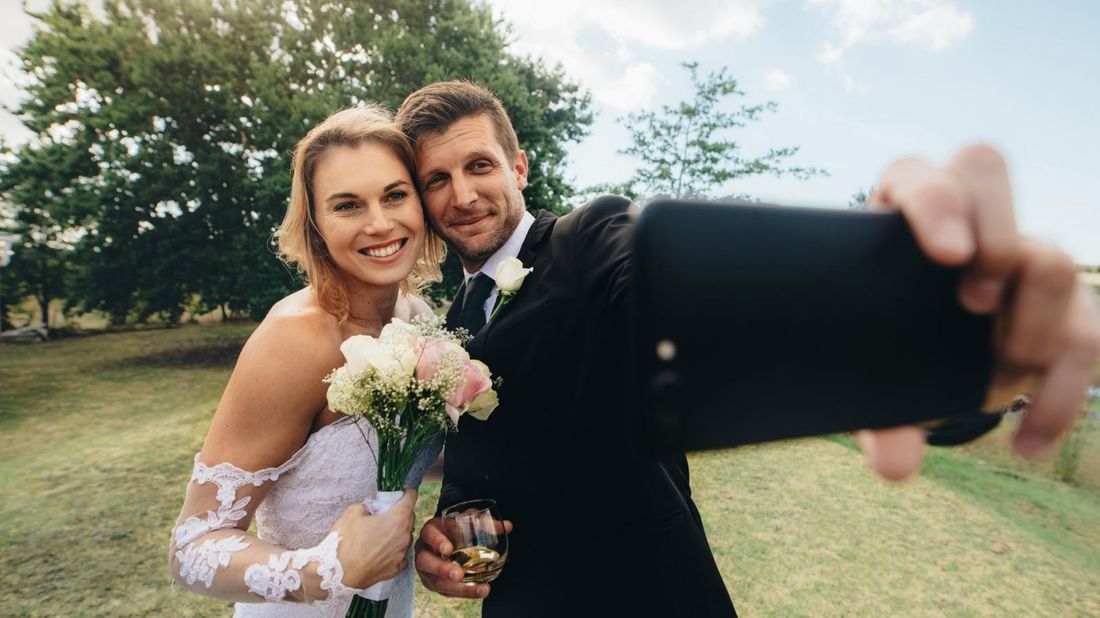 Couples who've had to cancel spring and summer weddings because of COVID-19 are re-thinking their plans — and many are getting creative and throwing virtual parties.
With the help of online wedding services — and family and friends who are willing to log on and celebrate from home — a virtual event can be a fun and financially savvy way to wed right now, even if many states have recently relaxed their restrictions for the number permitted at in-person gatherings.
If you're consider having a virtual wedding, here are five reasons to consider a virtual wedding.
PLANNING IS LESS STRESSFUL — AND CHEAPER
For Miriam and Bryon Myers, who got married with help from wedding technology company Joy in April, going virtual made the whole experience less overwhelming.
"Having a virtual wedding can take away a lot of the fuss and many distractions that having a big traditional celebration can create," Miriam Myers says. "The lead-up to our wedding day — even the morning of — was so much less stressful than I imagined it would have been if I knew I was walking down the aisle in front of all my family and friends."
The cost savings are also significant with virtual weddings: There's no physical venue to book, and no big-ticket expenses such as catering, flowers and entertainment.
"Couples can apply those funds saved to something else — perhaps the purchase of a home or an amazing honeymoon, once the world opens up," says Jennifer Allen of pop-up wedding and elopement company Just Elope.
If you choose the do-it-yourself route, Joy offers all its services — including wedding websites, livestreaming and invites — free of charge. Video conferencing apps like Zoom, Google Meet and Skype offer levels of service for free, but often with attendee or time limits. If you want to bypass those limitations, you may have to upgrade to a monthly or professional subscription.
If you'd rather leave the technology to someone else, virtual wedding packages will likely cost a few hundred dollars. Simply Eloped, for instance, starts at $350 and includes someone to officiate your ceremony, along with technical assistance to make sure everything runs smoothly. Packages from Wedfuly start at $800 and include an MC, tech support, the ability to change camera angles and even virtual breakout rooms for your guests.
EVERYONE CAN 'BE' THERE
One of the most significant upsides to a virtual wedding is that you don't need to cull your guest list to fit your budget — and your nearest and dearest don't have to decline an invite because of financial or logistical constraints.
The only limit on the number of people you invite is which streaming platform (such as Zoom, Instagram Live, WebEx, Google Hangouts, Facebook Live, Skype, etc.) you choose.
"Virtual weddings may be reaching their peak now, but in many ways I hope they stick around," says New York–based wedding planner Julie Lindenman Jervis of Julie Lindenman Events. "There have always been couples who are sad because their grandparents are too old to travel or their best friends can't make the trip based on where they live. The option to join a wedding ceremony virtually should have been implemented a long time ago."
A virtual celebration opens the door to allow guests of any age to attend, too. "Your guests can bring their kids — or their pets — without burdening you with how to politely tell guests to leave them at home," says certified wedding planner Ivy Summer, who recently published an e-book on this subject.
YOU'LL GET SOME UNIQUE PHOTOS
A pandemic wedding may call for some unanticipated props. Kristin and Mollie Myers, who got married on their planned date in April, had a group of 10 (including their photographer) for their wedding as well as a virtual component via Joy for the rest of their guests.
"We had masks, hand sanitizers and a thermometer at the wedding for everyone," Mollie says. "With all of us standing six feet apart, every photo looked like a band picture. It was hilarious."
After the wedding, the couple took photos with their virtual guests. "We stood for them to take selfies," Mollie says. "Those were the best pictures to receive afterward — we had some guests watching from their hot tub, some in pajamas and some went all out with fascinators and champagne!"
IT CAN BE LESS STRESSFUL FOR ALL
The intensity of an in-person wedding, for some, can be anxiety-inducing. In those cases, a virtual celebration can be a relief.
"The psychology of being on camera has produced many opportunities for people to perform or interact in ways they otherwise would not have, like gaining the confidence to wear something that they never thought they'd wear outside of the house," Summer says.
Having some physical distance from the crowd can also make the ceremony feel more intimate and alleviate any stage fright.
"If you were originally anxious about reading personalized vows to a crowded room, being in a room with the person you love, without any 'eyes' on you, can make your ceremony that much more of a touching experience," says Karen Norian, an editor at Simply Eloped.
A virtual wedding can also mitigate the pressure for those whose family situations are strained.
"Often it's too much trouble to bring family members together in the same room — usually this relates to divorced parents or when the couple is from different cultures or religious upbringings," says U.K.-based wedding photographer and videographer Phillip White. A virtual wedding cuts down on the pressure to please everyone.
YOU CAN STILL MAKE THE DAY YOUR OWN
Whether your style leans toward traditional or is more unorthodox, you can make the occasion reflect your personality.
For instance, even if you can't bring everyone together for a sit-down dinner, your guests can share a common ambiance.
"Couples can send bottles of wine to their guests or cocktail kits so they can make your signature cocktail at home," says Brittny Drye, founder and editor in chief of Love Inc. "Or they could order mini cakes from their cake designer so all the guests have something to eat while the couple cuts the cake. They could also send confetti poppers or, depending on your location and budget, perhaps even have meals delivered."
You could also expand your agenda to allow those who are important to you to participate, inviting each guest or family group to share stories. You might even consider putting your own spin on the first-dance tradition by singing a first-song duet instead.
"We asked our guests to grab a drink and my Dad made a toast addressing us and everyone at home," Mollie Myers says. "It was adorable and so fun."
Take the next step
Our advisors will help to answer your questions — and share knowledge you never knew you needed — to get you to your next goal, and the next.
Get started
Want more? Get financial tips, tools, and more with our monthly newsletter.