5 Financial Goals These Couples Achieved by Having a Small Pandemic Wedding
---
Natasha Burton
Jun 22, 2021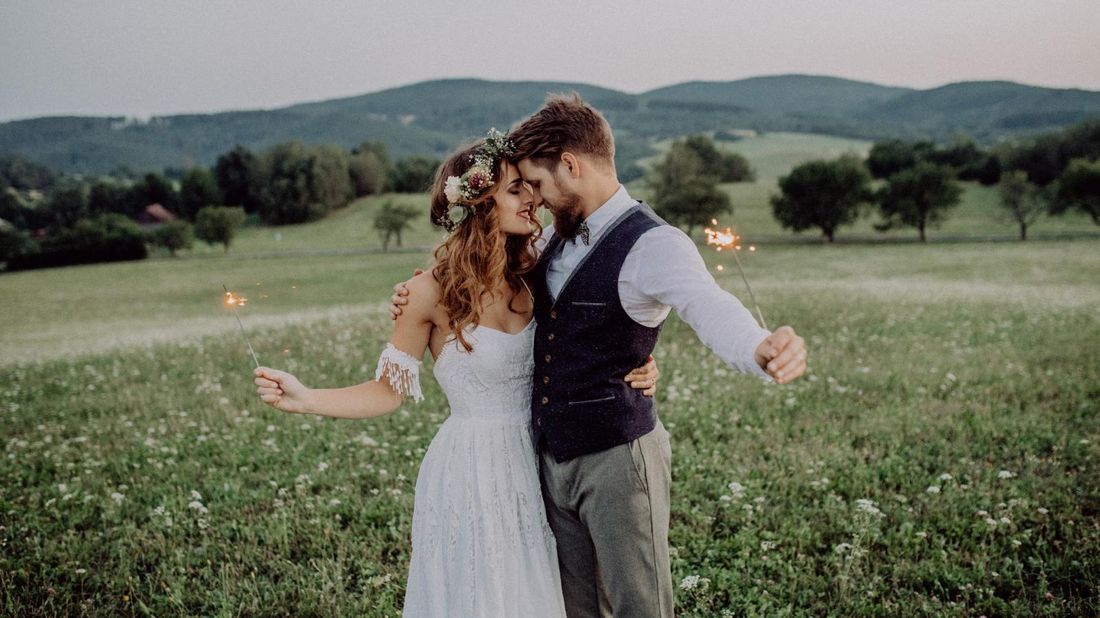 Despite the COVID-19 pandemic, many couples who planned to get hitched in 2020 did so, but with changes — all of which led to elopements, scaled-back celebrations and virtual weddings.  
The silver lining was that wedding price tags went way down. According to The Knot, the average cost of a wedding in 2020 was $19,000, down from $28,000 in 2019. And many couples were able to put the money that would have otherwise gone toward catering and centerpieces toward some financial goals.  
Below, five couples from the across the country share the money goals they were able to achieve using the cost savings from their smaller pandemic weddings. 
PUT A DOWN PAYMENT ON A HOME 
Allison Johnson and Jeremy Garcia got married in May 2020 in Los Angeles and were initially distraught when they had to cut their 200-person guest list down to 50. But renegotiating the tab for their downscaled wedding saved them $5,000. Not only did they enjoy a more intimate day with their closest friends and family members, but they also had the extra cash to buy a house.  
"Five thousand dollars may not seem like a lot, but it was literally the difference for us," Johnson says. "Being together in our new home from the moment we were married is priceless. Now we can focus on enjoying our life together and growing our family." 
COMPLETED HOME RENOVATIONS 
Chicago-based couple Gabrielle Jasinski and Alex Donnelly changed their wedding date four times before ultimately downscaling their plans. The original plan was for a 230-person fete in May 2020, but they finally settled on a simple celebration with only family and their wedding party this past October.  
They were able to reallocate more than $50,000 from their wedding budget to building a new garage and repairing flood damage in their basement. 
"We went through nearly every emotion possible," Jasinski says. "Disappointment was probably the No. 1 emotion, followed closely by gratitude and relief. We feel so lucky to have been able to celebrate our wedding, and we're grateful for our health and safety through it all." 
LAUNCHED A BUSINESS 
At the start of 2020, Jay and Rachel (Skolnick) Gutnick already had a lot going on. He relocated from Washington, D.C., to Ann Arbor, Michigan, while she began the final semester of her MBA program. Then the pandemic forced the couple to rethink their June wedding.  
Instead of pushing their celebration to a later date, the couple decided to replace the big event they'd planned with a small family gathering.  
"Our parents and siblings were there, and my best friend from childhood officiated," Jay says. "We felt such a strong connection to each other and the most cherished people in our lives, which may have been diluted a bit if we had needed to entertain hundreds." 
Scaling back from 200 people to just 12 was well worth it. They used the $40,000 they saved to launch their own business, Teal Canvas, a website that connects people with artists for custom commissions.  
"We received a custom illustration of us from a friend who couldn't make the wedding, and this sparked the idea," Rachel says. "We are both creative people, passionate about the arts and helping others, so being able to channel that into a business that supports artists and allows people to create original works of art that they love is really rewarding." 
STARTED A COLLEGE FUND  
Massachusetts-based couple Kristina Savina and Mark Miller had their hearts set on a winery wedding with 100 guests in March 2021. But the couple ultimately decided on a more intimate celebration instead. They tied the knot at home with their parents in attendance while the rest of their loved ones watched an online stream.  
"It felt like a cozy family gathering," Savina says. "At first, I even forgot that it was the wedding day until I remembered that I was in my wedding dress."  
Of the $20,000 the couple saved, they earmarked $6,000 for a post-pandemic family beach vacation and invested $14,000 into a college savings account for their future children.  
"My parents helped me financially, but I saw how hard they worked to pay for my college, while I took a part-time job to cover some expenses," Miller says. "I want to guarantee the best future for our children so they can study without caring about money." 
PAID OFF DEBT 
Longmont, Colorado–based couple Virginia Weil and Joseph Bogumill had already planned a 10-person celebration for their fall 2020 wedding, but they ultimately chose to downscale even further by eloping last August.  
"We drove to the top of a mountain outside of Ouray, Colorado, and waited until sunrise to begin our vows," Weil says. "We then explored the basin for the rest of the morning, got incredible pictures and enjoyed the wilderness." 
In total, they spent $8,000 on photography, travel, lodgings, a wedding gown and a suit. They put the nearly $4,500 they saved toward paying off their remaining debt: Weil's car loan.  
"This financial move will bring far more peace to our marriage than a wedding ceremony would have," Weil says. "By not having a crazy expensive wedding, we set up our future together and gained security during a very uncertain time." 
Take the next step
Our advisors will help to answer your questions — and share knowledge you never knew you needed — to get you to your next goal, and the next.
Get started