Pandemic Wedding Planning: What to Know If You're Getting Married This Year 
---
Amanda Reaume 
Jan 28, 2021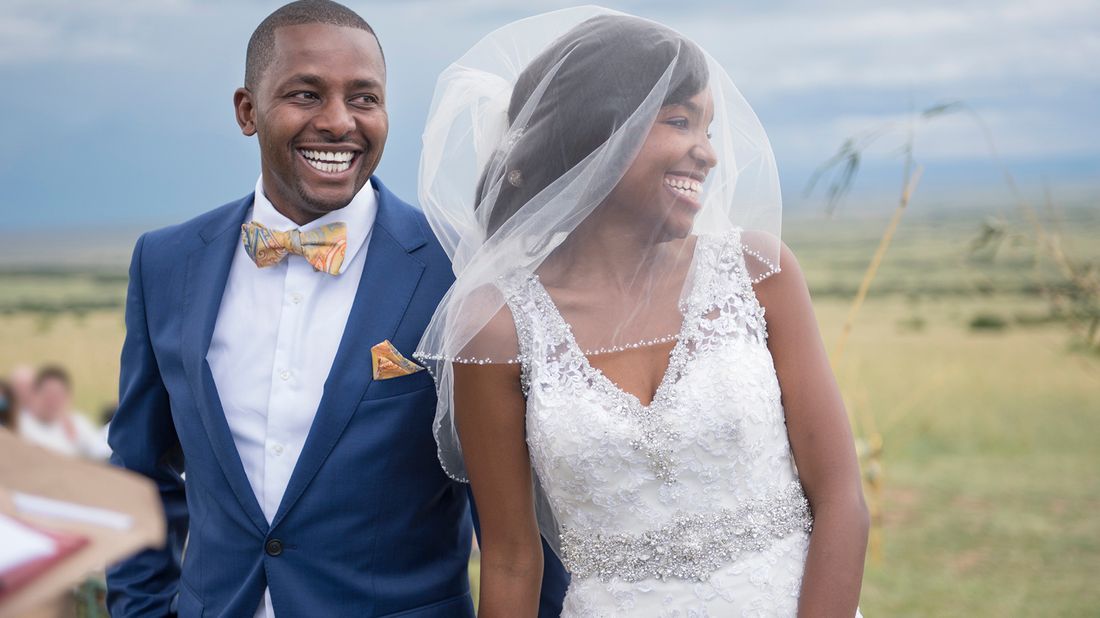 Congratulations — you're engaged to the person you want to spend the rest of your life with. Now comes the tricky part: planning a wedding during a time when there's so much uncertainty around when things will start to go back to normal.  
But don't let that discourage you. Even if your big day looks different from what you imagined, you can still make it memorable. Here are some pro tips for what to think about if you plan to do some pandemic wedding planning.  
DECIDE ON ONE CELEBRATION OR TWO 
A lot of couples want two celebrations — one now with a small group in person and a virtual audience on Zoom, and one in the future with all their friends and family when it's safer to gather in a larger group. (If you want an in-person ceremony during the pandemic, remember that state laws will dictate how many people you can invite.)  
"This is a really viable option, especially given the current circumstances," says Keith Willard, owner and event planner at Keith Willard Events. "In many instances, the wedding date has a personal significance to the couple. So why not have a private wedding to keep your date and opt for a larger celebration later?"  
For others, two celebrations may not be realistic, says Lorelei Starbuck, owner of Elope in Austin. "I suggest that couples create the perfect micro wedding or elopement and put everything into it they can — a mini traditional wedding with all the elements they wanted in the big one," she adds. 
If you're on the fence about whether you want a reception in the future, consider holding off booking vendors until the date comes closer, knowing you may have to be flexible with the dates that are available. You'll have a better idea of how safe a larger group gathering will be later, and you can decide if you really wanted a second celebration after all.  
PICK A FEW MUST-HAVES 
If you're planning now, it's easy to focus on what you may not be able to do or have at your wedding because of the pandemic. To keep things positive, "I'm telling couples to write down five things that are absolute must-haves," Willard says. "This can be a pink dance floor, lots of candles, or a specific food station. There may be many things that you will need to be flexible about, but if you have five things that stay intact, you will be able to breathe better knowing that your basics are still there." 
Beyond that, he suggests keeping your options open. "This can include specific wedding dates, location and even the menu. Every day there seems to be new information and new parameters," he adds.
KNOW YOUR CONTRACT TERMS 
Before you book anything, read the booking and deposit rules. Will you be able to get your money back, and under what circumstances? Know before you sign. 
"Deposits for new events have not changed. Typically, it's 50 percent at the signing of the contract and then the remaining amount paid quarterly or two weeks before the wedding," Willard says. "You should absolutely look for an 'acts of God' or force majeure clauses. This will explain what will happen in the case that something like this [pandemic] happens again." 
Willard has found that the vendors he works with have been flexible. "Almost every vendor has moved their date without penalty, as long as the new date had not been booked already," he says. "Most new contracts, venues and vendors are offering to move the wedding once with no charge as long as the new date is within a year's time, and the date has not already been booked."  
REMAIN HOPEFUL 
We are living in a strange and difficult time, but you can still have a joyful wedding day.  
"Don't allow the current situation to steal your dreams," Starbuck says. "Take a breath. Chat with family and friends, share your vision, ask for help. Adjust your expectations to a scaled-down version of a bigger event. Don't think of it as a lesser experience — put the same excitement and planning into a smaller version of the dream wedding."
Take the next step
Our advisors will help to answer your questions — and share knowledge you never knew you needed — to get you to your next goal, and the next.
Get started
Want more? Get financial tips, tools, and more with our monthly newsletter.