5 Types of Volunteer Vacations That Can Take You Around the World
---
Marianne Hayes
Dec 05, 2019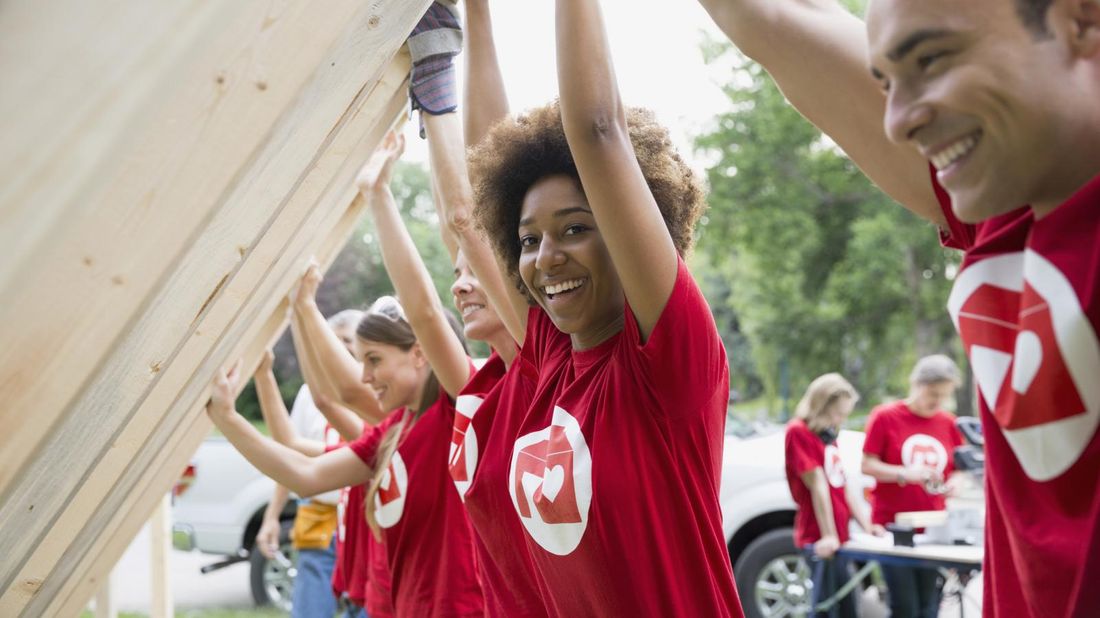 Around this time of year, it's natural for the urge to help others to start bubbling up, not only in donating our money but also our time — particularly if you're part of the one-third of Americans who volunteers each year.
And if you've been thinking about expanding your volunteering far beyond your neighborhood — and perhaps combining that with an opportunity to travel abroad — you're not alone. Volunteer vacations, or "voluntourism," is one of the fastest growing travel trends of the past few years. Voluntourists typically join a volunteer project through a charitable organization and pay for their travel and accommodations, while committing to working for a specified number of days and hours. Some trips also look for volunteers who can offer professional expertise, such as in medicine, carpentry or teaching.
Before you book a trip, however, it's important to remember that not all volunteer travel opportunities are created equal. Do your homework and sign up with a trusted organization that outlines its safety and security policies. If possible, try connecting with prior volunteers to get a feel for what their experience was like — and look into the organization itself to understand its larger mission and how exactly their projects impact local communities, both short and long term.
If you decide a volunteer vacation abroad is for you, here are some opportunities to consider that can help you plan a getaway that aligns with your values.
IF YOU WANT TO WORK WITH KIDS
If you know you want to work with children but don't have a particular destination in mind, Go Eco's vast organization can pair you with various initiatives on nearly every continent. Check out projects in places like Thailand, Bali, Ireland and South Africa, where you can help provide basic childcare, give English lessons or pitch in with extracurricular activities.
If you've always wanted to visit Peru, Love Volunteers, based out of the city of Cusco, can pair you with underserved youth in that country with programs that focus on childcare, educational development and companionship. Volunteers stay with a host family and meals are included.
IF YOU'RE LOOKING TO HELP THE ENVIRONMENT
Eco-minded volunteers may want to check out International Volunteer HQ. This leader in the voluntourism world offers a variety of trips that serve many environmental and conservation initiatives all over the globe — Croatia, Italy, Madagascar, New Zealand and many more locations are on the list. Itineraries focus primarily on environmental education, agriculture, and marine and forest conservation.
Volunteer labor also fuels a great deal of ecotourism, and United Planet currently offers trips to different parts of Ecuador. You could fill your days working on organic agricultural projects or furthering wildlife conservation efforts, before taking off to explore the Galápagos Islands at your leisure. 
Try connecting with prior volunteers to get a feel for what their experience was like and look into the organization itself to understand its larger mission.
IF YOU WANT TO HELP PROMOTE GENDER EQUALITY
Gender inequality goes far beyond the gender pay gap; women and girls all over the world need resources and advocacy. Enter female empowerment volunteer trips: GVI focuses on women's needs in locations such as Nepal, Laos, Ghana and Cape Town, where they teach job-readiness skills, self-esteem building and women's health fundamentals. (Participants may be required to pass background checks.)
Meanwhile, Projects Abroad is helping lead the charge with women's empowerment trips,  specifically to Tanzania. Volunteers help with skill-development courses for local women and can learn more about areas like microfinance or human rights. Volunteers stay with local hosts and have some free time to go on a safari or hike nearby Mount Kilimanjaro.
IF YOU WANT TO ROLL UP YOUR SLEEVES AND BUILD SOMETHING
Perhaps the best-known starting point for eager voluntourists is Habitat for Humanity, through which you can help build homes in impoverished locations all over the world. The program hosts short-term global village trips in almost 30 countries. If you are particularly moved by the plight of those in Haiti, the Be Like Brit Foundation coordinates weeklong trips focused on building homes for those who need them most. The organization was founded by Len and Cherylann Gengel to honor their daughter Britney, who died in the 2010 earthquake in Haiti.
IF YOU WANT TO HELP REFUGEES GET ON THEIR FEET
The refugee crisis crisscrosses the globe, and refugee programs exist both abroad and locally. Volunteers For Peace organizes trips throughout Greece, Mexico and India. Itineraries are designed to provide humanitarian assistance in the form of food, clean water, clothing, medical assistance and more. U.S. Servant Group International has weeklong group trips to Greece, but also provides refugee volunteer services in Nashville. So if you're planning a trip to the country music capital, consider volunteering for its Feed and Read program, through which you can serve meals to refugees and help further the organization's education initiatives.
Take the next step
Our advisors will help to answer your questions — and share knowledge you never knew you needed — to get you to your next goal, and the next.
Get started
Want more? Get financial tips, tools, and more with our monthly newsletter.