8 Questions to Ask to Find the Right Real Estate Agent for You
---
Daniel Bortz
Apr 23, 2019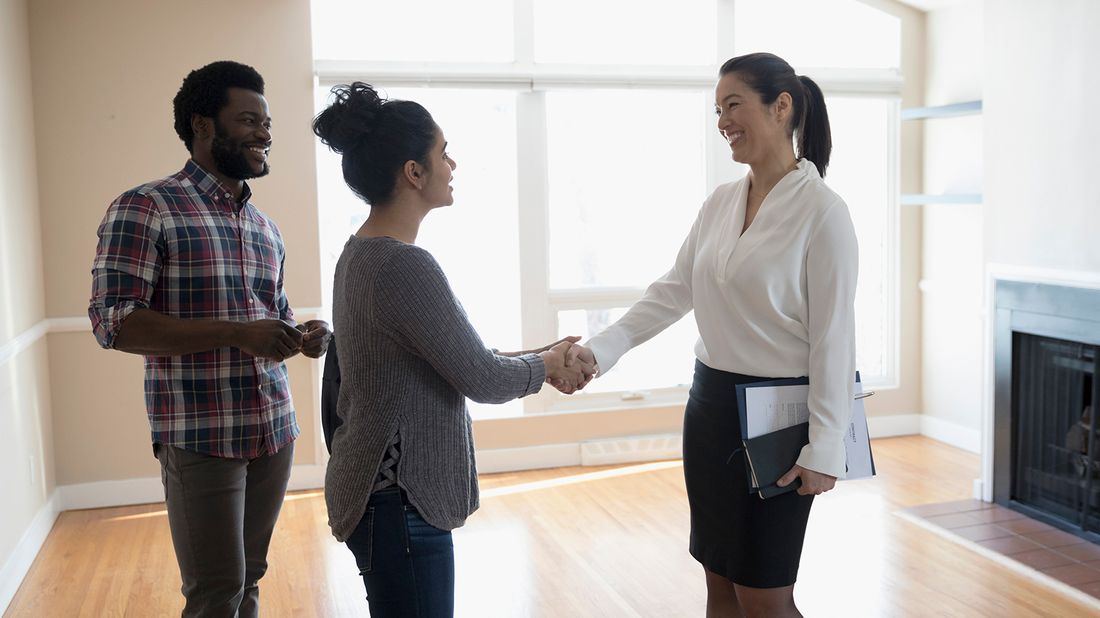 Finding a great real estate agent — someone with the skills, knowledge and experience to help you buy or sell a home — is crucial to a successful outcome. After all, this person is going to be your guide throughout the often stressful homebuying or selling journey.  
So, how do you find The One (for your home journey, at least)? It's all about asking the right questions. Here are eight to ask to find the right real estate agent for you. 
How many years have you been a real estate agent? 
An agent should know the ins and outs of the business — and that level of expertise only comes with experience. While a newer agent may be tenacious, a seasoned professional will know how to solve issues based on previous results. Experienced agents have also had more time on the job to hone their negotiating skills.  
Look for an agent who has been working for at least three years, though generally the more experience, the better.  
Have you sold homes in this neighborhood? 
Have your sights set on a particular 'hood? The agent you choose should have experience working with buyers and sellers in that area, and know the local home prices, schools, crime rates and cultural amenities such as restaurants, public parks and other things to do around town. 
RELATED CONTENT: Want to learn more about this topic? Our complete guide to buying a home can help you prepare for one of the largest purchases you'll ever make. 
How do you win bidding wars?
If you're looking to buy a house in a competitive market, there's a good chance you'll have to go up against other offers. So, you want an agent who is a great negotiator. Learning how the person has won bidding wars for clients in the past will reveal their success rate. Another way to frame this is by asking, "What's your negotiation style?" which is also a good question for home sellers. 
Do you work as a real estate agent full time?
Many real estate agents sell homes as a side hustle. You want an agent who is doing this every day and not as a way to earn extra income, especially since this person may not be available on short notice. 
You want an agent who communicates the way you do. 
Do you work on a team?
Many real estate agents fly solo, but some work on a team with other agents, an administrative assistant and a team leader (read: a more experienced agent who acts as a supervisor to others). There are many potential benefits of working with an agent on a team — having a secretary who handles the paperwork may let agents devote more of their time to working with their clients. If you go this route, consider meeting with the agent's entire team before committing, as these people may play an important role in your process.  
How will you stay in touch with me?
You want an agent who communicates the way you do. If he or she usually texts or emails but you'd prefer to talk on the phone, that person may not be the right fit for you. Also consider hiring an agent who also works nights and weekends and can handle last-minute issues outside of regular business hours. 
What sets you apart from other agents? 
Any good real estate agent will be able to articulate their value proposition — essentially, what makes that person a better agent than their competitors. One caveat: Top listing agents tend to charge higher fees, but a great agent will be able to defend the commission. That said, most agents will represent homebuyers for free, since their commission is traditionally paid by the seller. 
Do you have a list of trustworthy vendors who can help me obtain a mortgage, inspect a home and so on? 
A great agent will have an extensive network of the other professionals you'll need when buying or selling, such as a mortgage lender and home inspector. This is something that comes with experience, which is why it pays to choose someone who has built good relationships over time.  
Take the next step
Our advisors will help to answer your questions — and share knowledge you never knew you needed — to get you to your next goal, and the next.
Get started
Want more? Get financial tips, tools, and more with our monthly newsletter.