9 Easy Home Office Upgrades That Can Help Improve Your Productivity
---
Tim Stobierski
Sep 29, 2021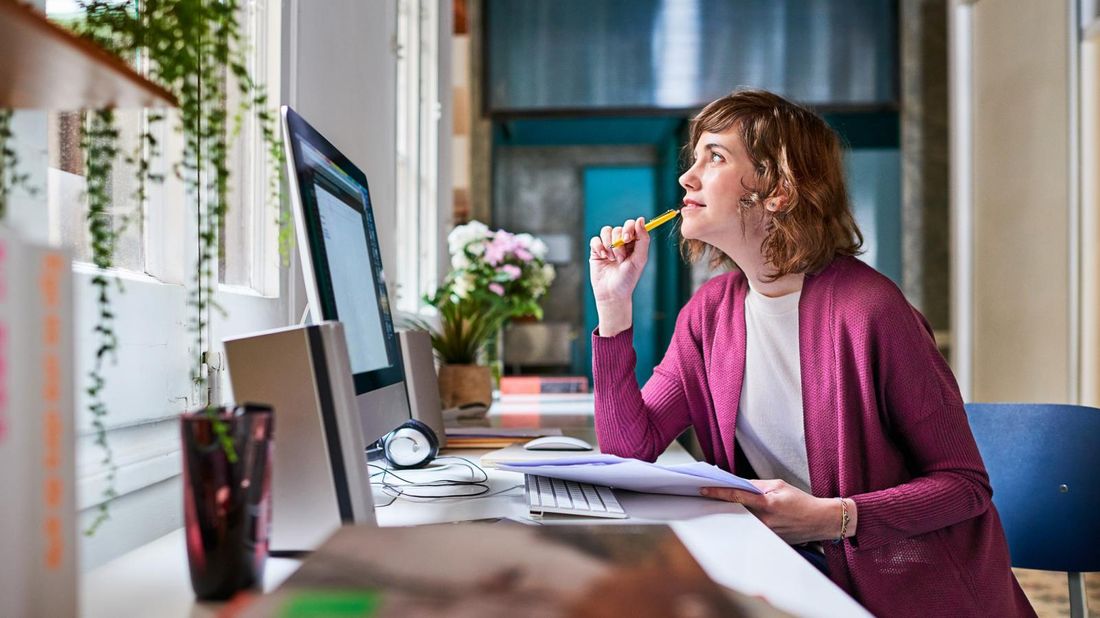 Whether it's because your company has gone full-time remote or you've finally decided to go full-time freelance, there's no doubt that having a proper home office is more important than ever.  
But far too many of us are winging it when it comes to working in a productive space at home. According to an August 2021 Northwestern Mutual survey, 42 percent of people have yet to create an ideal, permanent home workstation. That means a lot of us are making due with makeshift spaces in the kitchen, living room or bedroom. 
With a few easy home office upgrades, it is possible to create a separate space dedicated to helping you stay productive and inspired. Here are some simple, inexpensive ways to create a home office space that works for you. 
DEFINE — AND ORGANIZE — YOUR WORKSPACE
Work-from-home pros know that, no matter the size of your home, setting up a defined workspace is key.  
"It's all about creating those edges and boundaries," says Julie Morgenstern, a productivity and organizational consultant. "Just because you can work from anywhere doesn't mean that you should."
Adding basic shelving or file storage can help you stay organized. "This is especially true for those of us who don't have a dedicated workspace — such as those of us who find ourselves working at a kitchen table," Morgenstern says. "Something as simple as a tray that we can use to pack away our work supplies at the end of the day can make a big difference in establishing boundaries between work and life."
BE EASILY SEEN AND HEARD
Video conferencing applications such as Zoom and Skype have become the common solution for putting in face time with coworkers, bosses and clients. Ditch your laptop's built-in webcam — and its awkward positioning and grainy picture — with a professional-grade camera that, for between $50 and $100, will give you high-quality video.
Similarly, the difference in audio quality between cheap headphones and a professional Bluetooth headset is substantial. The investment will make sure your voice is clearer and reduce your need to repeat yourself (or send clarifying recap emails after the meeting is done).
GO NEAR NATURAL LIGHT
Whenever possible, try to take advantage of natural light by positioning yourself next to a window. Avoid direct overhead lighting that casts long shadows. Proper lighting will improve your video quality and, more importantly, help prevent eye strain and boost your energy levels.
CONSIDER A STANDING OR CONVERTIBLE DESK
In an office, you're more likely to get up and wander around. These small excursions keep your body moving and clear your mind. But at home, we tend to have fewer "travel" options, which means we're sitting at our desks for longer, contributing to back pain and fatigue.
"A standing desk or ergonomic chair can be a great office enhancement," Morgenstern says. "Or use an exercise ball that keeps your posture straight and your body engaged."
SET UP A DUAL MONITOR
For those working in design, analytics, coding, data entry or really any field that involves referencing multiple tabs, windows, programs or applications, purchasing a second monitor will help you stay organized while you work. All of the extra time you spend clicking between tabs adds up over the course of the day and can be a drag on your productivity.
LET NATURE IN
Can't get outside during the day? A few small plants in your workspace can help you realize some of those benefits that you might be missing out on. "As a bonus, they help to clean the air," Morgenstern says.
INSTALL A WHITE NOISE MACHINE
If you're working from home with your children nearby, pets running around and a spouse who is sharing your office space, a simple white noise machine can drown out the background sounds, allowing you to concentrate and helping you establish some important boundaries.
HANG UP A PERSONAL WHITEBOARD
A whiteboard is great for brainstorming and jotting down inspiration throughout the day. A small version for your home office can help you get organized — and, as a bonus, help alleviate screen overload. A small version for your home office can help you get organized — and, as a bonus, help alleviate screen overload.
"Especially now, we're spending so much time behind a screen," Morgenstern says. "Getting off a computer and onto a whiteboard or even a paper calendar or planner can be a gamechanger for productivity and creativity."
MAKE ROOM FOR SOMETHING THAT BRINGS YOU JOY
You'll likely enjoy your home office better if you decorate it. Add one or two pieces of art or some accessories that bring you joy. Much like in a traditional workspace, surrounding yourself with things that make you happy will give you something to look at or focus on when you are feeling overwhelmed and in need of grounding.
Take the next step
Our advisors will help to answer your questions — and share knowledge you never knew you needed — to get you to your next goal, and the next.
Get started
Want more? Get financial tips, tools, and more with our monthly newsletter.