How to Look Professional on Zoom Video Calls
---
Natasha Burton
May 07, 2020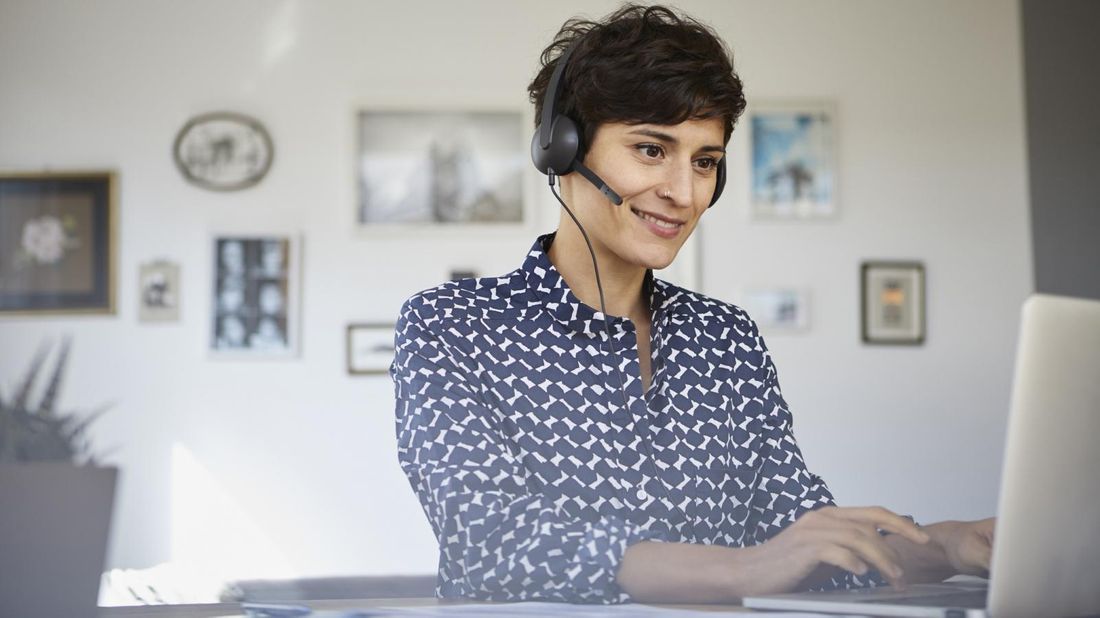 For those who are used to in-office meetings or appointments with clients, working remotely has been a huge change. Zoom and other virtual meeting apps have helped teams and customers regain some of those personal interactions via face-to-face video conferencing — but adjusting to these new interfaces come with their own set of challenges.
So we consulted some experts for tips on how to present your best self even when you might feel awkward (or behind the tech curve). Here's how to look professional on Zoom video calls.
GET COMFORTABLE WITH THE BASICS
Zoom has become the default platform for video conferences but if you haven't yet gotten comfortable using it (or whatever platform your company favors), take some time to check out any tutorials you can find online.
One of first things you'll want to make sure you know? Where the mute button is. "By default, Zoom will start calls without video, but it doesn't automatically mute you," says Malte Scholz, CEO and Co-Founder of Airfocus. "I've seen lots of people get embarrassed this way by starting the call with their mic on and everyone else hearing some interesting conversations they are having with their partner or the TV show they're watching."
Every team will likely have its own etiquette for muting, but best practice is to stay on mute until it's your turn to talk. 
CREATE THE IDEAL SETUP
This may seem obvious but, because video is a visual interface, where you conduct your online meetings — and what that space looks like — matters. Focus on making sure the background, your lighting and the camera's position are working in your favor.
TV producer and consultant Karen Ripenburg suggests you begin by assessing what's behind you when you see yourself on screen. "Are there plants growing out of your head? Is there an overflowing garbage can or kids' toys strewn about?" she asks. "Clear the clutter and present your most filtered self." If you lack space, try digitally popping in a white background.
Next, make sure you're not shrouded in shadows or have the camera pointed up your nose, which are two of the most common mistakes. "Position yourself next to an indirect light source, like a window. Avoid direct overhead lighting that casts long shadows and never have a light source under your chin," Ripenburg says. "Then, raise your computer to chin height or higher. Use books, side tables — anything you have — to move it up."
MINIMIZE DISTRACTIONS
You may think that you're covertly checking email during your conference call, but everyone will notice if your eyes keep flicking from one side of the screen to the other. For this reason, marketing consultant Saveria Tilden, CEO and founder of The AdventurUs, suggests putting your phone away and closing your browser tabs and windows, to "avoid distractions and the temptation to multitask," she says.
Career coach Jen Hood, owner of The Career Force, suggests wearing headphones or earbuds during meetings. "This lets you focus and it blocks out background noise for people on the other end — which is especially helpful in a houseful of people," she says.
DRESS UP — A LITTLE
Yes, you're working from home but when people are going to see you, it's a good idea to look polished — even if only from the waist up. According to Michelle Mekky, founder and CEO of Mekky Media, you can pair sweats or yoga pants with a polo shirt or a tank top and cardigan to look professional without having to get done up fully.
Because you'll be on camera, choose solid colors. "Avoid stripes and polka dots," says publicity expert Brielle Cotterman. "Small, busy patterns can blur or move on camera and make you hard to look at."
And Ripenburg recommends using some pressed powder on your face to get rid of any shiny spots. In Zoom, you can also use the "touch up my appearance" option to add polish. Knowing you are looking your best will also boost your confidence, which will come across onscreen.
LOG IN EARLY TO TROUBLESHOOT
Before your meeting starts, test-run your microphone, speakers and video. "Double-check that you've granted permission for Zoom to use your mic and camera — this is in your computer settings, not the app settings," says Jon Hill, CEO and chairman of executive search and recruiting firm The Energists. "Technical difficulties are frustrating for everyone and you don't want to spend half your meeting troubleshooting one person's microphone."
BE MINDFUL OF YOUR EXPRESSION
When you're not speaking, make "eye contact" with whomever is talking by looking into your camera, not at their face. They'll feel that you're paying attention to what they're saying.
Also, keep your own image up on your screen, Hill advises. It's a good reminder of how others are seeing you during the meeting, if only so you don't forget that everyone can see you.
Check your image and shift your expression as needed, says Elizabeth Goueti, CEO and principal consultant at Avinu Consulting. "If people look at you and you seem miserable, they will remember it for future calls, projects and even promotions," she says. "Even if you're tired, unhappy to be there or annoyed by that one coworker who is glory-hogging for attention, be mindful of your resting face."
BRING SOME ENERGY
Video calls aren't as energizing as in-person meetings. But you can show your enthusiasm in ways that will keep other people interested, especially when you're presenting.
"Engage the other meeting attendees — smile, use voice inflections and show up with good information," Goueti says. "Remember that your excitement is contagious."
BE AUTHENTIC
Keep in mind that this is a strange time for everyone, and your coworkers and clients are going through it right along with you. Allow for humor when the occasion presents itself — we could all use a little bit of levity right now.
"If your child jumps on your lap to watch, introduce them to your co-workers — or keep petting your cat during the meeting," says Daron Robertson, CEO of BroadPath. Acknowledging your "visitors" can foster a sense of community.
Elizabeth Harr, a partner at branding and marketing firm Hinge, notes that being natural and transparent can go a long way toward relationship building. "If, for instance, you have no way of avoiding extra noise, let folks know," she says. "You'd be amazed at what a great icebreaker that is. People get it."
Take the next step
Our advisors will help to answer your questions — and share knowledge you never knew you needed — to get you to your next goal, and the next.
Get started
Want more? Get financial tips, tools, and more with our monthly newsletter.