How We Were Able to Backpack Through Central and South America for a Year
---
Matt Shapiro, as told to Julia Chang
Feb 12, 2018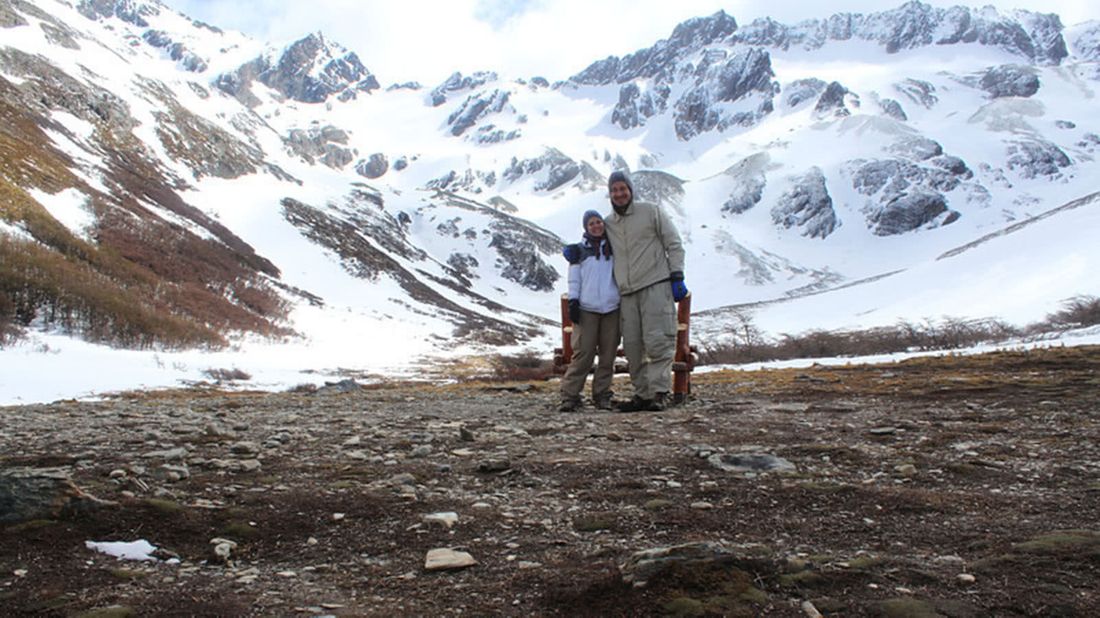 Welcome to the new retirement. It's about having the freedom to decide when and how you want to take a break from work — to rest, recharge or start a new adventure — no matter your age. In our Redefining Retirement series, you'll learn how real people are living their lives to the fullest, and the steps they took to get there. 
Here, Northwestern Mutual senior analytics analyst Matt Shapiro shares how he was able to take a year off to go backpacking in Central and South America, and travel money tips he learned along the way.
I originally had the idea to travel through Central and South America in 2010, when I suggested to my wife, Sarah, that we fly to the southernmost tip of Argentina and bike it back to our home in Los Angeles for our honeymoon. She reminded me that I only had two weeks of vacation and hadn't been on a bike since 8th grade, so perhaps the timing wasn't quite right. (We went to Thailand instead.)
Still, the idea of taking that kind of adventure stuck with me. The following year, Sarah was laid off from her job as a public school music teacher, and I was open to taking a much-needed sabbatical from my job. I spent months doing some serious research on travel blogs and sites — probably 700 hours' worth — to determine our route, the easiest ways to get around and how much we could expect to spend.
We'd always been good savers so we weren't concerned about having enough for a sabbatical, including using a portion of a house downpayment fund that we decided to put toward traveling. We did want a cushion in case it took a while to find jobs after we got back, and luckily I was due for my annual bonus, which helped boost our savings quite a bit. We also had some investment accounts we could dip into if we really needed it.
I budgeted to spend $50 a day for food, travel and lodging, or a little more than $18,000 for the year. Our goal was to live like locals, which meant taking public transportation; eating at hole-in-the-wall places; and avoiding touristy hotels. In some places we knew we'd have to spend a little more, but there were also plenty of areas where we could expect to spend much less, so I thought that'd be a good average to stick to.
Once we planned our route — down the west coast of Mexico, Central America and South America, then back up through Brazil, ending in Rio de Janeiro — we were ready to hit the road. In October 2011, we sublet our apartment, stored what few things we had in our parents' garages, stuffed two backpacks, and got on a bus headed to Chihuahua, Mexico.
"Not only did that sabbatical give us time to recharge, I also learned a lot about how to be smart with your money when traveling."
14 MONTHS ON THE ROAD
During our time off, we traveled over 18,000 miles, mostly by bus, and visited more than 15 countries. We hiked glaciers in Ushuaia, Argentina; saw penguins in Punta Arenas, Chile; hiked Machu Picchu in Peru; and walked the Salar de Uyuni salt flat in Bolivia. Locals helped us find hidden gems, like a park full of iguanas in Los Mochis, Mexico, a town we never would have visited had it not been for a friendly accountant we met one night at a happy hour. We logged our travels on a blog so that our family and friends could keep track of us.
There were plenty of things we couldn't have planned for — like the time we missed the last bus that would take us from Guatemala to El Salvador and were stuck at the border in the middle of the night. Or the time we took the wrong local bus in Panama City and got lost miles away from our hotel, with only heavily armed soldiers around to ask for directions. Luckily, we were always able to get safely to our destinations, but it was times like these that made me happy we had decided to study Spanish for a month while in Guatemala.
After 14 months, it was finally time to return to the States. We took only our third flight of the entire trip, from Rio de Janeiro back to Los Angeles. We decided to take a road trip to visit family and friends throughout California, Arizona, Texas, Tennessee and Louisiana, where we spent Mardi Gras.
Applying for jobs was starting to weigh on my mind, though. I was concerned about the gap on my resume, but about a month after we finished our road trip, I had an offer on the table. Then, Sarah got a job at a music school. And thanks to our frugal ways, our savings lasted. We never had to dip into our investment accounts — in fact, because we traveled during a period when the markets were bouncing back from the recession, our net worth even grew a little by the time we finished our trip.
TRAVEL LESSONS FOR YOUR FINANCES
I'm so glad that we took the time off when we did. Sarah and I are both settled back into our careers and have a toddler now, so traveling for an extended period may not happen again for a while. Not only did that sabbatical give us time to recharge, I also learned a lot about how to be smart with your money when traveling. Here are my biggest takeaways.
Leave yourself a decent cushion. If you're planning to be on the road for an extended period, remember that food, lodging and transportation aren't your only expenses. We budgeted separately for things like health insurance that weren't part of our daily costs, and factored in living expenses to cover us after we got back and started looking for work. Although we were lucky to find jobs quickly, we had enough of a cushion to last us several more months.
Decide what you're willing to pay extra for. Expect to pay additional fees for things like WiFi or even hot water — a lot of amenities you'd expect for free in American hotels were luxuries in some areas we visited. Sarah and I also knew that because we were packing light, we'd have to pay for laundry every few days. We also budgeted for a Spanish class in Guatemala and a Portuguese language class in Brazil, which really helped us communicate, and knew when we were going to splurge for special opportunities, like flying to the Galapagos. A lot of travelers we met were able to get by on an even smaller budget than ours, however, by camping and traveling by foot.
Check exchange rates. While doing my research, a lot of travel bloggers noted that the favorability of exchanges rates could differ depending on which side of the border you were on, and with whom you're exchanging money. Also, make sure you always know what the local currency looks like to avoid scammers — one money changer insisted that bills with Barack Obama's face on them were legitimate U.S. currency.
While there will always be things you can't control for, it pays to be as prepared as possible. The hours of research I did helped us stick to a budget, travel stress-free — and create an experience we'll never forget.
Take the next step
Our advisors will help to answer your questions — and share knowledge you never knew you needed — to get you to your next goal, and the next.
Get started
Want more? Get financial tips, tools, and more with our monthly newsletter.