How We Took a Year-Long 'Pretirement' to Travel the World in Our 20s
---
Carla Ballecer and Alex Stoewer, as told to Julianne Pepitone
Dec 21, 2017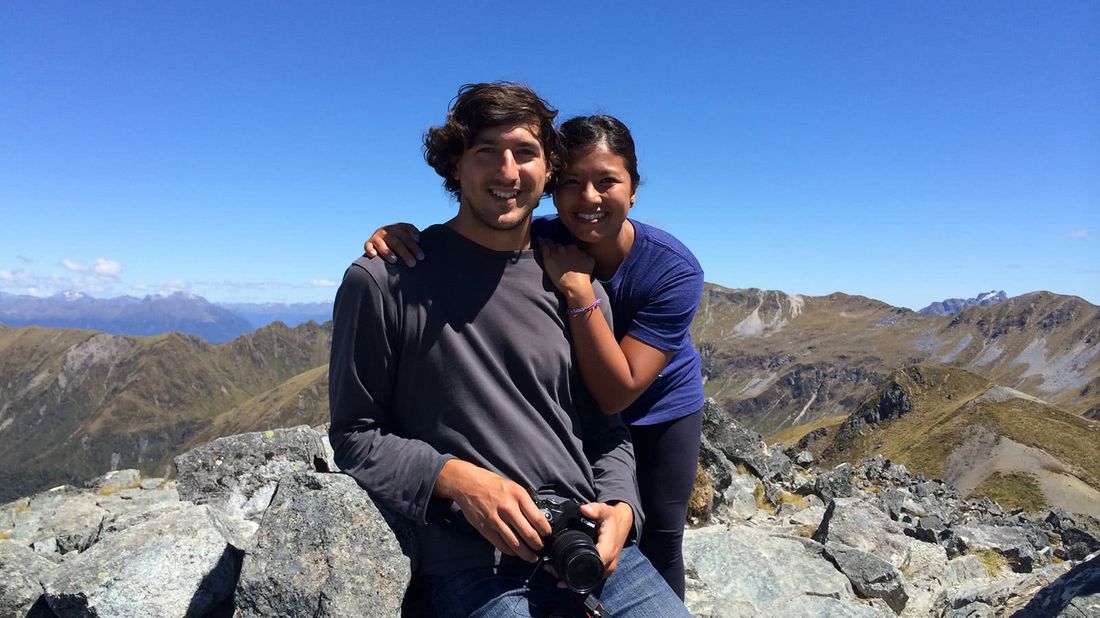 Welcome to the new retirement. It's about having the freedom to decide when and how you want to take a break from work — to rest, recharge or start a new adventure — no matter your age. In our Redefining Retirement series, you'll learn how real people are living their lives to the fullest, and the steps they took to get there.
Here, a married couple from New York City share how they took a year-long sabbatical from their careers to travel to more than 200 places across the globe.
We called it "pretirement." We loved the idea of taking time off from the life and world we knew, to explore what we didn't know and hadn't yet seen. But we hated the idea of having to wait 40 years to do it. We thought, why not enjoy life now, when we're still young and full of energy?
So pretirement became the idea we kicked around in the early years after college, even if we didn't really have a concrete idea of how or when we would do it. What we did know: We'd have to start saving for it — not the easiest task in expensive New York, but not impossible either.
So we'd walk instead of taking a cab. Go to dinner with friends once a weekend, not all three nights. If we were invited to weddings, we'd stay at the cheap hotel option. Sometimes it was hard not to be jealous when we saw our friend's gorgeous $5,000 couch or social media photos of the extravagant and fun meals our friends were having at trendy New York restaurants. But we had a larger goal in mind and we tried to make sure every purchase we made was in service of that.
"Having that kind of pure freedom was a shock to us because we'd come from such regimented professional lives."
FINALLY TAKING OFF
When we both hit our late 20s, the timing began to feel right. There's never really a good time to take a year off from your career, but we figured that having six years of experience was as close as we would get — we felt we weren't too junior or too senior to be harmed by taking a sabbatical. Plus, we knew we wanted to have kids in the not-too-distant future, and we'd been able to save up enough to cover a year-long trip, plus have some leftover afterward. We estimated the trip would cost us each about $35,000 — with expectations that we'd plan cheaply — which really wasn't too bad, considering how expensive it is to live in New York for a year.
So in May 2013, we did it. We quit our jobs in finance and advertising to travel the world. Our only real goal was to avoid winter weather — we didn't want to get much more prescriptive than that. We didn't have a daily itinerary, choosing instead to pick an entry and exit point and fill in the blanks afterward. We did divide our trip into "chapters": the North American Road Trip, the Asia Tour, and so on.
Between big cities, small villages, historic sites and national parks, we visited 222 spots over 13 months and never spent more than three weeks in any one place. (We kept a record of our travels on our blog.) We started by getting a car and driving around the U.S. and Canada. We just drove wherever we wanted to go, whenever we felt like it. Having that kind of pure freedom was a shock to us because we'd come from such regimented professional lives, but it opened our minds. By the time we were ready to travel internationally, we'd just buy plane tickets a week in advance. Being flexible with dates helped us save money, as in, "Oh, there's a cheap flight from Hanoi to Saigon on this date? Let's do it."
We also embraced spontaneity once we reached our destinations. For example, in Cambodia we had a driver who was taking us around to various temples, and suddenly he said, "My friend is getting married. Do you mind if we stop by for a bit?" And so we went to this wedding in the countryside! We ate a few dishes we didn't know — we think one of them had ants in it? — and danced with everyone before a downpour hit. In New Zealand, we rented a camper van for two weeks and drove around the South Island, parking in the wilderness to sleep at night. We now have so many stories and memories that truly changed our lives.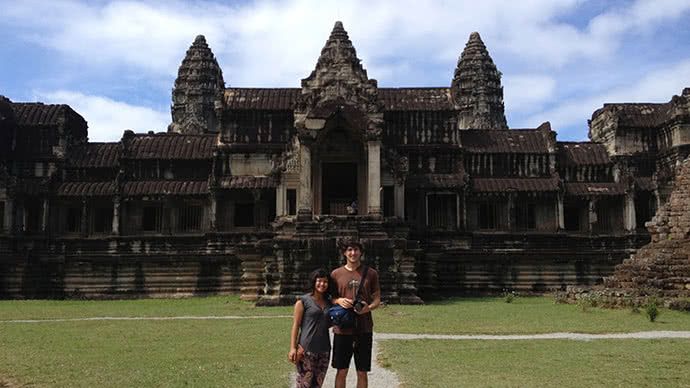 Carla and Alex at Angkor Wat in Cambodia, one of more than 200 stops on their year-long sabbatical. Courtesy of Carla Ballecer/Alex Stoewer
GETTING BACK TO REALITY
By the time our year was almost up, though, we weren't dreading it. As incredible as the experience was, eventually we were ready to get back to our long-term goals. And the timing worked out: Alex's company called him about nine months into our trip and offered him a move to London, which was something he'd previously inquired about. So after our sabbatical we moved there, which was the perfect place to end up because it's so easy to travel around Europe and Asia. We really love life in London right now, though we'll probably end up back in the U.S. sometime in the next few years.
When we told people about our experience, the type of feedback we got seemed based on age. Those our age would say, "That's great! I wish I could do that." People in their 30s and 40s would say, "You're crazy. You're going to destroy your career." And anyone over the age of 50 was so supportive: "I wish I'd done that." That response made us feel vindicated.
We also got a lot of: "You're so lucky. I could never do that because of X, Y, Z." But it's more in reach than you think. We ultimately spent $70,000 total on our trips, which was what we anticipated, but we met so many people along the way who spent much less than we did to do the same thing. Thankfully, no employer faulted us for our time off when we came back, either. It became a great story in a job interview, and we know two or three people who did something similar after hearing about our experience.
Like any big life choice, the decision to take time off really comes down to values. How are you spending your days? More importantly, how do you want to spend them? Once we knew the answer to that question, we set our priorities to make it happen.
Take the next step
Our advisors will help to answer your questions — and share knowledge you never knew you needed — to get you to your next goal, and the next.
Get started
Want more? Get financial tips, tools, and more with our monthly newsletter.