Krista Canfield McNish, as told to Amanda Reaume
Jan 11, 2018
I Gave Up My Dream Job to See the World for a Year
Welcome to the new retirement. It's about having the freedom to decide when and how you want to take a break from work — to rest, recharge or start a new adventure — no matter your age. In our Redefining Retirement series, you'll learn how real people are living their lives to the fullest, and the steps they took to get there.
Here, a 35-year-old from the San Francisco Bay Area talks about why she stepped away from her dream job in order to take a year off to see the world and spend time with family.
When I first started working at travel technology site Gogobot in 2014 as vice president of corporate communications, it was a match made in heaven. The company's mission was to help people discover great places to stay, eat and play around the world, and the team had a passion for travel and exploration, just like me. Each day I came into the office surrounded by creative, curious individuals who grew to be like family.
Even though it was my dream job, about two years later, I decided to leave. I had recently gotten engaged, and ever since my husband and I met, we'd always daydreamed about taking off for a while to see the world. The timing just never seemed right — until then. We were already planning a small destination wedding in Lyon, France, so we thought, why not just take that opportunity to fulfill our dream? By quitting our jobs, we could fully immerse ourselves in our wedding and honeymoon without worrying about what was going on back at the office. We also had friends and family coming from all over the world to attend, and we thought it'd be nice to finally visit them on their home turf.
Plus, we didn't want to wait until we were retired to travel because we wanted to experience the world before we had kids and while we were still young enough to do things like summit mountains or sleep on midnight train rides through India. So even though it was hard to leave a dream job, I decided to press pause on my career in order to make another dream come true.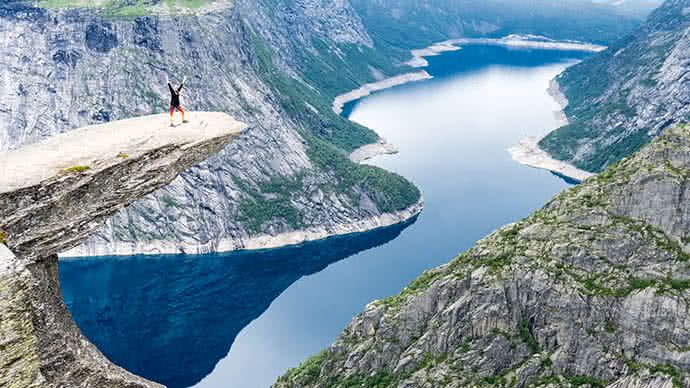 Canfield McNish hikes the Trolltunga cliff in Norway. Ian McNish
STARTING OUR YEAR-LONG ADVENTURE
My husband and I gave our companies about two months' notice so there'd be plenty of time for a smooth transition. We tapped into our savings and used our travel points to book flights and accommodations. We used an airline credit card on a lot of our purchases leading up to the trip to rack up more miles. And we created a budget where we prioritized what was important to us — good food was key, but we didn't have to eat at fine-dining restaurants every night.
While booking far in advance helped us get the most value from our points, remaining flexible also helped reduce travel costs. We'd push a trip forward or backward a few days if it meant getting a better deal on flights, which is easier to do when you don't have to worry about using up vacation days. Before we even reached our last day of work, we had pretty much plotted our next year.
"I realized you only get one chance to experience the many people, cultures and creatures that make up this world."
In the summer of 2016, we set off. Over the following year, we not only got married in Lyon and honeymooned in Finistère, France, we also fell in love with Copenhagen and its food. We drove and hiked around Norway, explored the design and architecture of Helsinki, and petted kangaroos and swam with massive whale sharks in Australia. In India, we saw wild tigers and thousands of camels at the Pushkar Camel Fair, and pondered life and death along the banks of the Ganges. I even spun in a Zorb (those big, clear balls that roll down giant hills) and visited a penguin colony in New Zealand.
Our adventures took us to 10 countries, and included a few jaunts home to spend time with family. Those actually ended up providing some of the most meaningful experiences on our journey.
MAKING THE MOST OF FAMILY TIME
While most of our family was in good health when we first took off, sadly by the end of our year-long sabbatical both my husband and I had lost loved ones. The silver lining: Because we were taking time off, we got to spend quality time with them.
For starters, my dad underwent foot surgery, so my husband and I flew back to the East Coast to help him recover. During that time, my husband's grandmother became ill, and he was able to see her in Kansas before she passed away. We were also able to visit my uncle, who had suffered from multiple sclerosis for decades, several times in Los Angeles over the course of the year before he passed away in the fall.
My last memory with my uncle is going through my wedding photos with him. If I had been working, I don't know if I would have seen him as many times as I did. I hate to think how badly we'd be beating ourselves up if we hadn't been able to say those goodbyes.
A LIFE-CHANGING EXPERIENCE
Today, I'm back at work, at my own corporate communications and public relations consulting business. I also have a food, fashion and travel site called FoodWaterShoes, where others can discover the treasures I uncovered during our travels.
My year off was about so much more than knocking places off a bucket list. I realized you only get one chance, one life, to really experience the people, cultures and creatures that make up this world. My moments with our relatives also taught me that, while money and work are important priorities, so is the time you get to spend with family.
What my husband and I ultimately didn't want to happen was to wake up five, 10 or 15 years from now and wonder what could have been. Life can change in an instant, and we didn't want to regret not having our great adventure.
Take the next step
Our advisors will help to answer your questions — and share knowledge you never knew you needed — to get you to your next goal, and the next.
Get started