We Took Our Kids on a 9-Month Trip Around the World
---
Sarah de Gaudemar, as told to Bobbie Gossage
Jan 03, 2018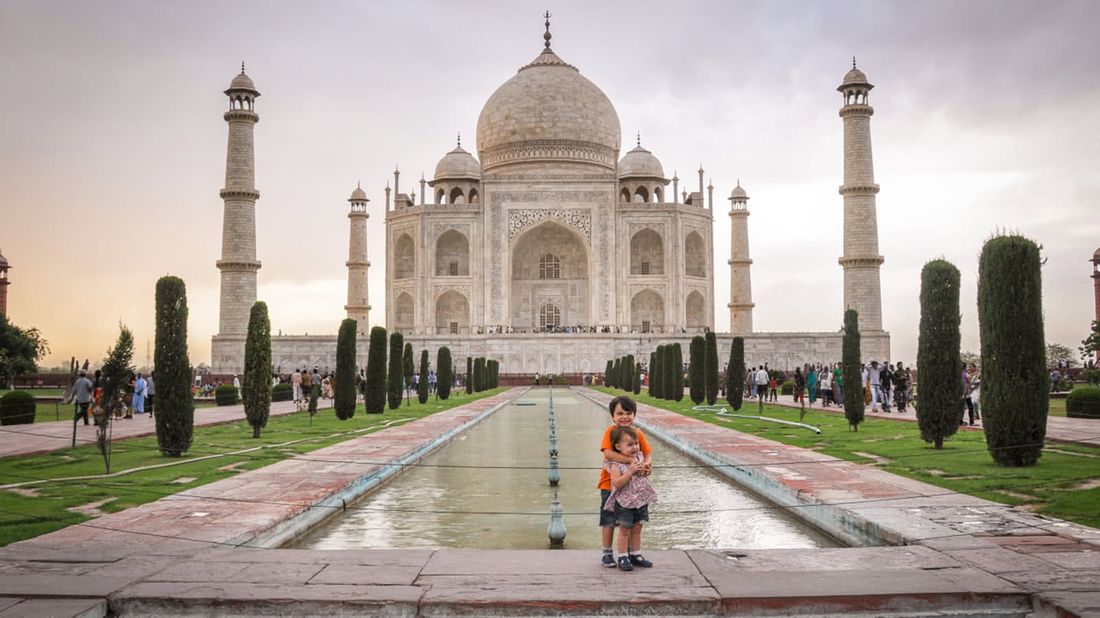 Welcome to the new retirement. It's about having the freedom to decide when and how you want to take a break from work — to rest, recharge or start a new adventure — no matter your age. In our Redefining Retirement series, you'll learn how real people are living their lives to the fullest, and the steps they took to get there.
Here, one woman shares how she and her husband took their small children on a nine-month trip around the world.
This all started in 2013 when they pulled the plug on a movie I was working on. I work as an animator on films like "Coraline" and "The LEGO Batman Movie," and I didn't have another project lined up. My husband, Olivier, works remotely for a global market research company, and our children Ella and Leo weren't in school yet, so there was nothing really keeping us in Los Angeles.
I found this amazing website, oneworld, where you can book a trip around the world. There are some rules to it: You have to travel in one direction around the globe, and you can only make a certain number of stops per continent. But you can map out a custom trip for yourself, and when we started playing around with that feature, it just looked so exciting! Very quickly we went from, "Hey, what if we did this?" to "OK, we're going to move out in a month and do this!"
Most people thought we were crazy to travel the world with small kids, but it actually makes a lot of financial sense. Our daughter Ella hadn't turned two yet, which meant she could fly for free. The only thing we had to pay were the taxes. And our son Leo, then 3, had a reduced fare. In total, the plane tickets cost us about $16,000, which we paid for out of our savings.
Not only that, but we were able to break our lease and put our stuff in storage. Without rent to pay, our costs actually ended up being about the same as they would have been had we stayed in L.A. Plus, Olivier could work as we traveled. His company has offices worldwide, so we tried to book places that were convenient for him to get to work. About half of his team was in Buenos Aires, Argentina, so we went there first for five weeks. It was really nice, because he got to actually work with them in person.
We spent nine months on the road and visited 19 countries. We usually stayed in each place for at least two weeks, mostly in Airbnbs. Not only do you feel more like a local, but you're able to wash your clothes and cook. Everywhere we went, I would grocery shop and figure out what to cook with the local ingredients.
When you're traveling with little kids, it's important to maintain certain rituals, because there's so much change. Their bedtime ritual was always the same, and we always had nap time no matter where we were. Also, the kids loved cereal, so I would buy that for them wherever we were so they could have it for breakfast, even if it was difficult to find.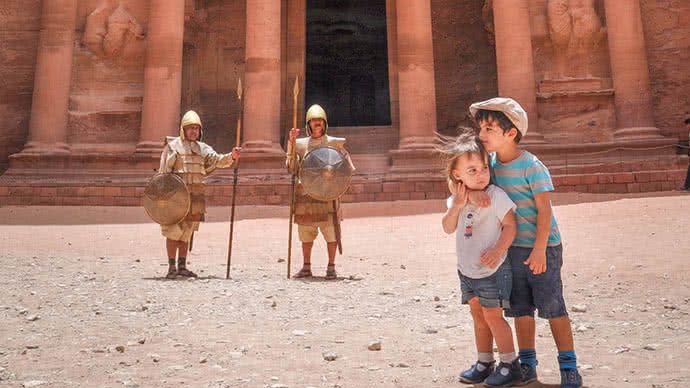 Ella and Leo arrive in Petra, Jordan, after a hike. Courtesy of Sarah de Gaudemar
It wasn't always smooth sailing, though. Olivier worked during the week, and we did sightseeing together on the weekends, so a lot of times I was trying to navigate by myself with the kids. Usually it was fine, but in some instances it proved difficult — like the day we went to the Taj Mahal. My driver was trying to recommend a friend of his who was a tour guide, and I said to him, "Look, I can't talk right now, I need to get my kids. They're playing in some mud over there." And he said, "That's not mud." I looked over and realized it was a huge river of sewage coming from a leak some workers were trying to fix — and my kids were standing right in it.
I had baby wipes and tried to clean what I could, and then told them, "Do not touch your face! Don't touch anything until we get home and we shower you off!" Despite all that, the Taj Mahal was absolutely beautiful and tranquil. The moment I saw it, I actually cried. I was blown away.
Afterward, everyone wanted to take pictures with us. Some people visiting from small villages had never seen Westerners, and the kids were like celebrities to them. People would actually form lines to take photos with them. Eventually, I had to say, "I'm sorry, the kids are getting tired. We have to go."
"Most people thought we were crazy to travel the world with small kids, but it actually makes a lot of financial sense."
We had so many incredible experiences on our trip, but a few really stand out. In Osaka, Japan, we stayed in a little house away from the tourist area, where nobody speaks English. We could only eat at restaurants that had photos in the menu — and sometimes they weren't clear, so I ended up ordering unusual things. It really felt like we were in another world. We also went to see the snow monkeys in Jigokudani. It's a real trek to get there, but when you're up in the mountains hanging out with these monkeys, it's really amazing. It's something you only see in pictures.
Another place we really loved was Petra in Jordan. Unfortunately, I hadn't researched it very thoroughly and didn't realize that we were taking a 3-year-old on a long hike through the mountains. But Leo was a trooper, and we distracted him by singing songs and playing word games as we went along. When we finally got there, it was amazing to see this structure that was created so many years ago. We gave Leo big hugs and said, "You made it!" He was so proud of himself.
We decided to end our travels the day before Ella's second birthday, because if she had turned two during the trip, we would have had to pay for all of her plane tickets.
The trip definitely brought us closer as a family. Our advice to people who are afraid of traveling with kids? Don't be. Everywhere we went, parents would talk to us and help us out, and the locals loved the kids. In Jordan, these guys were blasting local music, and our kids were dancing. They thought it was amazing that two little American kids loved their music. That would never have happened if we weren't traveling with our kids.
These days, Leo and Ella love looking at photos of the trip and hearing stories about what we saw and did. Because of our travels, I think the kids adapt very easily to new places. We've just moved again for the fourth time, and now we're living in Paris. We've always said that our definition of home is being with each other. When we're together as a family, that is home.
Take the next step
Our advisors will help to answer your questions — and share knowledge you never knew you needed — to get you to your next goal, and the next.
Get started
Want more? Get financial tips, tools, and more with our monthly newsletter.