Creative Family Traditions That Also Help You Save During the Holidays
---
Cathie Ericson
Dec 03, 2019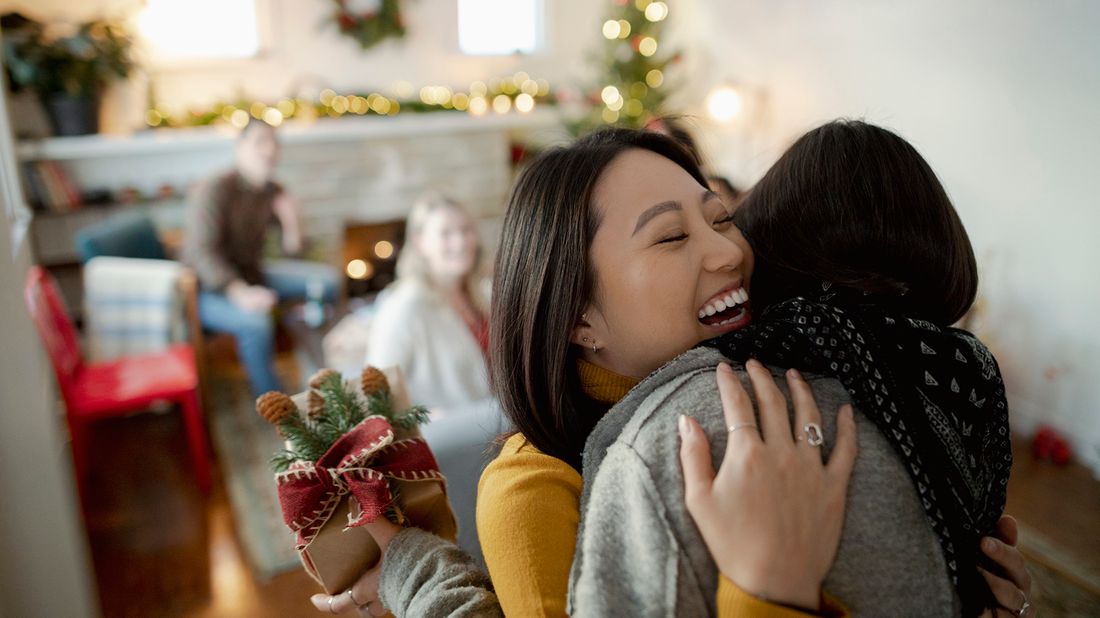 There's nothing like the joy of giving and getting gifts, and finally getting the perfect picture with all the kids in their matching outfits (and smiling, nonetheless). But there's another side to making all these holiday memories: the stress over how you're going to pay for it all. In fact, nearly half of Americans say that finances are their greatest source of stress during the holidays.
The good news is that there are creative ways to enjoy the season without spending up your stress level. We asked people across the country (and one from across the Atlantic!) to share how they give meaningful gifts or create unique experiences with their loved ones — while also finding ways to save during the holidays. We hope their tips can help you start a new family tradition.
'I ORGANIZE A DIY SECRET SANTA'
"I coordinate a DIY Secret Santa with my friends and another with my family, in which we use Pinterest to pin things we'd like people to make for us. I've typically been able to make something for under $10 that would have cost $40 if I purchased it new. For example, I made a terrarium for $4 by buying a vase at a secondhand store and asking a friend with a large garden for some plants. It was exactly what the recipient wanted. We switched to this idea a few years ago when we used to have a $25 limit, but then everyone just ended up trading gift cards. We decided this DIY plan was cheaper and more fun." — Alex Tran, Seattle
'I TURN OLD PHOTOS INTO FAMILY ENTERTAINMENT'
"Old family photos provide the most fun you can have. If tensions are running high at the family holiday gathering, just dump a pile of old photos on the table, like pick-up sticks, and have fun looking at and sorting them, or even make a game out of it. For example, maybe teams compete to be the first to find a photo of Aunt Mary, or they each choose a photo they think has the craziest fashion choice and everyone else votes. You can also do a 'caption this' contest. Everyone gets into it, and we end up laughing and reminiscing." — Susan Rosenbaum, New York City
'I CREATE AN ADVENT CALENDAR OF GOOD DEEDS'
"One of the money-saving memory-makers that I'm most excited for this year is doing a 'reverse' advent calendar with my two kiddos. Here's how it works: Instead of getting a prize every day in December, each day reveals a good deed you can do for someone else. Some of them may require a little bit of money — donating canned goods, picking up a present for Toys for Tots, etc. — but most of them don't, like leaving a surprise for the mail carrier or giving compliments while we're out shopping. Not only will it cost a lot less than most holiday activities, but it will help teach my kids the importance of caring for others during the holidays, which is even more important." — Chrissie Jones, Dallas
'I GAMIFY CHRISTMAS MORNING'
"As my kids get older, their presents definitely get less exciting since we typically go for quality over quantity. It's often not that exciting to open just one big-ticket item, so I extend the fun by creating a scavenger hunt that takes the kids all over the house, where they find a new clue (and maybe a small treat) and then eventually discover the main present at the end. Part of the fun is reading each other's clues and trying to figure them out together." — Bonnie Nieuwstraten, Portland, Oregon
'WE EACH TREAT OURSELVES — AND SHARE THE EXPERIENCE AFTERWARD'
"I'm the youngest of eight siblings. We're all adults now — and I'm the only one without kids — so buying presents for each other isn't our priority. Instead, we each pick something we'd like to do for ourselves and indulge. Often, we'll end up enjoying our activity with one or more family members; my sister and I are planning dinner out at one of our region's destination restaurants, for instance. Whatever we choose to do, we each take a picture of ourselves in action and make a small photo album to give to our parents on Christmas Eve. As Donna from 'Parks and Recreation' would say, it allows us to treat ourselves — but also prevents wasteful spending on small gifts for so many people that are not really wanted in the first place." — D. Gilson, Springfield, Missouri
'I PARTICIPATE IN A DÉCOR SWAP CIRCLE'
"It can be hard to resist the urge to splurge on exciting new decorations every year, so I started organizing a 'bauble swap' with friends. It gives us a chance to relax together during the busy holiday season, while livening up our Christmas decor without spending a dime. We try to take a picture that shows how last year's item was used so they can see how their piece created a special flourish in a different setting." — Alice Gerwat, Surrey, England
'I SPREAD THE GIFTING LOVE OUT OVER THE YEAR'
"I give my children 12 envelopes on Christmas Day, one for each month. Each one lists an activity we will do together during that month in the coming year. In the past, the activities have included a Renaissance festival, a visit to the water park and individual date nights. This allows me to spread out the spending throughout the year, as opposed to a huge sum in December, and it encourages me to spend intentional time with the kids each month. With the busy-ness of life, it can be easy to skip out on these special events, but the kids remember that on the first of each month there's an envelope waiting for them." — Jennifer Smith, Wichita, Kansas
'I HOST A LARGE POTLUCK'
"I host a holiday dinner for about 15 of my closest friends every year at my apartment. While I love gathering everyone to celebrate, I don't love how the grocery bills can add up! Now, instead of me doing all the cooking, I assign each guest a dish or activity to bring. People have brought spicy-sweet roasted sweet potatoes, Chrissy Teigen's famous banana bread, rosemary-maple cornbread muffins, and much more. Everyone seems to enjoy showing off their culinary skills, and it gives them a chance to feel like they've contributed to the meal. Those who are a bit more kitchen-challenged are assigned a game, silverware or drinks. This alleviates the stress on me, and makes it fun for everyone since they all get to pitch in." — Tracey Robertson, Dallas
'WE STARTED A FAMILY READING TRADITION'
"We had amassed a large collection of holiday books over the years, some that had been given as gifts and some that were preserved from my own childhood. At the beginning of December, I would wrap up 24 of them and put them in a basket in our reading nook. Every night one child would choose one to open. They loved ripping off the wrapping and seeing what fun read we would have that night. It also ensured that we got through all my favorite classics at least once during the season." — Cathie Ericson (the author), Portland, Oregon
Take the next step
Our advisors will help to answer your questions — and share knowledge you never knew you needed — to get you to your next goal, and the next.
Get started