Don't Believe These First-Time Homebuyer Myths
---
Cathie Ericson
Jul 17, 2018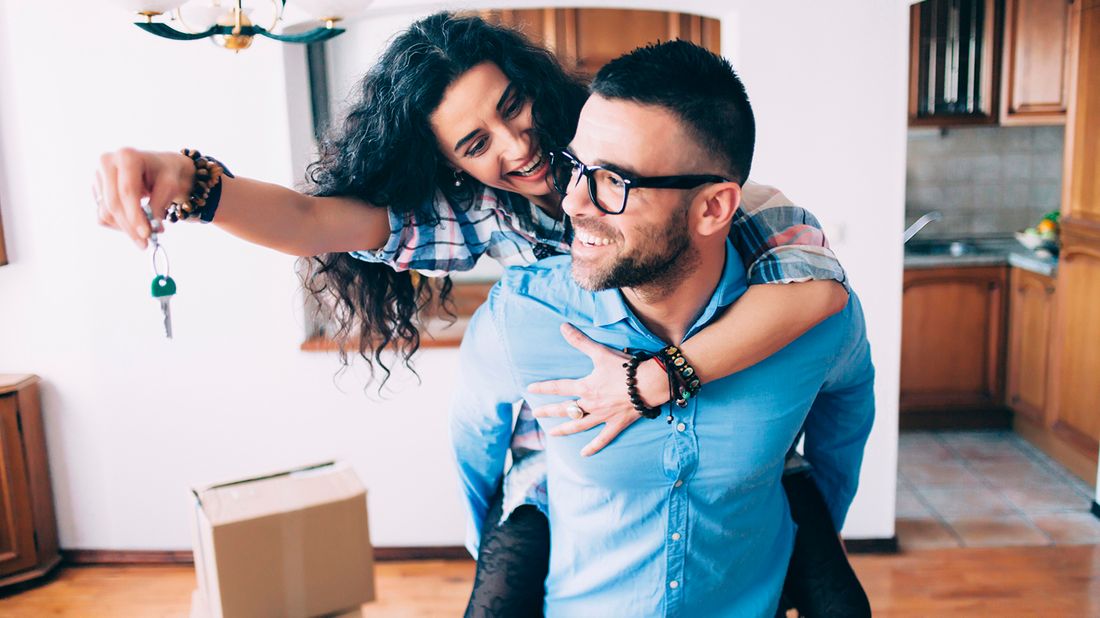 Browsing listings, attending open houses and imagining yourself in each home you visit is the fun part of being a first-time homebuyer. The not-so-fun? The stress that you could be making a wrong decision.  
We know it's daunting to make one of the biggest purchases of your life — and there are a lot of misconceptions about the homebuying process. Here are some of the biggest myths you can cross off your worry list.  
MYTH NO1: YOU'LL GET A BETTER DEAL IF YOU DON'T USE AN AGENT  
Hunting down home listings, driving you to showings — the service that a real estate agent provides can't come for free, right? Well, it kind of does. If you're a first-time homebuyer, you might not know that you're not the one who pays your agent's commission — the seller does.  
"Commission agreements — that is, who gets paid what, and how — are signed before the property even hits the market, which means the seller has already agreed to how much commission he or she will pay before you even walk through the door," says Maria Tabakova, a real estate agent with Triplemint Real Estate. So whether or not you come with your own broker, the commission is likely to stay the same. 
In some sense, not using an agent can cost you money. "Your broker can help you negotiate a variety of other factors that most first-time buyers wouldn't even think of — but you can bet the seller's agent will," says Allison Chiaramonte of Warburg Realty Partnership. These could include things like a better closing date, with penalties for delays; repair costs; and even which fixtures and appliances are included in the sale.  
Remember that the job of the seller's broker is to get the highest price for the seller. "Having your own broker ensures you have a dedicated advocate," Tabakova says. "Don't give up the opportunity to have a seasoned professional fight for your interests and negotiate the best deal on your behalf."  
MYTH NO. 2: YOU SHOULD BUY AS MUCH HOUSE AS YOU CAN AFFORD  
The true cost of a home is more than what's on the listing. While the down payment is often the largest outlay, other expenses include mortgage origination fees, taxes, title insurance and home-inspection fees. Generally, closing costs could run about 2 percent to 5 percent of your purchase price. "Always ask your real estate broker for a complete list of closing costs to avoid a nasty surprise," Tabakova says.  
And even after that home is all yours, first-time homebuyers often don't budget for things like landscaping, repairs and maintenance — you know, those costs that your landlord typically pays for.  
So even if you've been pre-approved for a large amount, you probably shouldn't borrow that much. Assess your budget to see how much of a mortgage payment you can afford after you take into account both closing and homeownership costs.  
MYTH NO. 3: NEW DEVELOPMENTS ARE MOVE-IN READY, SO IT'S OK TO PAY MORE 
Show houses are typically decorated to the nines, which creates the fantasy that you're moving into a Pinterest-ready home. But that elegant staging distracts from the fact that what you're really buying is a white box, Chiaramonte says. In other words, you supply the closet fixtures, towel racks, window coverings and light fixtures, not to mention the paint and other decor.  
"Many of the details that woo the buyer in a sales office like lacquered doors, custom closets and fancy wall coverings are design additions that you have to add after the fact," she adds.   
MYTH NO. 4: IF YOU DON'T HAVE KIDS, SCHOOL DISTRICTS DON'T MATTER   
School districts may not apply to you, but that could be short-sighted, Tabakova says. Even if you don't think you'll have kids of your own, chances are good that the eventual next owner will, and the school system may be everything to them: According to the National Association of Realtors, 25 percent of home buyers said that "school quality" was a deciding factor in their home purchase — and who wants to put off a quarter of potential buyers? 
MYTH NO. 5: YOU SHOULDN'T BUY AN OUTDATED HOME 
It's hard not to judge a home by its shag carpeting. But your real concern should be the elements of the home that can't be changed, such as the functional square footage, natural light, room layout and neighborhood, Chiaramonte says. Cosmetic details, such as hideous wallpaper or outdated appliances can be re-done relatively easily.  
"First-time homebuyers tend to overestimate the cost and effort that goes into certain upgrades, such as cosmetically updating a bathroom," she says. Add the fact that other house hunters may be overlooking the property, and you just might have found a hidden gem.
Take the next step
Our advisors will help to answer your questions — and share knowledge you never knew you needed — to get you to your next goal, and the next.
Get started
Want more? Get financial tips, tools, and more with our monthly newsletter.