Financially Savvy Ways to Achieve Your Lifestyle Resolutions
---
Natasha Burton
Jan 02, 2020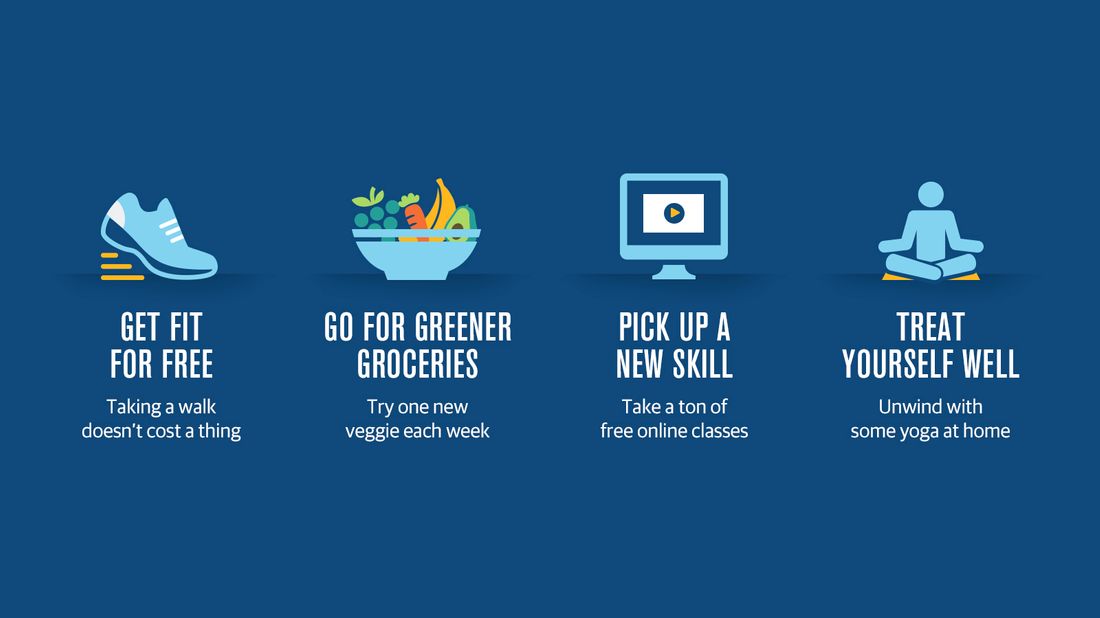 As we close out the year, many of us are going to make a lifestyle resolution: exercise more, eat healthier, learn something new. And if history is any guide, a lot of us won't keep that resolution as we move through the year.
Lifestyle changes can be challenging, particularly when you spend money to achieve them, explains educational psychologist Elisa Robyn, PhD. "For example, people believe that they will go to the gym if they pay for a membership. In fact, the membership often makes people feel guilty and prevents them from following up on their goals."
As you work to keep your resolution in 2020, maybe it's time to financially reframe your goal. Here are a few tips to achieve some of the most popular New Year's resolutions — without adding financial stress on top of them.
GOAL: EXERCISING MORE
The most popular resolution every single year is to get in shape. But don't go signing up for the gym membership just yet. That's because the best way to achieve a fitness-related goal is to make an internal change first and think about the person you want to become, rather than focus on the gym that catches your eye.
"Focus on what you desire in life, like wanting to stay active enough to play with your children," says Robyn. "What about that life would you enjoy?"
Next, work in habits that are both easy and affordable. Remember, you don't have to spend a dime to get in shape.
"We only need a pair of shoes and we can walk. If we have a bike, we can ride. If we have a computer, we can pull up free exercise or dance videos and try various routines and programs," says Robyn.
See if you can stick to these free exercises and develop good habits before you lock yourself into a membership.
GOAL: EATING HEALTHIER
Start with one small shift at a time. There's no need to ransack the pantry and go headlong into a strict diet that quickly becomes overwhelming — and potentially costly.  
"If you want to eat healthier, it might be fun to take a free class at the local health food store," says Robyn. "Change your shopping habits — buy one new vegetable and try a free recipe online. This can be a slow change so that you can adapt to new flavors and cooking styles."
Healthier foods like farmer's market meat or fresh, organic produce can be pricey. A savvy, starter diet simply cuts out the unhealthy foods.
"Reduce eating out from twice a week to once a week," says Jessi Beyer, a personal development and mental health speaker. "Cut packaged desserts and snacks from your grocery list. Also put a hold on buying sodas, sugary drinks and alcohol so you can drink water instead."
GOAL: LEARN A NEW SKILL
You don't need to enroll in a college course to up your skill levels. Instead, dig into the plethora of free, online courses and other resources to whet your appetite. You'll be able to gauge your interest levels in a given topic without feeling pressure from a financial commitment.
"The internet is full of advice on pretty much any skill you'd want to learn," says Beyer. "There are handy apps for language learning, YouTube videos for more technical skills, and blogs for pretty much everything else." She suggests vetting content by starting with reputable resources, such as workout videos from Livestrong or recipes from Real Simple. The biggest names in technology also offer a bunch of options to learn in-demand tech skills without those high tuition fees.  
GOAL: ESTABLISH A SELF-CARE ROUTINE
One of the biggest misconceptions about self-care is that it's expensive. After all, when you think of self-care, you might picture a pricey spa day or a shopping spree. However, your self-care strategy could be one of the resolutions above — eating healthily, seeing friends or exercising. You can choose to frame it that way and prioritize it as such.
"Self-care can also be as simple as a visualization routine before bed or a yoga practice first thing in the morning at your home," says Beyer.
These activities are not only free, they will also help you clear the clutter in your mind and help you better focus on who you want to be, helping you achieve any other goals you've set. Regardless of your goals, there's no reason to let money stand between you and reflecting on a year of lifestyle resolutions conquered in December 2020.
Take the next step
Our advisors will help to answer your questions — and share knowledge you never knew you needed — to get you to your next goal, and the next.
Get started
Want more? Get financial tips, tools, and more with our monthly newsletter.