How a $5K Windfall Changed My Life
---
Natasha Burton
Apr 22, 2019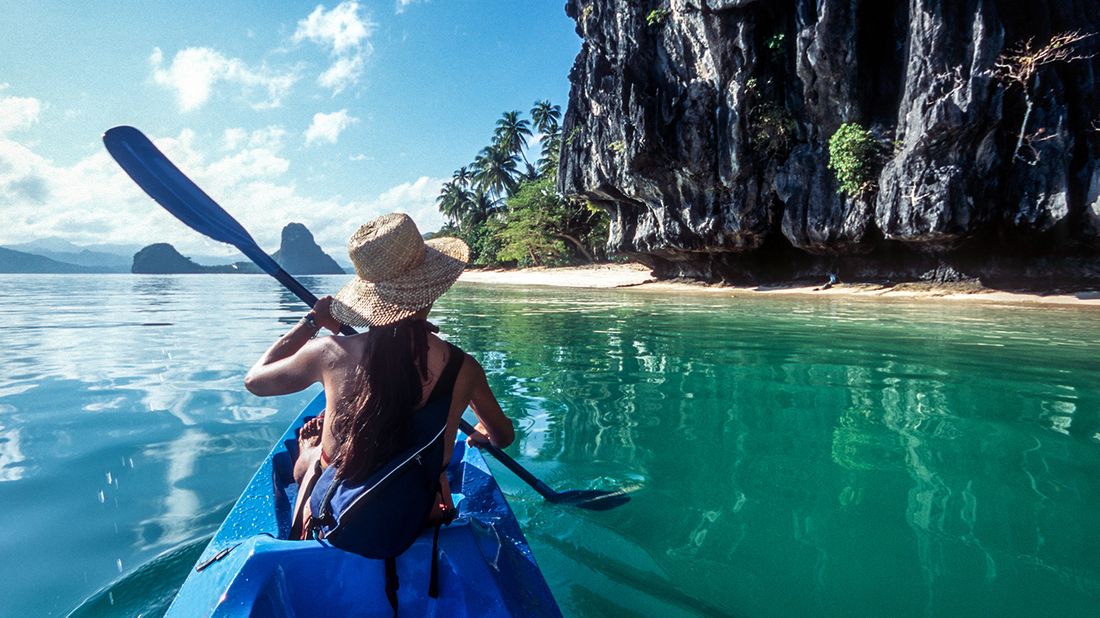 When you think about life-changing money, a million-dollar lottery win or huge inheritance come to mind. But it turns out that, at least for millennials, a smaller amount would really make a difference. According to data collected by SelfLender and OnePoll, most people between the ages of 19 and 39 say they only need $5,000 to change their current circumstances. 
But how? Here, four millennials who got an unexpected $5,000 windfall talk about how they used it to change their lives.  
'I used $5K to travel abroad — and never came home' 
Cori Carl, 34, various locations 
Before her grandmother passed away, graphic designer Cori Carl received an inheritance of $5,000. Inspired by her mom's backpacking trip years ago and her grandmother's regret of not traveling more, Carl booked a three-month adventure to Europe and transitioned her in-house job at a printing company into a steady stream of freelance work.  
She traveled for a full year after realizing that doing so wouldn't drain her bank account or derail her career. Thanks to university computer labs and the early days of remote work, Carl says she earned enough doing freelance graphic design that she ended her trip with the same bank account balance she started with.   
"It's easy to assume that traveling is expensive," she says. Rather, "vacationing is expensive. I met a lot of people on the road who had been traveling for years or were living abroad. It really expanded my ideas of what I could do with my life." 
Carl had always been practical about having a steady full-time job with retirement savings and benefits. But that initial trip changed her perspective. Now, she continues freelancing while traveling, doing home exchanges and even pet-sitting. She's currently on what started as an eight-week trip that has lasted 16 months. She doesn't have any plans to stop.  
"Traveling has taught me just how easy it is to connect with people — and just how easy it is to get along with people who are different from me," she says. Through travel, "I've realized that I can handle anything life throws at me." 
'I used $5K to start a company' 
Kelly Belknap, 27, Denver, Colorado 
Fresh out of college — and armed with a $5,000 gift from his parents — Kelly Belknap and his now-wife, Matilda, parlayed their love for fashion and travel into a minimalist-inspired backpack company, Adventurist Backpack Co. 
"We decided to use the money to launch our business because we saw it as maybe our only chance to pursue our goal of starting a company," he says. "It definitely was tempting to use the $5,000 for rent, our wedding that we still needed to pay off or to put into a savings account for a rainy day. Instead we chose to work side jobs — me as a Lyft driver and Matilda as a part-time nanny — while starting the company to cover these expenses." 
With Kelly taking on marketing, PR and sales-related tasks, and Matilda tackling website and product design, the couple used their cash to manufacture their first backpack and get the website up and running on Shopify. With little money left over for advertising, they turned to social media, particularly Instagram, to get the word out.  
Soon, local papers started featuring the backpacks, which led to a mention in Forbes, which snowballed into more press from Travel Channel, CBS, ABC and Mashable. Just 18 months later, the couple was bringing in over $200K in revenue. For every backpack sold, they also provide 25 meals to those in need and, so far, have donated 63,000 meals.  
"We are proud to do something larger than just provide a great product or service, but to help change the world for the better through entrepreneurship," Belknap says.  
The couple continues to work full-time on their company. "We used the $5,000 as an investment in ourselves," he says. "We are incredibly grateful to have had an opportunity to start our own company and pursue a goal that we are both so passionate about." 
'I used $5K to invest in real estate and achieve financial stability' 
Joel Cedano, 32, Bronx, New York 
After receiving a $5,000 bonus from his position as a health-care executive, Cedano says he was feeling antsy seeing that amount in his bank account. "I wasn't used to seeing that amount sit there." Instead, he wanted to learn how to make that number grow and put it toward a larger goal. He set his sights on buying an apartment so he could stop renting.  
"Where I'm from, owning is an esoteric topic and, to our understanding, something that only the privileged can get into," he says. But after reading about grants for first-time homebuyers in New York City, he realized only needed $10,000 to $15,000 to make it happen. "There are programs that assist with down payment, closing costs and renovations," he says. "With this information, and the $5,000 bonus, I was already about halfway there."  
Soon, Cedano learned to invest and build more capital. He moved back in with his mom and brother and adopted a low-key lifestyle to save money. And he tackled his credit issues.   
"I had a 580 score due to bad choices in my 20s," he explains. "So I took up the daunting task of learning how to fix credit. I read books on consumer rights and Fair Credit Act. Then I wrote letters to the credit bureaus. Within three months I got my credit to 811."  
Cedano ended up closing on his apartment in February, and he plans to use his new LLC to purchase more apartments as income properties.  
"My new comfort zone for my savings account is no longer $5,000 — it's significantly well above that," he says. "And as every month passes, that financial comfort zone rises." 
'I used $5K to buy my family's home' 
Brant Reader, 28, Southhaven, Mississippi 
After winning an essay contest for "Best Love Story," entrepreneur Brant Reader used the $5,000 winnings — meant to go, per the contest, toward an engagement ring — for a portion of his home down-payment. 
"I was planning to propose soon when I saw an ad for the contest," he said. "I was already saving money for an engagement ring at the time. By winning the contest, it allowed me to use that money toward a home instead." 
The timing couldn't have been better. After popping the question in front of 65,000 people during a football game at Ole Miss, his alma matter, Reader and his then-fiancé, Olivia, needed to find a place to live in Memphis, Tennessee, where she had just been accepted into optometry school. "We needed to find a house in the area and get moved in before she started her program," he says. "The extra money made it possible for us to afford to buy in a safe neighborhood. Now, we're in a seller's market, so the value of our home has appreciated quite a bit in only the short three years we've been living here." 
Reader says the unexpected $5,000 motivated him to keep saving for a home — and brought peace of mind and stability, too.  
"Owning a home has meant a lot for my family. Otherwise, we would have been forced to rent and would be far worse off financially," he says. "It would cost almost double to rent the very house we live in now as opposed to owning it. That alone has saved us thousands of dollars that we've been able to invest for the future." 
Take the next step
Our advisors will help to answer your questions — and share knowledge you never knew you needed — to get you to your next goal, and the next.
Get started
Want more? Get financial tips, tools, and more with our monthly newsletter.