How Does Financial Aid for College Work?
---
Cathie Ericson
Sep 13, 2021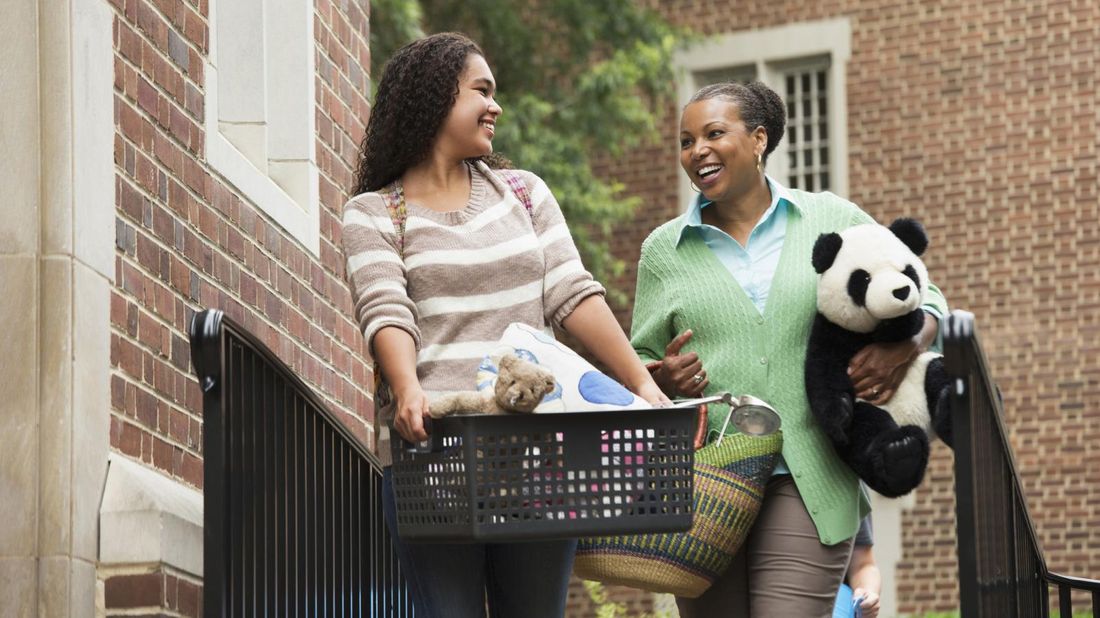 It's no secret that college is expensive, and you may already have a savings plan in place to help you pay for it. But when you start to research it for your own kids, you might be shocked at just how much it costs. But don't panic: Every year, the U.S. Department of Education offers more than $150 billion of financial aid to help make getting a higher education more affordable. In addition, colleges often offer their own forms of financial aid.
The first step to figuring out how much your prospective student is eligible for is to fill out the Free Application for Federal Student Aid (FAFSA), which schools will use to determine your need-based award. It can be a complicated process but taking these steps can help your family answer the question: How does financial aid for college work?
HOW TO DETERMINE HOW MUCH AID YOU QUALIFY FOR
While your family's income is ultimately the deciding factor, the formula for how much financial aid your child might qualify for is different for each school. That's because it's based on the institution's individual estimated cost of attendance (COA), which you'll find on their website. The COA is composed of the costs you'll pay directly to the university (tuition, fees and on-campus housing) as well as indirect costs like books and an estimate of basic living expenses.
The school will then compare that to your expected family contribution (EFC). This is determined by a formula established by law that takes into account your family's income and assets, along with family size and other factors. The difference between your COA and your EFC is how much need-based aid you are eligible for. The school will also assign a non-need-based financial aid number, which is the COA minus any financial aid already awarded from all sources, including need-based aid and any outside grants and scholarships.
THE 3 TYPES OF FEDERAL FINANCIAL AID
Once your school has determined the amount of aid you qualify for, they'll outline how it will be awarded. There are three main types of government aid: grants, loans and work-study programs. Here's how they work.
Grants
Two of the most common federal grants include the Federal Pell Grant and Federal Supplemental Educational Opportunity Grants (FSEOG), which are based on need and, unlike loans, don't have to be paid back. If your child intends to be a teacher and will commit to working in a low-income school after graduation, he or she may also qualify for the Teacher Education Assistance for College and Higher Education (TEACH) Grant. There is also an Iraq and Afghanistan Service Grant for certain qualifying students whose parent or guardian died in military service.
Loans
The U.S. Department of Education offers two main types of loans: 1) needs-based subsidized loans, in which the federal government pays the interest while the borrower is in school; and 2) unsubsidized loans, which are non-needs-based, so the borrower pays the interest while they are in school (or else have it tacked onto the balance they will owe).
Both of these federal loans offer benefits over private loans, including fixed interest rates and more flexible repayment plans. Separately, the federal government also offers Direct PLUS Loans for parents who are willing to borrow to help pay for their kids' college educations.
Work-Study Programs
The federal work-study program enables students who demonstrate financial need to apply for part-time jobs, often on-campus or at select off-campus locations, to earn money to help pay for school. However, these jobs are limited, so applying early is key. 
RESEARCH MERIT-BASED AWARDS AND SCHOLARSHIPS
Many students secure lucrative scholarships that come in the form of merit-based awards, based on their academic achievements, athletic skills or contributions to the community. Typically, a merit award offer will come with an acceptance letter, along with a breakdown of the other aid the school may be offering.
There are also hundreds of thousands of private scholarships available each year, offered by everyone from your local service club to Fortune 100 companies. If your child wants to snag one of those, they'll need to start early and apply often, focusing on those that are the best fit with their skills, interests or achievements.
ASSESS YOUR OPTIONS
Colleges typically send financial information with the acceptance letter, or let you know when you should expect it. It's a good idea to keep all the financial aid package offers you receive  together so you can compare them carefully. Keep in mind that some awards may renew each year, while others might be offered for freshman year only.
Of course, financial circumstances can change, and colleges are aware that you might have a personal reason to request more aid. If that's the case, make sure to arm yourself with the necessary documentation and then contact the financial aid office and prepare to negotiate.
Take the next step
Our advisors will help to answer your questions — and share knowledge you never knew you needed — to get you to your next goal, and the next.
Get started
Want more? Get financial tips, tools, and more with our monthly newsletter.