Muffy Morris, as told to Amanda Reaume
Dec 21, 2017
How I Left It All Behind and Hit the Open Road for a Year
Welcome to the new retirement. It's about having the freedom to decide when and how you want to take a break from work — to rest, recharge or start a new adventure — no matter your age. In our Redefining Retirement series, you'll learn how real people are living their lives to the fullest, and the steps they took to get there.
Here, one woman describes how she sold all her possessions and left behind a life in Charleston, South Carolina, to live a creative and nomadic life on the road.
A few years ago, I was living the dream in Charleston, South Carolina. I had an adorable house in an up-and-coming neighborhood, a 9-to-5 job working in an office for an environmental cleanup company, and a side hustle running my own little marketing firm. I volunteered a lot and sat on nonprofit boards, attended charity balls, and ate at the latest trendy restaurants. I was doing well on paper, but in many ways, I wasn't happy.
A lot of that stemmed from the fact that to support my lifestyle, I couldn't be as creative as I wanted in my work. I wanted more flexibility and the freedom to pursue my passion for writing, but with a house payment and the pressure to keep up with the Joneses, I simply took all the work I could get. I started to feel suffocated by my stuff. One day, I realized that if I continued on this path I would never fulfill my creative aspirations.
So I did something extreme. I quit my day job and sold everything — my home and most of my possessions — and whatever I didn't sell, I donated or gave away. All so I could hit the open road. What better way to feel inspired than to travel across the country?
"I can't imagine returning to my old life, and I'm lucky that I don't have to."
FEEDING MY WANDERLUST
Not everything went smoothly in the beginning. Just as I was about to set off, a hurricane struck, and flooded the old RV I had bought to take with me on the road. So I set off instead in the fall of 2016 in my fully paid off Hyundai Elantra hatchback, with everything I needed packed in my trunk.
First, I went to a truck stop and bought a map of the U.S., along with those colored tabs they put on legal documents to mark where to sign. I posted a picture of the map on Facebook and asked my friends whether any of them wanted me to come visit. I started filling up my map with flags and began a blog to chronicle my journey.
Over the next year, my travels took me to more than 20 concerts in 8 states, including seeing Lady Gaga and Cher in Las Vegas; I sampled restaurants in countless cities; and I sent more than 300 postcards from the places I visited, some to strangers from around the world who followed me online and sent me their addresses. I crashed with friends, friends of friends, and stayed in affordable hotels and Airbnbs. I also made many new, hospitable friends along the way.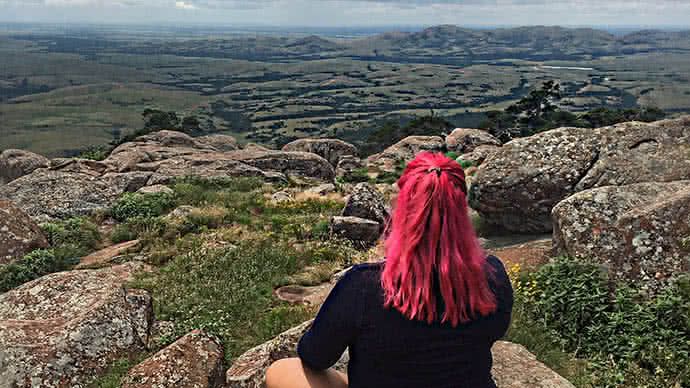 Morris enjoying the view at Mount Scott in Oklahoma. Courtesy of Muffy Morris
HOW I SURVIVED FINANCIALLY
Because I sold everything, I had savings to draw from, but I also stayed afloat by keeping some of my freelance marketing clients. Being on the road actually gave me more time to focus on them. Turns out that when you aren't miserable, your productivity actually increases. I worked on my smartphone, or in restaurants or hotel lobbies with internet access. I even once stopped at a Macaroni Grill in the middle of nowhere that had Wi-Fi just so I could get some work done.
Because my ultimate goal is to concentrate on my writing, in May I transitioned the last of my marketing clients to a colleague. For each adventure I go on, I set a budget to stick to, though sometimes that means making trade-offs. For example, I'm going to Chicago soon, and I've set a $500 budget for that. Although I got a good deal on a plane ticket, because I'm flying for this trip I'll definitely have to find friends to stay with. And I'll often do things like have a cheap breakfast in order to go out for a nice dinner later. Keeping my expenses low is what lets me stay in a good financial place. Even if I don't take on any additional work, I'll have enough to live on for the next year, and I have a nest egg that I don't touch.
A YEAR AND COUNTING
This past October marked one year on the road, and I finished a first draft of my first novel in November. I'm finally fulfilled. I can't imagine returning to my old life, and I'm lucky that I don't have to. My lifestyle is possible because I downsized everything: my budget, my belongings, my expenses and my cost of living.
Yes, giving up your job and hitting the road is a big risk, and it isn't for everyone. But what a lot of people don't realize is that it may be in closer reach than you think. When people ask me for advice, I usually suggest wading out from the shallow end first by saving up and taking a smaller break from work to see if it's the lifestyle for them. After all, you can always return to your 9-to-5 later. As for me, I don't mind not knowing what's next — there's still more to see and experience that I haven't gotten around to yet.
Take the next step
Our advisors will help to answer your questions — and share knowledge you never knew you needed — to get you to your next goal, and the next.
Get started