Daniel Bortz
Jun 21, 2018
Meet the Woman Whose Business Gives Dogs Swim Therapy
When your dog needs some TLC, you take him to Mary Beth Glatz.
Glatz is the co-founder of SandDancer Canine Swim Therapy & Fitness, a clinic she owns with her husband, Philip. She treats dogs with arthritis, muscle deterioration and post-surgery rehabilitation through one-on-one swim sessions in the facility's heated indoor pool.
Glatz first became an entrepreneur in her 20s when she and her ex-husband purchased a struggling supermarket deli in New Jersey and turned the business around in three years for a profit. A few years after the couple sold the store and divorced, she remarried and began working part-time as a school secretary while raising three children.
Then, in 2008, Glatz stumbled across a business idea when her Labrador retriever, Woody, began having trouble walking. "When Woody got older he could barely walk, but we realized he could still swim," she says. She soon learned that swimming puts less stress on a dog's body, especially if they have joint problems or arthritis, than walking. "Warm water also gets blood flowing, eases inflammation and relieves pain," she adds.
Woody died in 2009, but Glatz was determined to help other dogs heal through swim therapy. Here's how she did it.
THE ROAD TO BECOMING A SMALL-BUSINESS OWNER
One of the first things Glatz did to jumpstart her business was to become certified in canine hydrotherapy. So she enrolled in a two-week training program where she learned how hydrotherapy can improve a dog's health, how to read a dog's body language and how to work with dog owners.
To get her business off the ground, Glatz reached out to SCORE, a national non-profit that provides free one-on-one counseling to startups, and took classes at Buffalo State College's Small Business Development Center, where she learned to put together a business plan. After three years of courses through the Small Business Administration, she was ready to fully develop her idea. But finding capital wasn't easy.
To curb startup costs, Glatz decided to make SandDancer a home business. She and her husband sold their house and purchased a five-acre farmhouse for more space. But to build an addition — with a pool, reception room and bathroom for clients — the couple took out two home equity loans (one on the farmhouse, the other on a second home they were renting out), pulled money from their retirement funds, and racked up $24,000 in credit card debt.
Despite the financial challenges, Glatz soldiered on. "I have entrepreneurship in my blood," she says. "I like making my own decisions on how things should operate. I like creating my own success."
The clinic opened its doors in March of 2013. Glatz quickly built a steady flow of customers through advertising and word of mouth. As sales picked up, she paid off the company's credit card balance, and the business turned a profit in 2015.
To keep pace with SandDancer's growing customer base, Glatz hired three part-time swim instructors certified in canine hydrotherapy. Each instructor is an independent contractor and pays Mary Beth an hourly rate to use the clinic space.
Looking back, "having a home-based business made it incredibly affordable to start up," she says. "If I went to a commercial location, I'd be spending $2,000 a month on rent alone."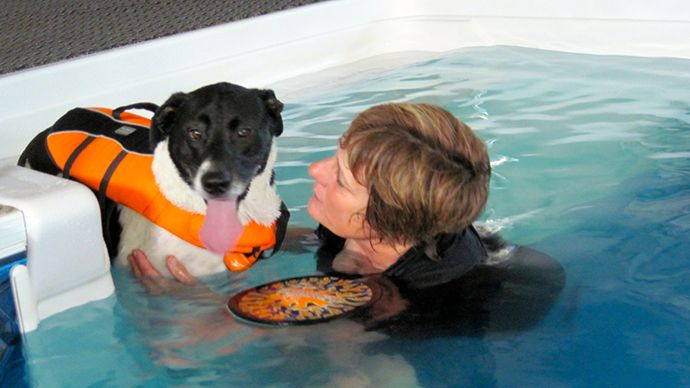 Mary Beth Glatz and one of SandDancer's patients, Gordy, during a swim therapy session. Courtesy of Mary Beth Glatz
LIVING HER DREAM JOB
Despite all the paperwork — "we have to keep records on our dogs and track their progress," she says — Mary Beth loves her job. An independent contractor does all the bookkeeping, which frees up time for her to focus on clients.
"It's rewarding to help dogs get healthy and enhance their quality of life," she says.
"I'm still learning something new every day. No two swims are ever the same, so it's never boring."
"After three or four swims with a dog that has arthritis, seeing the dog walk again brings me a lot of happiness," she adds.
The business nets around $900 a month, but the company is growing. Gross sales for 2017 were $64,952, up from $52,335 in 2016. Her goal? A sale. "Our net income is up, and the best time to sell a small business is when you're on the upswing."
However, Glatz is open to holding onto the company if she can find a business partner. "I love the work, but it's a grind," she says. "I put in about 60 hours a week. So, if I can find a partner that shares my vision, I'd love to sell half of the business and continue to work here part-time."
For now though, "I'm living every dog-lover's dream," she says.
Take the next step
Our advisors will help to answer your questions — and share knowledge you never knew you needed — to get you to your next goal, and the next.
Get started