How to Plan Your Staycation So It Feels Like a Real Vacation 
---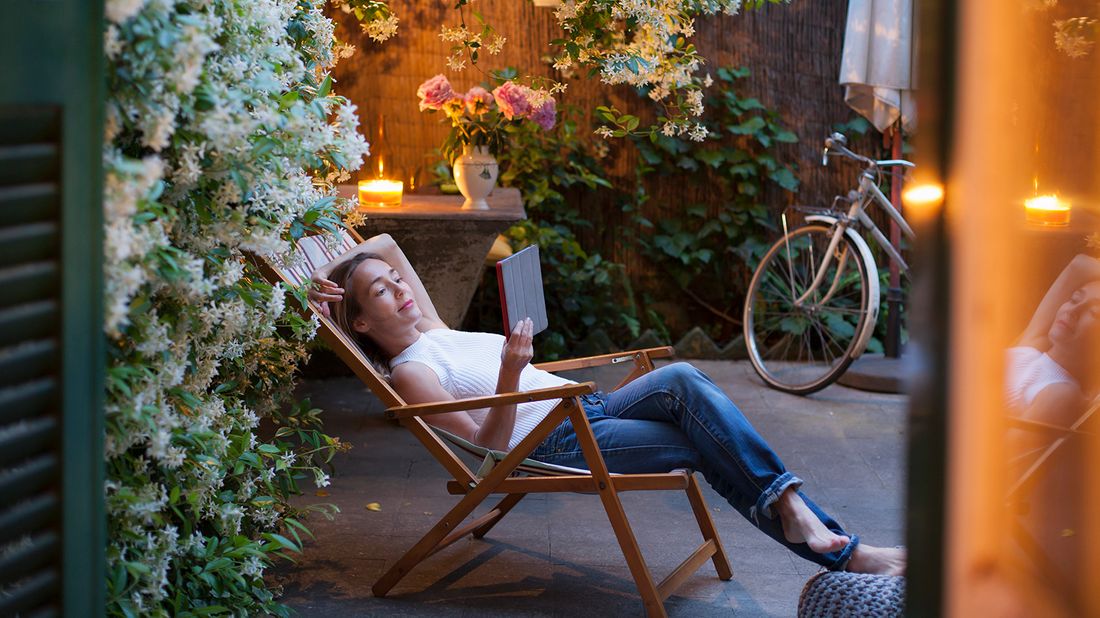 Staycations don't always get the credit they deserve. They're often thought of as a way to use up your PTO, or as a Plan B for when a desired getaway falls through. But it's time we give staycations some real love, because they can help provide a true, wallet-friendly break from the grind.  
Not sure how to shift your mindset so you feel like you're taking some legitimate time off? Here's how to do a staycation right.  
Don't waste it on busywork
Do you spend your time abroad dusting and vacuuming your hotel room? We hope not. A staycation is not the opportunity to catch up on housework or chores. It's a vacation, so do what you would want to do if you were a thousand miles away.  
Hike a trail you've heard about but haven't had the chance to try in daylight hours. Visit a museum on a pay-what-you-wish day. Take the kids on a day trip to a sleepy coastal town. Go mini-golfing on a Tuesday when the place isn't packed. The trick is to find an activity that's your version of fun that just so happens to be nearby — and drink in every moment of free time you have to fully enjoy it. There are bound to be activities at all price points that you can take advantage of that are way more fun than staying home to organize your closets.  
Spend where it makes you happy 
Before you book a trip abroad you probably budget for it first; the same can go for your staycay. Except don't think of it as limiting your spending. Remember, you're saving money on airfare, accommodations and marked-up tourist activities, so allow yourself some splurges to make your downtime all that much more special. 
Factor in meals out (you wouldn't spend your whole vacation in the kitchen), travel (like taking a cab or a nice car service), shopping and even a few hours at a spa. If your budget allows for it, kick it up a notch and book a room at a nearby hotel with a pool, where you can order room service and enjoy not having to pick up after yourself for a few days. 
Allow yourself some splurges to make your downtime all that much more special. 
Change up your routine 
This is especially important if entertaining small children is a factor. It's easy for a staycation to devolve into a sit-around, or to fall into the patterns of your typical day. To stave that off, do everything you can to leave your usual routines behind.  
Break the rules and eat breakfast on the living room rug. Bike around town instead of taking the car. If weather permits, camp out in the backyard and indulge with all the fixings for s'mores. Small tweaks to the everyday will go a long way.  
And one big tip: Unplug, for real. It sounds like a cliché, but on your staycation, it's an imperative. Work-related habits like checking email last thing at night or first thing in the morning can be hard to break if you're not on a remote island where connectivity is an issue. If you have to resort to drastic measures, consider temporarily removing your work email from your phone. 
Make it a party 
One of the great things about a staycation is that you don't need all your travel buddies to commit to a fully packed schedule. Instead, spend your time catching up with various friends if you're feeling social. See who among your friends can join you poolside for a day, or stock the days with playdates for the kids. A staycation doesn't have to be a solitary experience if what makes you happy is sharing the fun with others.  
Brag a little
So what if you're not in St. Tropez? Post photos of what you're doing. Treat your staycation like it's special, because it is — even if it's just the time you spend curled up with a good book. You could even start a photo blog that can live online as a keepsake of how much fun your family or solo staycay was. Once your friends see you at peak relaxation or exploring local attractions without the crowds (and not dropping an entire paycheck to do so), they'll be inspired to treat a staycation as a rare treat, too.  
Take it easy
Staycations are awesome because you can live life on your terms. There are no suitcases to pack or tours leaving first thing in the morning to catch. You're doing what you love, as quickly or as slowly as you like. And if what you like is checking out a movie in the middle of the afternoon or going on a daylong gourmet picnic with the kids, then do just that. Be flexible and keep your to-do list more of a to-consider list, because life will get hectic again soon enough. For now, use your staycation to recharge, refuel and remind yourself of the little joys in life. 
Take the next step
Our advisors will help to answer your questions — and share knowledge you never knew you needed — to get you to your next goal, and the next.
Get started
Want more? Get financial tips, tools, and more with our monthly newsletter.