A Step-by-Step Guide to a Smooth Maternity Leave — And Return
---
Cathie Ericson
Oct 03, 2017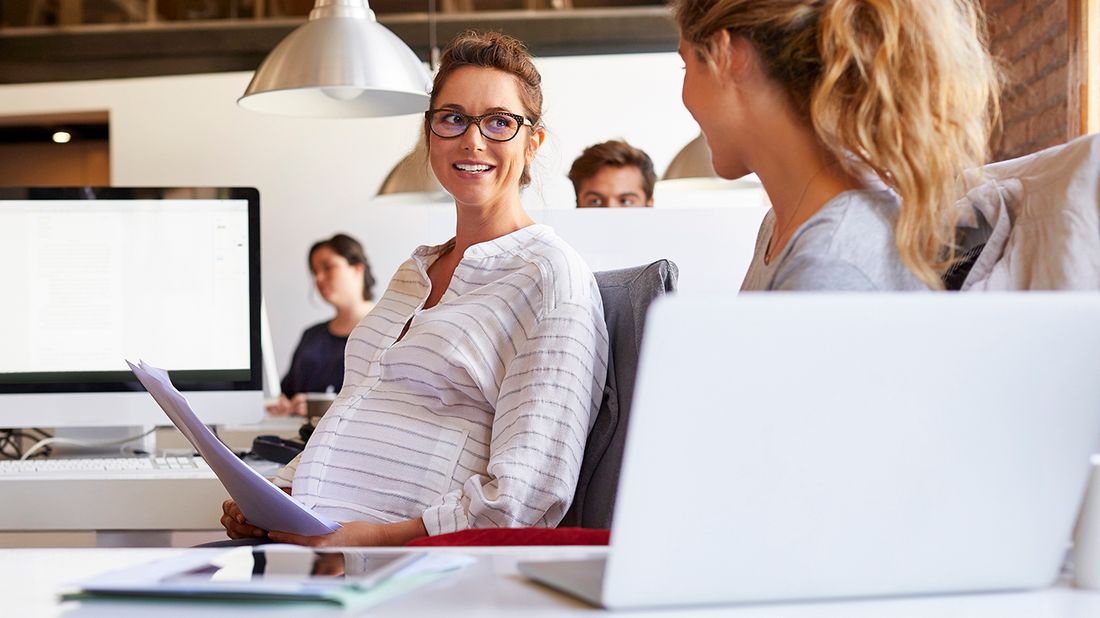 Congratulations, mama: You're having a baby! Between reveling in the news, taking weekend power naps and dreaming about your future mini-me, you might begin panicking about how your life will change — including your professional life. Sure, you'll probably take a break from late nights at the office and Friday happy hours, but having a baby doesn't mean you have to put your career on hold. After all, 70 percent of mothers with children under 18 are in the workforce, according to the U.S. Department of Labor.
With that in mind, here's everything you need to know to set yourself up for a smooth maternity leave — and successful return to work.
FIRST TRIMESTER
Review Your Benefits. First, check your employee handbook or website, suggests success strategist Carlota Zimmerman, who frequently helps clients with maternity transitions. Then write down all your questions and schedule a meeting with HR or management; your spouse or partner should do the same to determine benefits and resources available to co-parents.
According to Lori Mihalich-Levin, founder of Mindful Return and author of "Back to Work After Baby: How to Plan and Navigate a Mindful Return from Maternity Leave," you'll want more details on:
Company leave policies
What Family Medical Leave Act (FMLA) forms you'll need to fill out
Benefits-related questions such as whether any retirement match you receive will continue when you're on FMLA; how you add your baby to your insurance; whether your office offers maternity leave coaching; and the like.
"Not all HR departments are well-oiled machines when it comes to parental leave," Mihalich-Levin says, so don't stop until you get satisfactory answers to all your questions.
Share Your News With Bosses and Co-workers. Most women and their partners choose to tell family and friends around the third month, Zimmerman says. That's also the right time to break the news to your work family because … social media. "It's not going to set a fantastic precedent for your boss to see on her morning commute that you've changed your profile pic to your sonogram picture and a countdown to maternity leave," she says.
So if you're connected on social media with any colleagues or clients, consider sharing the news with others privately — for example, restrict your Facebook settings — or tell both groups at once.
Denise Welch recalls some nerves when announcing the news to colleagues. Welch, who just successfully returned to work after having her third baby in May, had only been at the agency where she works, Dotted Line Communications, for a year when she became pregnant the first time. "Many women feel like they have to apologize for it," she says of taking leave, but suggests resisting that urge and presenting the news as a normal life event.
"Be upfront and frank about your situation," she says, and assure them that you are coming back. Then let them know you'll devote the next few months to ensure a smooth hand-off and subsequent leave. "Show them that you care about the health of the business and your clients."
It helps to have some empathy for your boss, Zimmerman notes. "Realize that your blessing can be a major logistical problem from her or his point of view."
And remember that you can't control your boss' reaction, adds Mihalich-Levin, who says the initial response may come from a place of surprise and self-interest.
Explore Child Care Options. Get the perspectives of other moms who have a variety of arrangements, such as a nanny, nanny share, au pair, day care center, in-home day care or a family member.
If you're planning to use a day care center, you probably want to put your name on lists the day you find out you're pregnant, advises Kelen Carlock Settle, vice president of South City Public Relations in Charleston, South Carolina.
Mihalich-Levin and her husband visited one day care per month, following up tours with handwritten thank you notes. "Yes, day cares can be lobbied, and you need to work the waitlist like you would a job application," she says.
SECOND TRIMESTER
Break the News to Clients. Now that your boss and colleagues are in the know, it can be wise to wait a little longer to tell your clients. For Welch, the 20-week mark was the sweet spot. "You probably have a clear vision of your transition plan by then," she says.
Obviously if many of your meetings are in-person, this has to be adapted based on your appearance. But be strategic with your timing — don't blindside them when they are in the middle of a crucial project.
Come to the meeting prepared to explain in detail your plan for how the partnership will continue. Many firms, like Welch's, operate in teams where other employees are already well-versed in each client's needs. If you're bringing in someone from the outside, make sure the client has a chance to meet with both of you to achieve a comfort level.
Begin Your Maternity Leave Transition Plan. The best-laid plans often go awry, says Zimmerman, who's had clients take early leave due to health concerns. That's why you don't want to delay training and preparing your colleagues, clients and replacement. "The transition is much easier when you're still feeling perky, drinking kale smoothies and attending vigorous spin classes," she adds.
Among the information you should document, ideally in one complete guide:
A summary of a typical day or week that includes details on deliverables like regular reports you oversee
A description of processes
Project statuses that you continue to update while you're in office
Details on the clients you work with, particularly any special or "demanding" ones
A plan for supervising and mentoring your direct reports
An "If I Go Into Labor In the Office" document with information about where you plan to deliver, phone number of your doctor, doula, midwife, etc., and emergency contact numbers
Once all the details are compiled, email them to your team, management and replacements. "Since so very few people are this organized, your boss will probably swoon with pleasure at this detailed guide," Zimmerman says.
Then carve out dedicated time to teach those who will be covering for you and introduce them to your key contacts.
THIRD TRIMESTER
Block Breast Pumping Time on Your Calendar. If you have control over your schedule, consider blocking out six months to a year's worth of pumping time on your Outlook or Google calendar now, advises Mihalich-Levin, who blocked three daily 30-minute periods in advance of her leave. "If you wind up not needing the time, it's easy to delete the calendar appointments, but it's hard to get that time back if others schedule you to be elsewhere," she says.
Fine-tune Your Departure Date. You might have pictured yourself working up to your due date and now realize you're exhausted. Or, you might've planned to take time off before baby came, but now the idea of two weeks binge-watching "A Baby Story" and scarfing down brownies sounds terrible.
Whichever route you take, don't run yourself ragged. While you might be tempted to hoard all your time for when baby comes, there's a benefit to taking at least a few days off before if you can, says Welch. She decided it would be easier for everyone if she was home for a bit before she had the baby so they could test drive the coverage plan.
Finalize Your "Maternity Communication Plan." Make a clear plan for how often and when you will check in. "While I specifically didn't want to work too much on maternity leave, I told team members and clients to text or email if they needed me, and I'd find a few minutes to chat with them," Welch says.
You may even want to take on some less-taxing work tasks. "I stayed on top of emails throughout leave so my inbox wouldn't be so overwhelming and to have something 'adult' when everything was 'baby,' " Settle notes.
Check Off Personal To-dos. Don't even consider that your leave will be full of downtime to take care of a lengthy personal to-do list. "You're going to be busier with the baby than you think," Settle says. "I was planning on organizing my desk, closets, etc., while I was out, and that never happened. Take care of these to-do list items before you go on leave."
Don't Try to Be Wonder Woman. Whatever your plan, don't be overly ambitious. "[Tasks that] may seem realistic in your third month may turn out to be horribly disruptive when you have a newborn," Zimmerman notes. "Motherhood is a gift, and your maternity leave will fly by; do not squander it on two-hour conference calls with Todd from accounting." She recommends talking to other moms about what worked for them and any regrets they had; then, use that insight to inform your own maternity leave game plan.
Take the next step
Our advisors will help to answer your questions — and share knowledge you never knew you needed — to get you to your next goal, and the next.
Get started
Want more? Get financial tips, tools, and more with our monthly newsletter.