How to Reduce Food Waste and Help Stretch Out Your Grocery Budget
---
Natasha Burton
Jun 05, 2020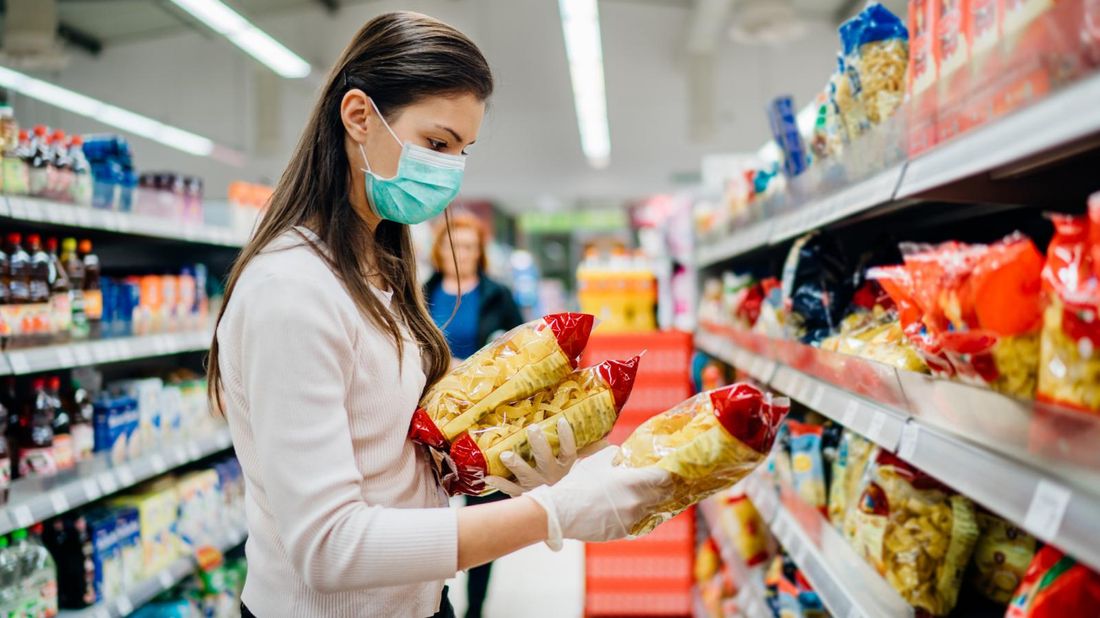 Since the start of the pandemic, many consumers have had a tough time navigating grocery store trips — what to buy, how much and when. The good news is that shelves are better stocked than they were a few months ago, and grocery store lines have improved.
But many stores are still operating on a limited schedule and shoppers are still trying to limit their trips to maintain social distancing. Here are a few tips for how to reduce food waste so you can stretch your grocery budget as well as your in-store visits, your supplies — and your dollars.
TAKE INVENTORY BEFORE YOU HEAD TO YOUR GROCERY STORE
Always check your pantry before heading out to the store — when you don't know what ingredients you already have you may end up overbuying some things and skipping what you actually need, says consumer-savings expert Andrea Woroch.
Meal planning can help you manage your food inventory and reduce costly food waste. "I like to find recipes that use overlapping ingredients for the week, so I ensure I use up everything that I buy," Woroch adds. "Otherwise, you may only use a portion of the fresh food you're buying, and the rest may go bad."
GET CREATIVE WITH WHAT YOU HAVE
How many times have you stared into your fridge or pantry thinking you have nothing to eat? Chances are good you can squeeze more meals out of the products you see before you. "For instance, although an almost empty pasta box may not be enough to make a pasta dish for your family, it could still be used as a filler for various recipes, like a stir fry," Woroch says. You can also combine nearly empty boxes of pasta into a bake with various shaped noodles.
Woroch also suggests freezing fruits and vegetables that are about to go bad if you don't quite have enough for a meal. If you keep doing this, you can add in those frozen ingredients into almost any dish you make — from soups and smoothies to cobblers and casseroles.
COOK IN BULK
Having some pre-made staples on hand will help you fight the urge to pick up food from the store on days when you don't have enough in the fridge for a full meal.
"Cook a big pot of rice or quinoa and section out servings to freeze for quick meals later," Woroch says. "You can also prepare several cans of tuna for sandwiches, tuna melts, or tuna on celery sticks for a snack. It's healthy and easy and cheap."
When you're cooking lasagnas, enchiladas or casseroles, always make two so you can eat one now and freeze one for another week. 
BUY FROZEN PRODUCE
If buying fresh produce is causing extra trips to the store, consider frozen. 
"Frozen fruits and vegetables are cheaper than fresh and just as healthy," Woroch says. "In fact, they may even be healthier because produce is flash frozen at peak ripeness, further preserving nutrients." She adds that opting for generic versions can save around 30 percent compared to brand names.
If you do need fresh produce, sign up for a farm box delivery, which is a win-win: You'll do less in-store shopping and you'll be supporting a local business. If you don't have any available in your area, check out Raw Generation's 25-pound produce boxes, which come in fruit or veggie options and ship nationwide.
ORDER EXTRA TAKEOUT
When you order in, always order extra to get the most value for the delivery and service fees.
"If we order from one of my favorite Mediterranean restaurants, I always order an extra chicken kabob or two since they charge less for the add-on," Woroch says. "Then I can mix it in quickly with a salad for myself for lunch the next day or toss it in pasta for the kids to ensure they're getting protein."
She also suggests ordering an extra side of rice or veggies, and asking for extra dressing, salsa or sauces so you can use them in your homemade dishes later in the week.
BE STRATEGIC ABOUT DELIVERY SERVICES
To minimize in-store trips, many people have been relying on delivery services. If you go this route, just be sure to plan ahead to maximize your order, as you'll be paying delivery fees and tips.
"Delivery services have a minimum requirement to order, so if you just need a few things, you may feel pressured to add more to meet that threshold even if you may not really need those items at the moment," Woroch says.
She recommends Walmart's grocery delivery service for its low prices and because you can add household goods to your order to help meet the $50 minimum. For the times when you're low on daily essentials like milk and eggs  Instacart is a good option, and the minimum is only $10. There is also Walmart's and Target's drive-up service, which allows you to reduce your exposure risk without delivery fees.
If you don't have any of these options near you, remember you can still order many pantry staples like pasta, sauces, condiments and cereal online through Amazon, Walmart, Target and specialty stores across the country that ship.
Take the next step
Our advisors will help to answer your questions — and share knowledge you never knew you needed — to get you to your next goal, and the next.
Get started
Want more? Get financial tips, tools, and more with our monthly newsletter.