Rachel Morgan Cautero
Jun 21, 2021
How to Save Money on Last-Minute Travel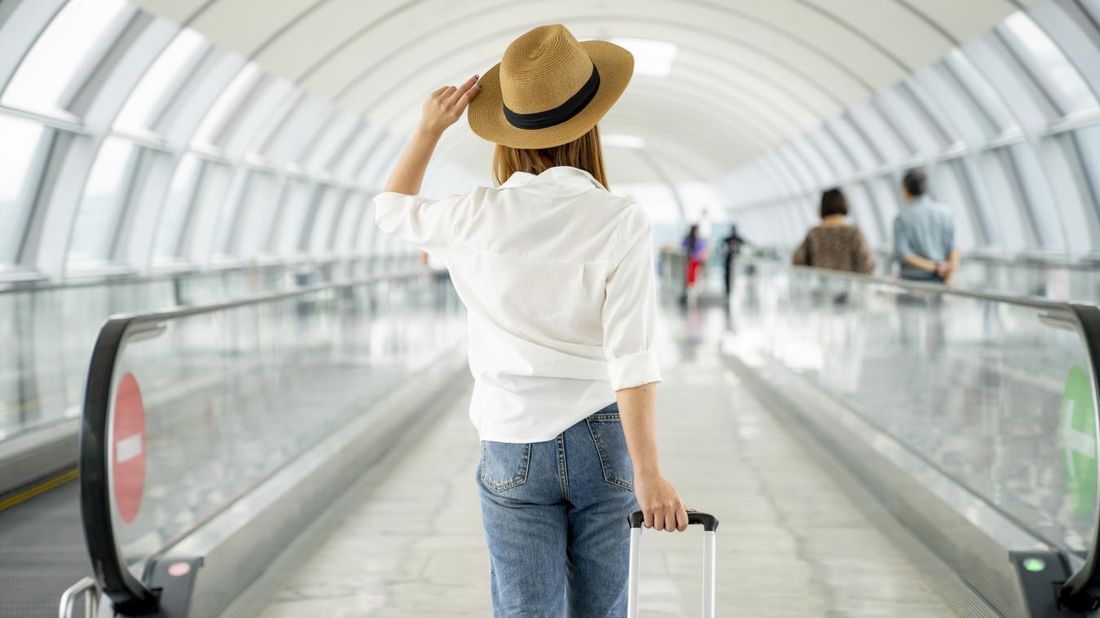 If you're like most Americans, you've been itching to get away after being stuck at home for the better part of 2020: 70 percent say they want to start traveling again, and more than half have already planned one or two vacations this year, according to a travel survey by Discover.  
"If they didn't travel at all last year, then they are generally starting small with a trip closer to home," says Travelzoo editorial director Andrew Young. "Cities are bouncing back in a big way, and many travelers are looking at the Caribbean or Mexico for a first 'test-the-waters' trip." 
If you were afraid to make solid plans at the start of the year because of the uncertainty around pandemic bookings, it's not too late to squeeze a vacay in soon. Here's how to save money on last-minute travel. 
BE FLEXIBLE WITH DATES 
One of the easiest ways to save money? "The biggest tip is to be flexible — about where you go and when you go," Young notes. "Business travel is just starting to return, so if you want to visit a big city, traveling midweek is going to be a real value right now, especially in cities like New York or Chicago, Miami or San Francisco. You're going to pay a premium to travel on the weekend. Midweek is the new weekend." 
Young also suggests traveling to destinations in their traditional offseason, like Europe or Hawaii in the fall. "You'll find prices that are half of what you'd pay in peak-season for a very similar experience, plus the bonus of much smaller crowds," he says.  
LOOK FOR 'WELCOME BACK' DEALS  
Travelers are eager to get back on the road — and travel vendors are eager to welcome them.  
"Many hotels and resorts are running some sort of welcome back deal, be it special rates, discounts, credits for breakfast or promotions, like stay longer and save more," notes Sheryl Nance-Nash, a travel writer. "The travel companies' and hotels' websites are a great place to start," she says.  
"Another good source is the city's or state's tourism website," Nance-Nash adds. For example, on VisitVirginiaBeach.com, you can get information about the city's Surf, Sand and Study program that offers exclusive discounts at more than 50 tourism businesses, or check out its Get Outdoors Pass, a new digital mobile pass offering discounts to attractions, tour operators, rentals and more.  
If you're flexible on your destination, check airline sites to see which cities are seeing the best flight deals at any given time; American Airlines, for instance, shows current fare deals on its Welcome Back to Travel site for flights from a few days to a few months away.  
Many carriers are also making it easier to qualify for elite status to entice their members back into the air, so it's worth checking to see if you now qualify for seat upgrades and perks that you didn't qualify for before the pandemic.  
CHECK YOUR SOCIAL FEEDS 
While you're probably familiar with travel companies like Travelzoo, Expedia, Priceline, Kayak or Airfare Watchdog, do you follow them on social media? If not, hit that follow button on Twitter, Instagram or Facebook so you'll be the first to know when a last-minute deal becomes available. Young also suggests signing up for hotel loyalty programs to score discounted rates or perks like free WiFi.  
BE FLEXIBLE WITH YOUR ACCOMMODATIONS 
Safety concerns, the desire for more space and the longer length of stays during the pandemic changed the way Americans booked travel accommodations. "Vacation rentals definitely saw a huge spike in popularity over the last year," Young says.  
But their higher demand also led to a bump in cost: Airbnb prices were up 35 percent at the start of 2021 over prices the year before. This means rentals may not always be cheaper than hotel options, especially in larger cities where business travel is still down. So compare prices on both home stays and traditional hotels—you might be surprised where you find value.  
Take the next step
Our advisors will help to answer your questions — and share knowledge you never knew you needed — to get you to your next goal, and the next.
Get started