How We Saved Thousands on the Trip of a Lifetime
---
Rachel Morgan Cautero
Oct 04, 2018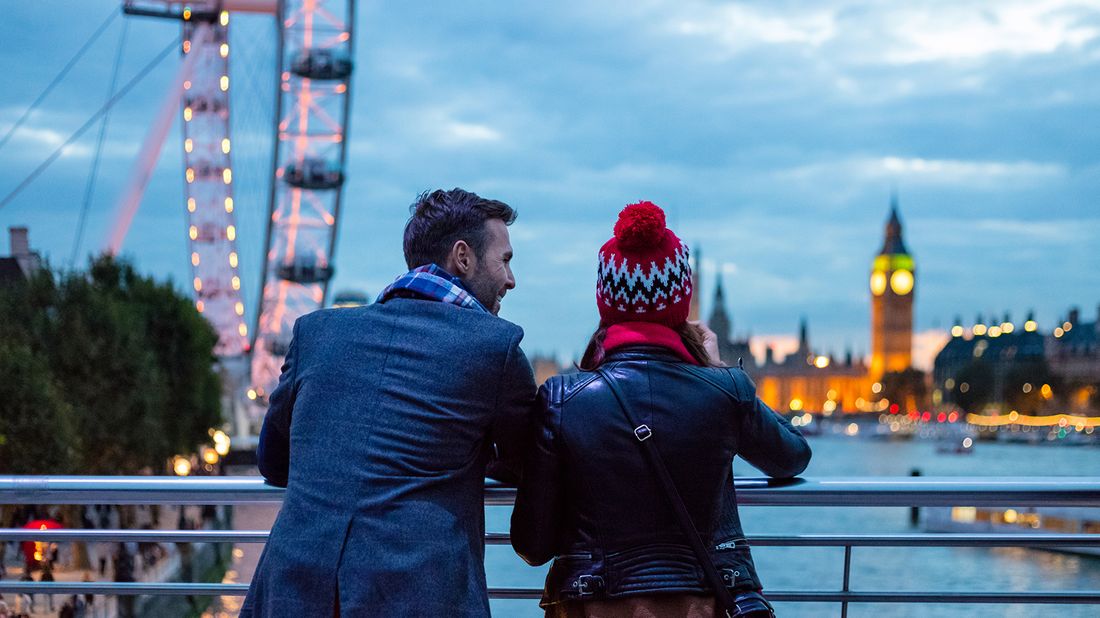 When my husband turned 30, we really wanted to mark the occasion with a trip since he isn't one for big gifts. We decided to fly to London (we'd gone for our one-year anniversary and loved it) and make a long weekend of it in honor of the milestone birthday. Even better? We were able to pay for nearly the entire European getaway with airline miles. Here's how we took the trip of a lifetime almost entirely on points and how we saved in other ways, too.  
WE BOOKED EARLY — AND IN THE OFF-SEASON 
My husband flies frequently for work, always on the same airline, so he's built up miles that he's able to use for personal trips. Because our vacation was timed for the off-season in January, we were able to fly business class without the premium cost.  
Our combined flights totaled 160,000 miles. We paid just $350 in taxes for two round-trip tickets to London. We had booked our flights five months ahead of time, so tickets were cheaper than if we'd procrastinated.  
The business-class experience was nothing short of luxurious. We started off in the first-class lounge in Philadelphia with stacks of magazines, free food and drinks, a bar and leather recliners to relax while we waited for our flight.  
On the plane, we each had our own lay-flat sleeping pod, which meant no bumping elbows with my 6'2" husband. It was a true departure from squeezing into coach next to a stranger hogging my armrest or a kicking toddler behind me.  
Cost: $350 
Savings: $10,000 
Pro tip: Always fly the same airline, even for business travel. Most companies have a preferred carrier for business travel, so it makes sense to make that your preferred airline for personal travel, too.  
WE USED OUR POINTS BEYOND AIRFARE 
Once we arrived in London, we settled into the first-class lounge at Heathrow. Not only did it have free hot breakfast, there were also personal bathrooms for showering and freshening up. (These bathrooms were legit nicer than the ones in our house.) 
 
While we couldn't swing first-class on our return, we did have access to the Cathay Pacific Business Class Lounge in Heathrow before boarding. The lounge had personal chefs, cozy booths, and the best dan dan noodles I've ever had —  all included in the price of our flights.  
Cost: $0 
Savings: $100 in meals (plus the cost of showering after a trans-Atlantic flight, which to some, is priceless.)  
Pro tip: Before you take off on any first-class or business trip, research beforehand and know what perks you're entitled to. Then, see if they are worth (or outweigh) the additional cost. 
WE CHOSE ACCOMMODATIONS WITH FREEBIES 
Our hotel, paid for partially with points, cost around $150 per night (it was the off-season and we booked early). This was an amazing deal for a boutique hotel that was a short walk from one of London's major Tube stations. 
Because of my husband's status with Hyatt from business travel, we got a room upgrade that  included free breakfast. I can still taste the fresh Brie, salami, and croissant sandwich I ate each morning. Our hotel also served wine and hors d'oeuvres each night in the lobby, free of charge. You can bet we hit that up every single night. 
Cost: $600 
Savings: $800 in hotel savings by staying off-season, plus complimentary meals 
Pro tip: Get in a committed relationship with a hotel chain. The more you stay with a certain chain, the more points you accumulate to get status. With status comes: upgraded rooms, free breakfast, free bottled water in the room, late checkout, faster internet and even a dedicated reservation line. You can also use hotel points to book. 
WE BALANCED BUDGET AND SPLURGE-WORTHY ACTIVITIES 
We found other ways to save money on our trip without taking away from the experience. We took public transportation and did several self-guided walking tours using our favorite guidebook from Rick Steves. At the risk of sounding like total nerds, my husband read aloud from the book when we reached each landmark, just like a paid tour guide.  
While it can be tempting to get carried away with saving money and forgoing pricey activities, don't cut so much that you miss out on something great.
While we spent on lunches out, visiting museums and tickets to a semi-pro soccer game, many of the activities we planned — perusing an outdoor market, seeing Platform 9 ¾, browsing at Selfridges — were free.  
Cost: $200 
Savings: $330 by being our own tour guides and planning free or low-cost activities 
Pro tip: While it can be tempting to get carried away with saving money and forgoing pricey activities, don't cut so much that you miss out on something great. Our overall savings allowed us to splurge on a fancy, five-course meal with wine pairings for my husband's birthday dinner. It's all about balance, right? 
Take the next step
Our advisors will help to answer your questions — and share knowledge you never knew you needed — to get you to your next goal, and the next.
Get started
Want more? Get financial tips, tools, and more with our monthly newsletter.