I Ignored My $140K Student Loan Debt for Years. Here's How I Took Control
---
Natasha Burton
Oct 04, 2019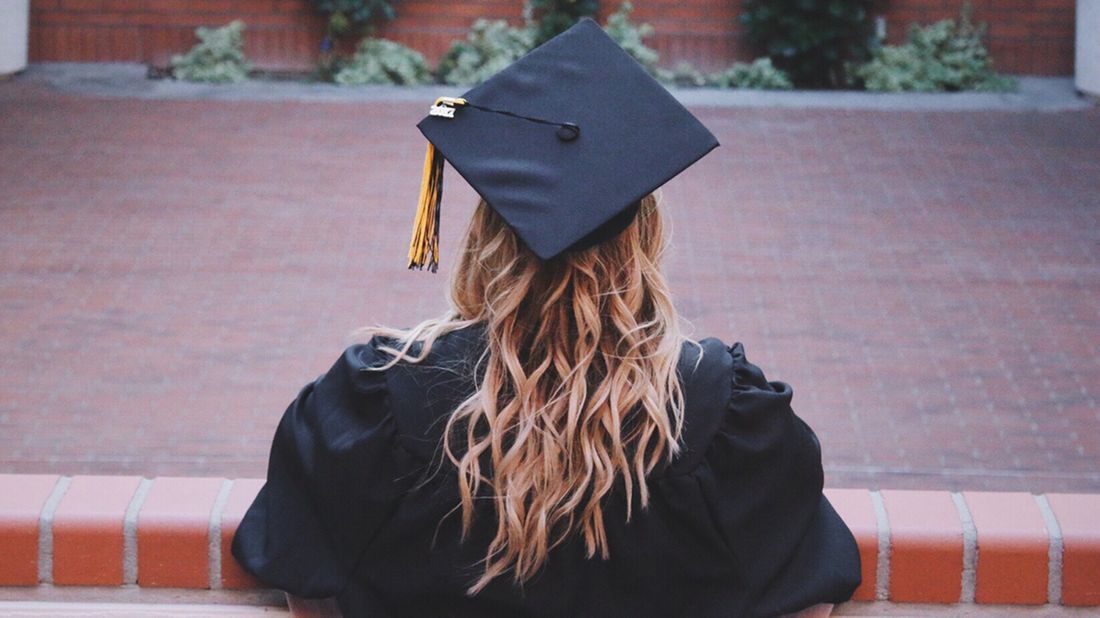 Debt: It's the four-letter word that can wreak havoc on your finances. In our Debt Confessions series, real people share how they tackled debt — from credit card bills to student loans to everything in between — and how it felt to reach their zero-balance goals.
Here, one woman shares why her "out of sight, out of mind" attitude about debt was so costly — and why she's making sure her daughter doesn't repeat her mistakes.
It was always a given that I'd go to college. I still remember making the list of where I'd apply, taking those mind-numbing SATs and writing my college essays. And I'll never forget opening my mailbox on February 23, 2002, and pulling out a fat envelope from University of Southern California bearing a celebratory "You're In!" letter.
However, I couldn't be truly "in" until I figured out how to pay for college, and that was going to be a challenge. My family wasn't able to provide me with the funds for school (that's a whole other story), and I wasn't eligible for student aid. When it felt like there were no other options, my mom and I decided private loans would be the route to go. She'd pay half and, once I got a job after college, I'd start tackling mine. (Mom was adamant I not work during school like she had to do. She wanted me to fully enjoy my fleeting four years.)
THE JOURNEY TO $140K
We ended up taking out $35,000 a year — a whopping $140,000 total — so I could have the ultimate college experience. I did it all: Double-majored, excelled in my classes, joined a sorority, starred in and produced plays, wrote the school newspaper's sex column, staged feminist protests, made great friends and graduated on time.
The one thing I never did? Think about my thousands upon thousands of dollars of looming debt.
Then, I went directly to grad school, meaning I could defer my loans for a year. I didn't really know what that meant, except that I didn't have to make my loan payments yet. I certainly didn't dig deep enough to understand my loans would still accrue interest every month I put off paying them. The 152-month repayment period sounded like a lifetime away when I was 22 years old.
In fact, the nitty-gritty details of my loans didn't become clear to me until I started research for this article. Yes, this is embarrassing to admit, and I realize how completely entitled this makes me sound. (My attitude certainly fits USC's "University of Spoiled Children" stereotype to a T.)
I should mention that my mom never kept any secrets from me about my loans. We made the decision together. The paperwork was always easily accessible to me, and she even saved every single loan statement in a designated folder. I just never looked at any of it. To be honest, I don't really want to look at it now, even though I'm (supposedly) older and wiser.
Because we took out a new loan each year, the repayment due dates were also due in succession while others continued to accrue interest. In 2007, for instance, the $700 monthly payments for my 2002 loan were due. Although the 2003, 2004 and 2005 loans didn't need to be paid yet, each one grew by $550 to $700 in interest each month. While the original amount I took out was $140,000, it ballooned to $162,506.44 with interest.
HOW I TOOK CONTROL OF MY BALANCE
I wish I could say my money immaturity applied only to my loans but, really, it was part of a bigger "out of sight, out of mind" problem. Paying off a car after college helped change that. After a six-month stint of living back at home (a hallmark millennial move in 2009), I'd saved up enough to cover the remaining balance and wrote a whopping $5,000 check to the loan company. I felt accomplished, and this made me determined to take charge of my financial life.
Soon after, I got my first "real" job and my mom paid off her half of my loans, meaning it was up to me and me alone to stay on track. I logged into the payment portal and linked my checking account for the autopay option for $500 a month. I've never once missed a payment.
My student loan situation is a reminder that even when I don't want to dig into my finances, I need to in order to stay in the black. Now, I'm proactive. Each morning, I receive text alerts with my current credit card balance. All of my bills are on autopay now, from loans to utilities, and I monitor my checking account weekly. While I still have a ways to go on my loans — $42,239.95 as of writing this — I'm chipping away month by month. I have a 2.9 percent interest rate, and I'm savvy enough now to know that this is a very, very good thing.
THE LESSONS I'M PASSING ON TO MY DAUGHTER
Last year, my daughter was born, and dealing with my loans prompted me to think about what my husband and I will do when it's her turn to head off to college. We've committed to fully funding her tuition by opening a 529 account. Instead of gifts for her birthday and other celebrations, we ask family and friends to contribute what they can, at least while she's too young to know about gift-giving holidays.
As she gets older, we might give her the option to pitch in or ask for money toward her account instead of presents. By including her in the conversation early on, my expectation is that my daughter's relationship with her college tuition — and money in general — will be healthier, more thoughtful and less bratty than mine was.
Take the next step
Our advisors will help to answer your questions — and share knowledge you never knew you needed — to get you to your next goal, and the next.
Get started
Want more? Get financial tips, tools, and more with our monthly newsletter.